Teaching kids to read can be a tricky business and it often comes down to a lot of practice. Practice, practice, and more practice. Unfortunately, many kids don't want to just practice reading. I know mine do not! So it's essential to make reading practice fun and exciting. We do a lot of games and activities. The more colorful, the better. Check out these vowel teams activities and printables.
Vowel teams is one of the concepts we focus on. Since they don't always make the expected sound, memorizing vowel teams is well worth the effort.
Learning to Read with Apple Vowel Teams
Is your child learning to read? These printables will help with reading fluency as well as spelling later on! As you may have noticed, we have taken on a more literacy, learn to read and comprehend with our free printable packs.
Materials Needed:
Cardstock
Paper
Scissors
Colored pencils (crayons or markers are fine too)
You can find all of my favorite resources and supplies on my preschool supplies page.
Apple Vowel Team Booklets
There are two parts to this activity and both are important. We started off with the booklets. They are very easy to make and fun to color.
To assemble the books:
First, fold the paper in half vertically and horizontally.
Next, with the paper folded down vertically, cut on the dotted gray line. Make sure to just cut on the dotted line and nowhere else!
Fold on the last two gray lines. Make sure to fold it both ways so the booklet will come together easily.
Now, fold your page horizontally. Push the ends together so the middle parts form a diamond. Continue pushing until you have a star. This is your booklet!
Finally, find the cover and fold the book so the cover is on the outside. These are also great beginner learn to read books!
You now have an 8-page booklet all set to color!
We used these booklets to review the words before sorting them. It can be difficult to remember which vowel team to use so reviewing the words before sorting is helpful!
Apple Vowel Team Sorting
The second part of this activity is sorting the words. There are options for 6 different vowel teams (ay, ai, oa, oe, ea, and ee). Sometimes it helps to start with two different sounds when sorting.
For the apple vowel team sorting, we cut out all the apple cards, read the word, and placed them on the right tree. If they had trouble with a word, we could use clues (like ai is always in the middle of a word and ay is usually at the end) to figure out the right vowel team or check in the booklets.
Download the Vowel Teams Activity here!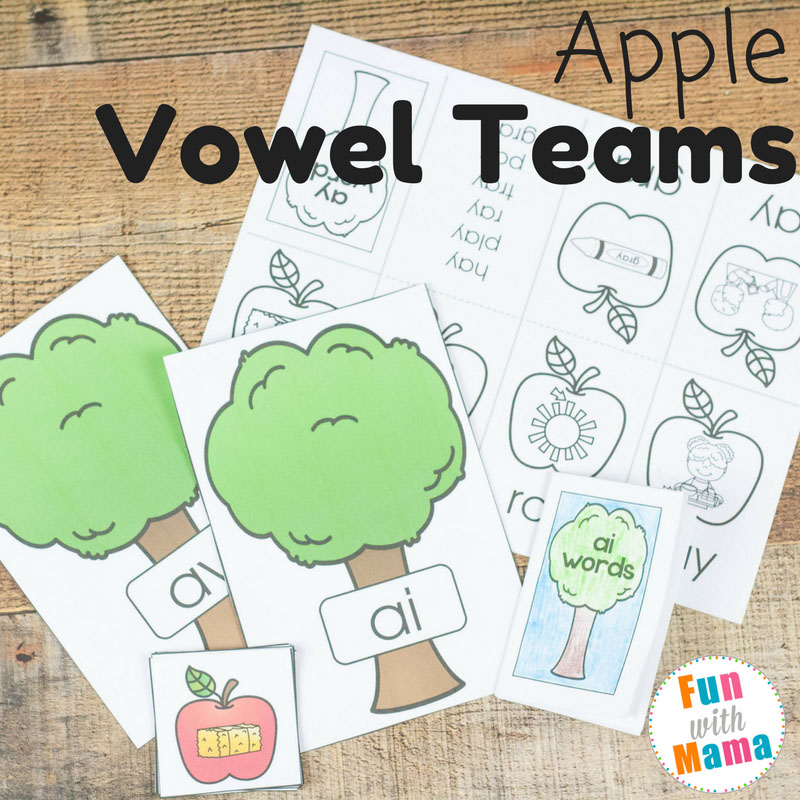 You can find more elementary and grade school activities below: