What do monkey, mug and mermaid all have in common? They are all part of the next alphabet printables pack in the series, the Letter M worksheets. This pack focuses on the letter M words and the letter m sound. It is the next installment in our alphabet ABC Printable Packs that can be used in conjunction with our printable alphabet letter crafts too!
This free sampler from our printable letter m activities for preschool, toddlers and kindergarten students is a great way to get started with teaching the letter M.
The full Letter M activity pack includes worksheets, arts & crafts, alphabet songs and fun lesson plans. Many of the activities are great for centers, circle time and small groups too.
Letter M Worksheets
Focusing on the letter M, this printable pack incorporates the words man, monkey, mitten, monster, mirror, macaroni, mermaid, magnet and mug. The activities in the pack include both the lowercase and the uppercase of the letter M.
You can find all of our alphabet activities for kids here.
Materials Required:
Please note that affiliate links are used in this post.
Here are some items that pair well with these activities. You will use each of these items over and over during all my printable preschool activity packs. I order all of our materials using our Amazon Prime Account. My readers can Try Amazon Prime for 30-Day using this Free Trial link.
You can find all of my recommended supplies on the ABC Printable Activities Page. You can also find my favorite preschool supplies here.

Letter M
Math themed Letter M center activities for kindergarten are a great way to get some independent learning going. Use a star sticker to include the correct answer on the clip cards so children can self check their work.
Cut and Paste the Missing Numbers
Count and Clip Cards
Simple Addition Pages
I Spy
Simple Subtraction Pages
These letter of the week M activities use a hands on approach to teaching the letter M. With some arts and crafts children will experiment with finger print painting, q tip painting and do a dot markers too!
Playdough letter M activity
See and Stamp letter M pages
Fingerprint letter M painting activity
Push pin letter M fine motor activity
Uppercase letter M and lowercase letter M Playdough Mats
Alphabet letter M themed Do-A-Dot pages
Color the letter M Activity
Beginning letter M sound coloring pages
Cutting Practice page
2 piece puzzles
4 piece puzzles
3 piece puzzles
Number Puzzles
Word Building Puzzles
These letter M Worksheets for preschoolers can be used by toddlers and kindergarteners too!
Line Tracing Page
Shade and Cut Pages
Mazes
Color matching cards
Shade the Picture pages
Montessori 3 Part Cards
Trace the Letters
Follow the Letters
Sort the Letters
I can Write Pages
Story / Creative Writing Pages
Not sure how the activities are supposed to be used?
Check out the hands on letter a activities post to see how to use these activities.
To see how I use the fingerprint, push pin and play dough activity check out this post.
If you are looking for a great reading program, I highly recommend the All About Reading program.
GET THE ACTIVITY PACK HERE
GET THE LETTER WHOLE LETTER A-Z ACTIVITY PACK HERE
You can find the letter A-Z activity pack here in the shop. The packs include a color copy as well as some black and white copies of the activities.
Also Included In These Bundles – Save BIG TIME!
Letter M Crafts Template
This printable Letter M is for monster craft and Letter M is for mouse craft are great for toddlers and preschooolers! You can download the letter letter M Crafts here and the free letter crafts templates here.
GET THE PRINTABLE A-Z ALPHABET Letter CRAFTS HERE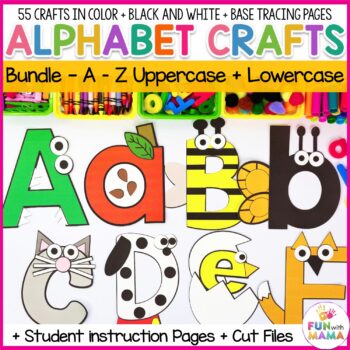 These alphabet crafts are a fun and creative way to explore uppercase and lowercase letters A-Z. They are perfect for preschool and kindergarten students. Each letter craft is presented on one page and both color and black and white versions are provided. Each craft also includes an optional tracing page to glue your craft onto and a student instruction page.
Letter M Preschool Songs
Check out this song from ABC Mouse. If you like the video and want to do more activities then you can get a free trial at ABC Mouse here. We love it!
Letter M Sesame Street Song