Are you looking for some printable letter A crafts and activities to go with your alphabet letter of the week preschool curriculum? These letter a crafts were so much fun for my toddler! We like to center our crafts around our printable letter crafts theme. I have included a printable letter A is for alligator and letter a is for apple in this post, as well as a glimpse of some of the other letter A activities we did. Also, make sure to grab the full free letter a worksheets and activities pack!
Affiliate links are used in this post. If you make a purchase this site will make a small commission.
I was really surprised when I took out this activity for my 2.5 year old; she could already identify the letter A. We do many toddler activities as well as preschool activities at home and it looks like these arts and crafts ideas are making a big difference! Kids learn so quickly and are honestly like sponges even without any formal teaching.
My intention by doing these letter activities is not to have her know all her letters and have her reading when we are done. My intention is only to expose her to the letters, let her get a little familiar with them and enjoy the activities that we do together. At the end of this, I hope to have an alphabet letter book created by my toddler/preschooler that she can be proud of.
Our First Letter A Crafts Activity: A is for Alligator Printable
My toddler is too young to do this cutting work all by herself so I did the cutting for her and displayed it just like this. I used a Craft Knife and cutting mat which made cutting out the letters quick and easy.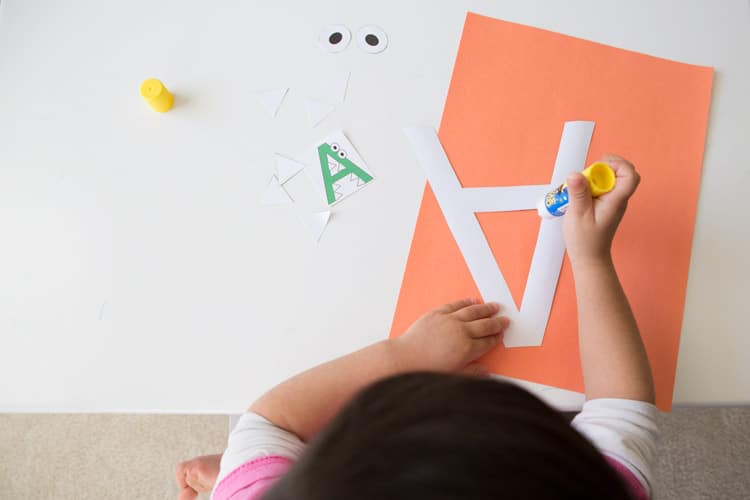 She did the gluing.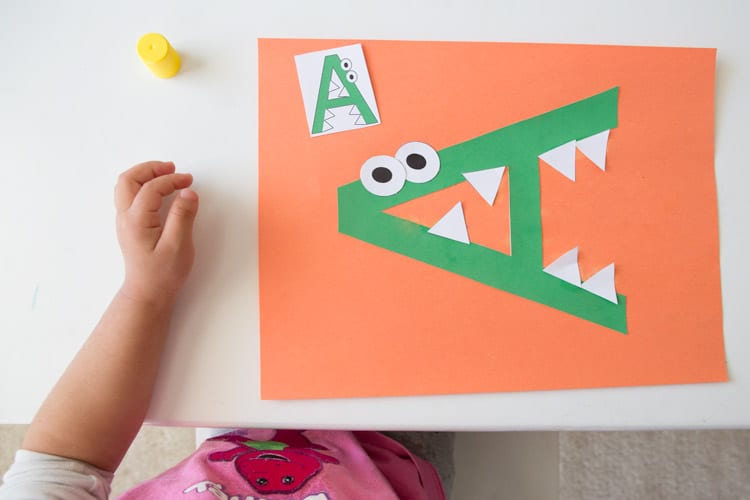 Download the Letter A is for Alligator Craft
You can find more information on the Printable Letter Crafts in this blog post.
Printable Letter A Crafts and Activities #preschool #kids http://bit.ly/2g1zdm1
Don't forget to check out our new YouTube kids Channel for kids for more fun activities.

Letter A Crafts Activity #2: Apple Tree Counting Mats.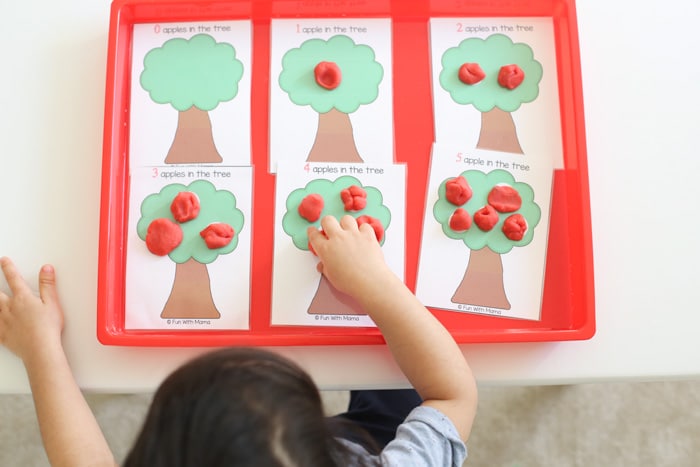 A great way to encourage and promote fine motor skills and hand strength is to have toddlers and preschoolers play with some play dough. By manipulating the play dough, they are strengthening their hands which will later help them with writing. You can download the apple tree counting mats here.

Letter A Activities #3: Lowercase "a" is for apple.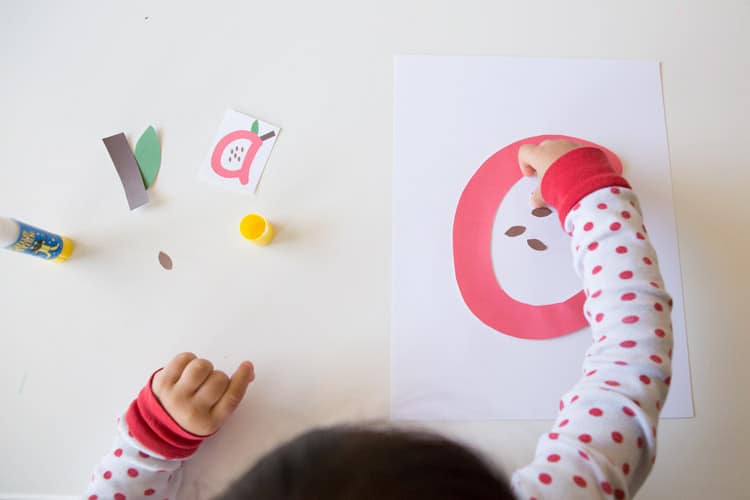 Download the Letter A is for Apple Craft Printable Activity
You can find all the free Printable Letter Crafts in this blog post. If you would like to purchase the full set of Letter Crafts A Through M in one convenient download you can get it here.
We really enjoyed this and I loved that the letter A was very prominent for her to see even with all that paint.
I posted the cutest video of her on snapchat doing this activity (My snapchat username is: funwithmama) and there were many laughs and giggles during this one. She couldn't understand why no matter how much she painted on that page, she couldn't hide the A letters.
Letter A Crafts Activity #5: Do a Dot Letters.
We used the leftover A template from the activity above to do a Do a Dot Letter Activity. She had fun with this (as she always does whenever we take out our Do a Dot Markers.)

Letter A Activity #6: ABC Mouse
We played on ABC Mouse and did letter a activities. She could recognize letter A and its sound through the app.
ABC Mouse- free 30 day trial – This program is perfect for learning letters and so much more! My daughter learned letter recognition and letter sounds for two alphabet letters the first night we did it.
Letter A Crafts Activity #7: Letter A Necklace.
We really love this Alphabet Lacing Letters that I purchased on Amazon.. They are so versatile and I will definitely be incorporating them in all of our letter themed weekly activities.
I placed all the letter A's on the table with the shoelace string. I tied a knot at the end to keep them from falling off the lace.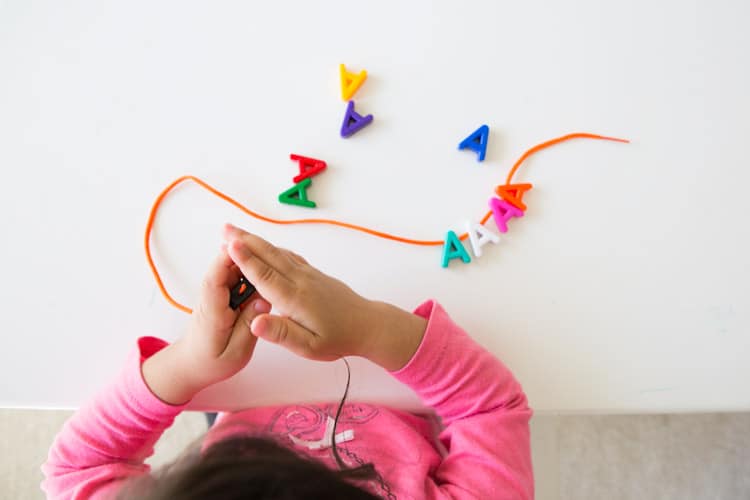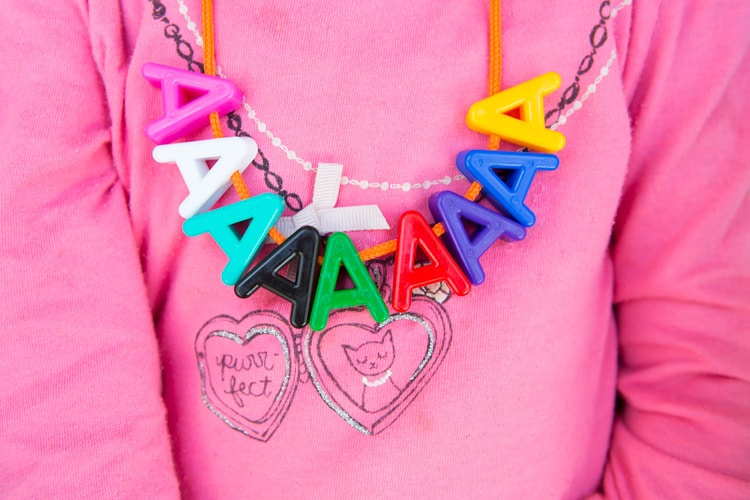 When she was done, I tied it around her neck. She walked around proudly all day talking about how she made her own letter A necklace. Now I wish I had the lowercase letters too!


Letter A Activity #8: Alphabet Fishing
We did my alphabet fishing activity which was a HUGE hit! Check out my Alphabet Letter Fishing post for details on how to do this simple activity at home.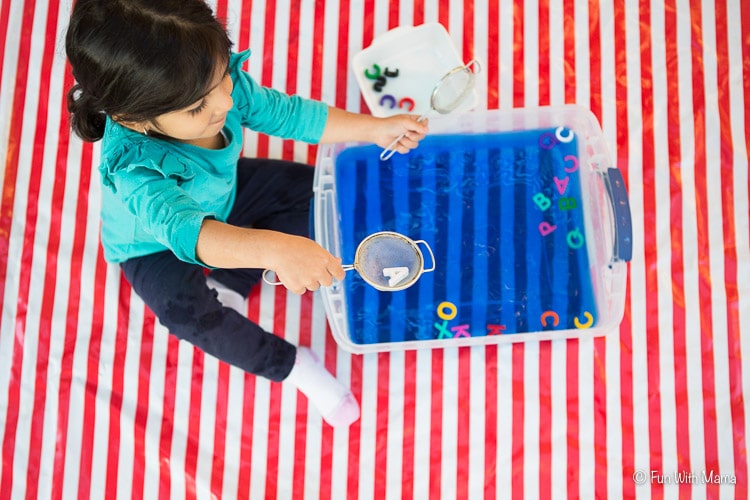 Activity #9 – Letter A Play Dough Mat
Materials Required:
– Play Dough
– Alphabet Play Dough Mats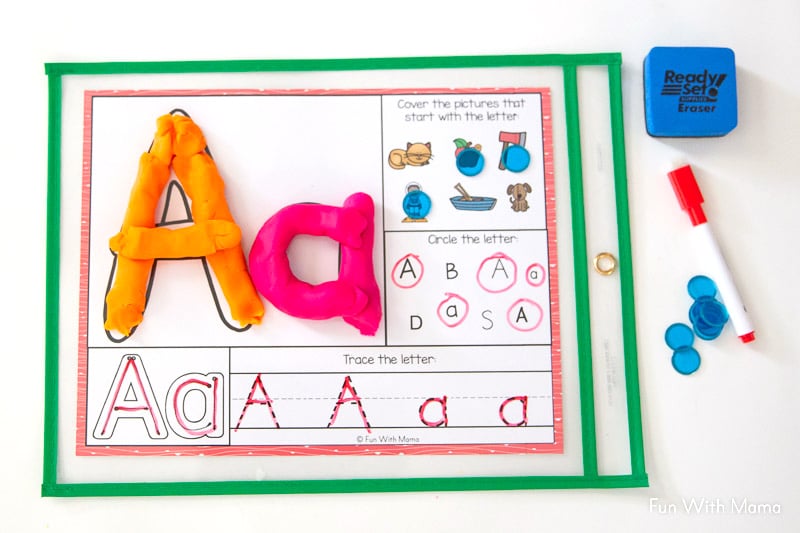 We created the Letter A using alphabet playdough mats. My daughter really enjoyed working through this activity.
Activity #10 – Alphabet Counting Cube Mats
Materials Required:
– Counting Cubes
– Counting Cube Mats
– Pencil
Activity #11 – Alphabet Lego Mats
Materials Required:
– Lego or Duplo's
– Alphabet Lego Mats
– Pencil
Activity #12 – Letter A Salt Painting
Materials Required:
– Watercolors or food coloring mixed with water
– Salt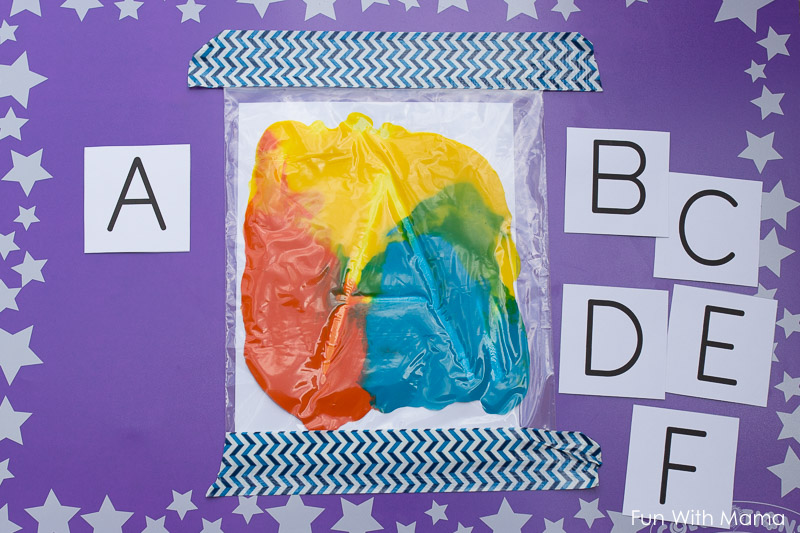 Letter A Tracing Using Paint.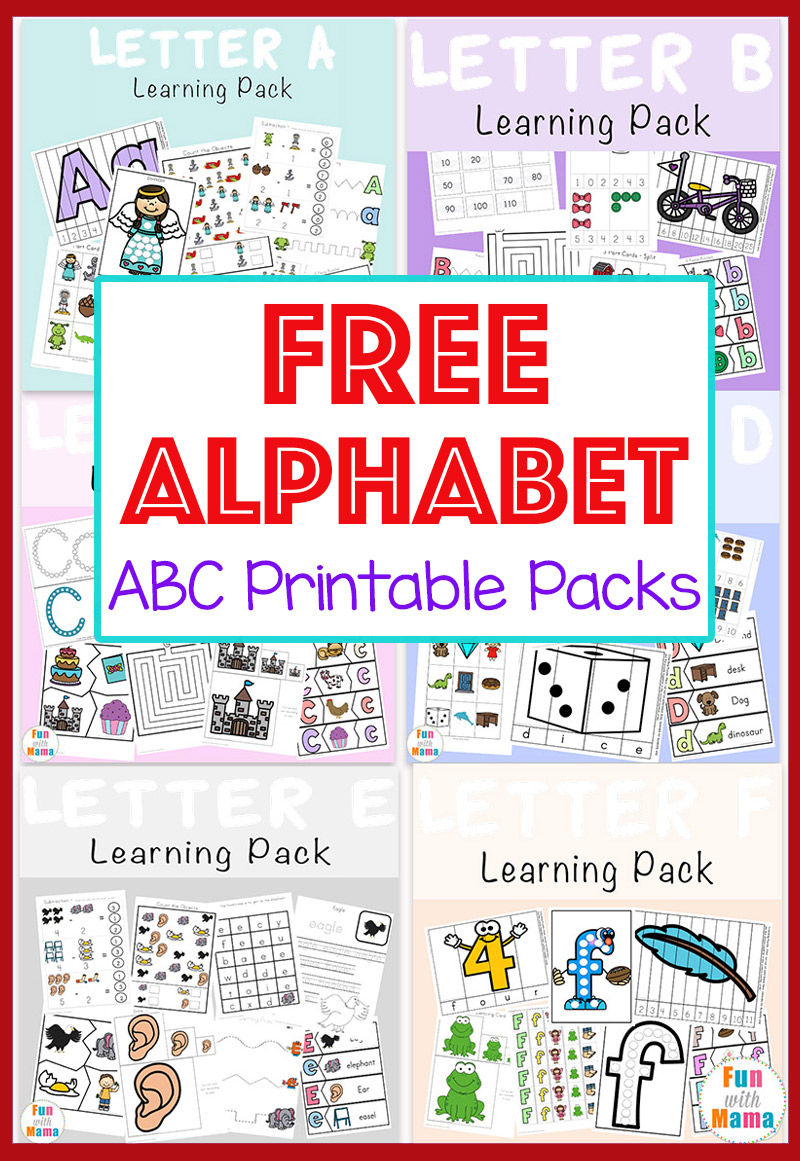 Letter Factory iTunes Movie
My preschooler loves watching Leapfrog's Letter Factory. We watched this DVD throughout the week. The songs are catchy and it is a great way to help the toddlers and preschoolers to learn their alphabet letters. You can get Letter Factory on iTunes here. or here on Amazon if you want a physical DVD. You can also rent it on Amazon.
Our New Alphabet Tree!
I purchased this palm tree to start our very own Alphabet Letter Tree. All three of my kids were really excited about this. We will be placing each of our weekly letters up on the tree. We will start at the bottom of the tree when I just introduce the letter and when she has a good grasp on the letter (or I feel like we should move on) we will move it to the top.
Get the alphabet crafts bundle here:
The Alphabet Crafts Are Also Included In These Bundles:
Our Alphabet Favorites
Tried, tested, and loved by us here at Fun With Mama.