This fun alphabet art and letter painting activity is a perfect addition to your weekly alphabet activities for kids. This alphabet art activity includes a free alphabet printable that can be used as is or used as printable alphabet stencils that can be traced or cut out.
Preschoolers and toddlers will love adding this art activity to their learning activities. Kids get to experiment with paint while also constantly being given exposure visually to the letter a or, rather, the alphabet letter that they are working on.
Add this activity to our printable letter crafts to create a more rounded curriculum.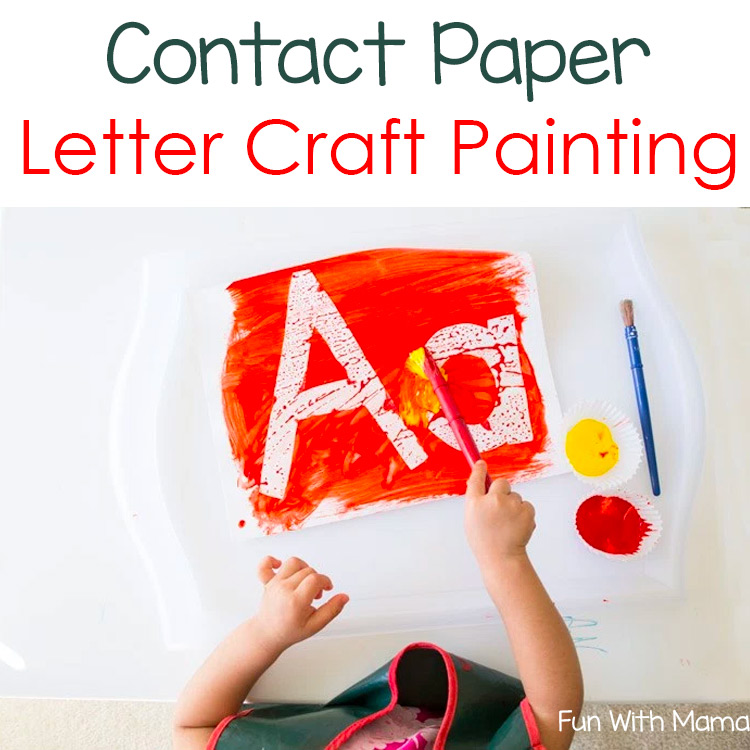 Letter Painting
We do art almost daily here. That is because there are so many benefits to including creative time in your day. In this activity I have included some printable alphabet stencils for you to use.
This art activity (and the included PDF) can be used in multiple ways:
Contact Letter Painting
Dot Painting alphabet art\
Watercolor and crayon resist painting
Coloring Page
Contact Letter Painting
The first way I'm going to show you is by using the PDF as a template to use with contact paper.
Materials Required for Contact Paper Letter Craft Painting Activity:
Please note that this post contains affiliate links.
Suggested Supplies For Contact Letter Painting
– Craft Knife and cutting mat. (optional but makes it so much easier to get in those little spots)
– Tray (This is optional, but it really does seem to contain any mess involved with painting! My tray above is from Ikea. If you can get out to Ikea it is much cheaper if purchased there in the store.)
Setting Up The Contact Paper Letter Craft Painting Activity
My favorite time to set up activities for my kids is usually before they wake up, during their nap, or when they are at school. I just set it up and leave it on their table, all ready to go.

As you may have noticed, contact paper has become a favorite in our house. I love that it can be used in so many ways.
First, choose which letter of the alphabet you want to work on. I've included the abcs on a page with an uppercase and lowercase letter. You can use just the uppercase or lowercase letter, if you prefer.
I printed out the letter A's and then cut them out with a craft knife! (This was so much quicker than scissors!!)
Then trace the letter A on contact paper and cut that out with your craft knife too.
Do NOT throw away the printer cut outs. You can use them for another activity like the dot painting one I will show you below!
You could totally freehand this and make the letters yourself, but if you are anything like me and need perfection, then you can use a printable.
Place the sticky contact paper on your paper.
How to do the contact paper letter painting activity
This was how I presented the activity to my daughter. I left it out on the table for my two-year-old to invite her to do the activity when she was ready.
I don't ever force activities on the kids.
I leave them there and let them choose when to do them. More often than not, the minute they see it, they drop whatever they are doing and get this gorgeous, magical smile on their face.
I placed out two colors for this activity: Yellow and Red. This enabled me to discuss with her a little about the colors she was using for color identification.
She told me that she made orange with red and yellow.
You can do this activity with a paint brush, or even as a fingerpainting activity.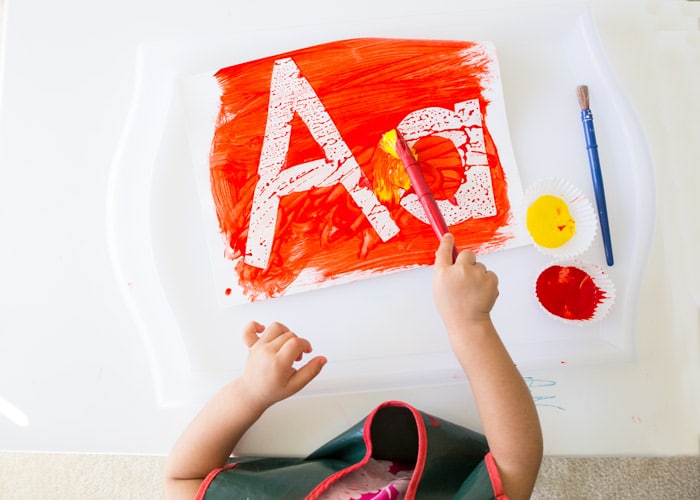 When she was done we left it out to dry. Once it was dry we peeled the contact paper off and revealed our letter A's.
Dot Painting Alphabet Art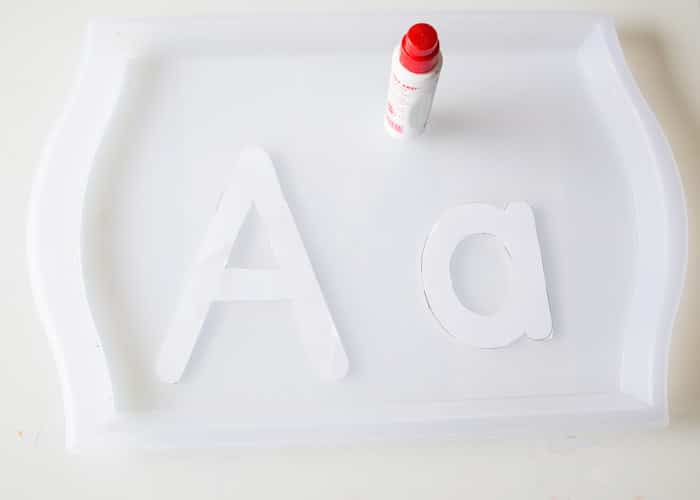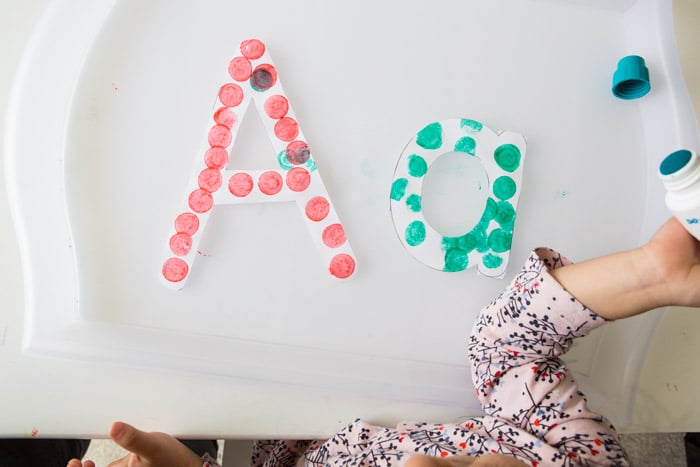 Don't throw away those scraps! You can still put them to good use. We did dot painting with our letter printouts. Don't have Do a Dot Markers? Use markers, crayons, glitter, circular magnets. The list is endless with what you can do with these.

Need more ideas on how to use your contact paper? Check out the activities below:
Alphabet Art Crayon Resist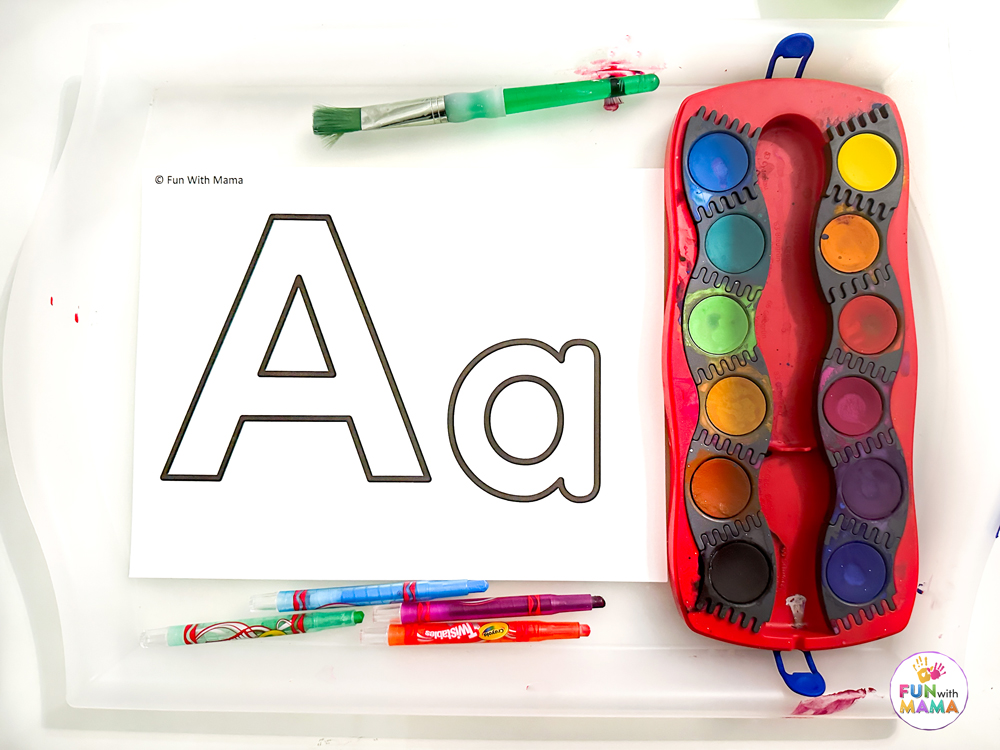 Print out the activity onto cardstock. Have children color the alphabet letters with crayons.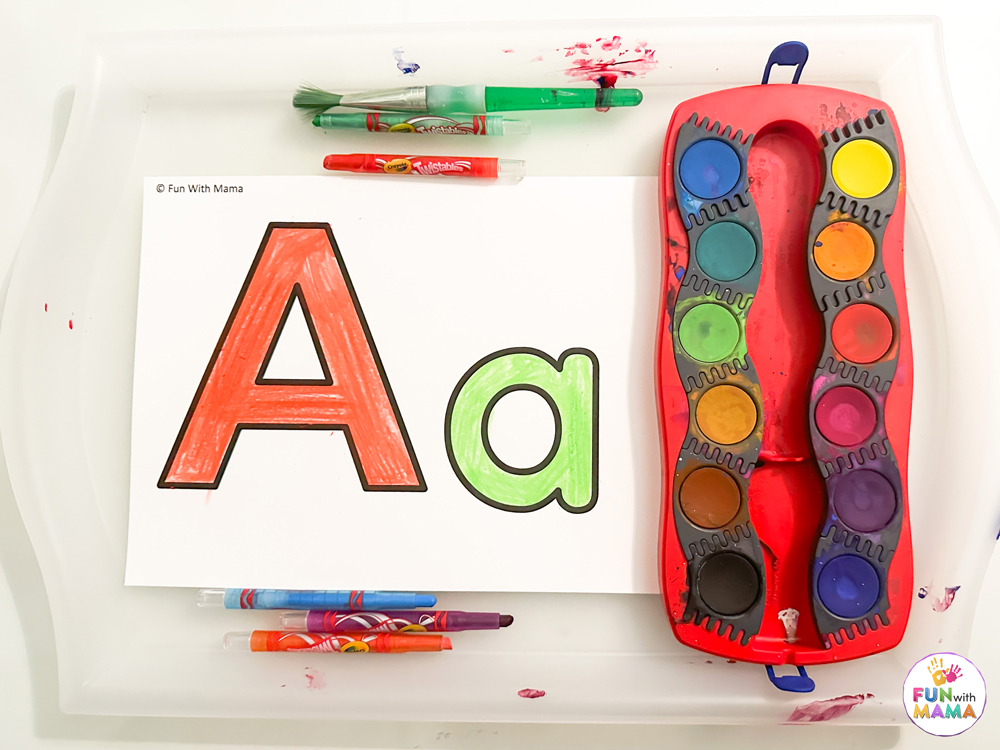 Once they are done, use watercolor paint to paint over the letters.
Get the Free Alphabet Contact Paper Letters Here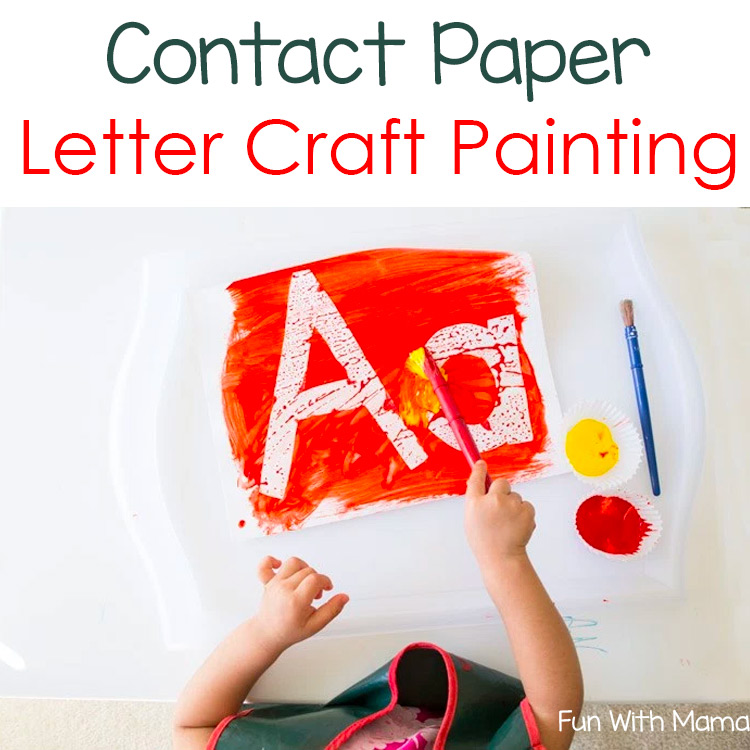 Already a subscriber? No problem. Just enter your email here to have the activity sent directly to your inbox.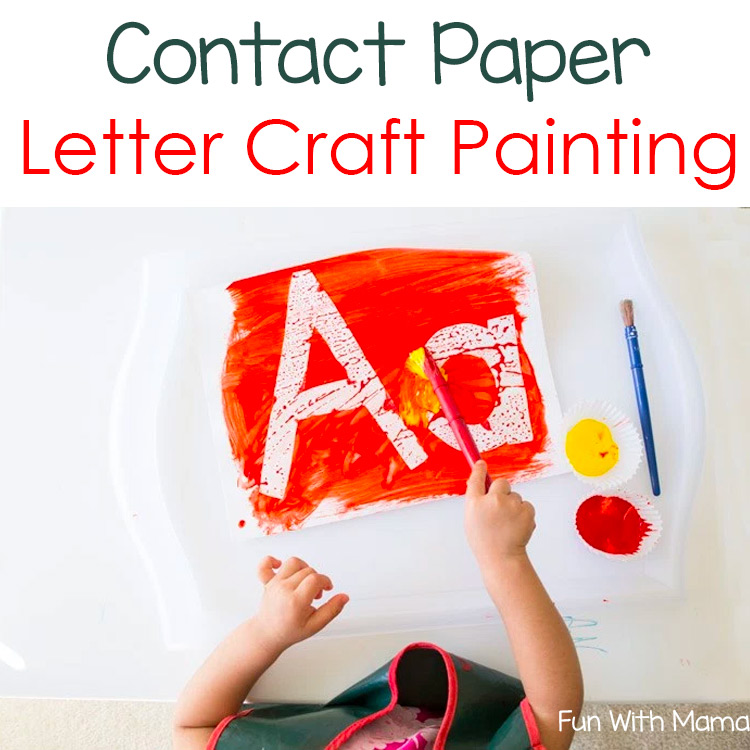 Contact Paper Letter Craft Painting Printable Activity #kids #toddlers #preschool http://bit.ly/2fQjOGO
Our Alphabet Favorites
Tried, tested, and loved by us here at Fun With Mama.
Want to create an alphabet wall? Create one with these alphabet crafts.