Join a yacht, a yoyo and a yam in this free Letter Y worksheets for preschool + kindergarten. Have you checked out all of our Free alphabet ABC Printable Pack ?
This pack has so many activities its basically all you need to have to help your child learn all about the letter Y. This pack has many different activities to help teach children the letter formation, letter recognition and the beginning sounds. There are pages that have space to help children practice writing the letter Y, building words that start with the letter y and so much more. We have even included printables for prewriting.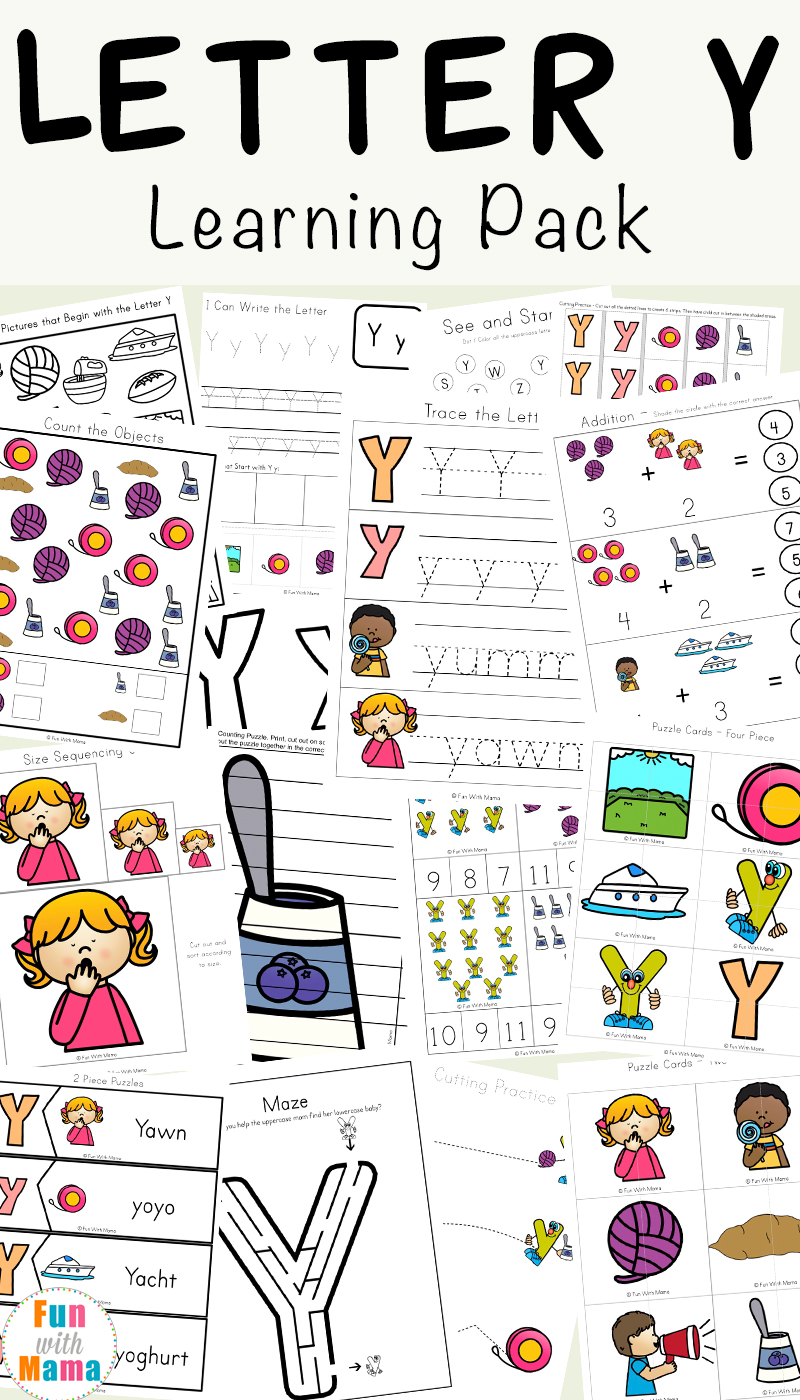 Letting little ones learn about letters through hands on activities, such as these, helps children remember even more than other type of activities. The activities will help children by providing them with a fun way to learn!
Letter Y Worksheets
Have fun with this fantastic letter Y printable pack. Focusing on both the upper and lowercase letters, you will find all the activities incorporate the following words: yawn, yummy, yarn, yoghurt, yard, yoyo, yell, yacht and yam.
Materials Required:
Please note that affiliate links are used in this post. Please see my disclosure policy for more information.
Here are some items that pair well with all Fun With Mama Preschool Activity Packs
This Letter Y Learning pack contains over 90 pages and includes the following activities:
Math themed pages, puzzles and clip cards.
Included in this pack are twelve different puzzles. They range from easy, 3 piece puzzles to slightly more complex number and word building puzzles. Fun for toddlers, preschoolers and kindergarteners!
letter y cut and paste activity
letter y sound phonics worksheets
letter y tracing workhseets
letter y handwriting worksheets
Montessori words that begin with the letter y 3 Part Cards
These worksheets are great for teaching children to work independently. They will enjoy completing Y-themed activities that include line tracing, mazes, and coloring.
Letter Y Worksheets For Preschool + Kindergarten http://bit.ly/2AKGgv4 Click to Tweet
Letter y coloring pages
See and Stamp letter Y pages
Cutting Practice page
Alphabet letter Y themed Do-A-Dot pages
letter y fingerprint painting activity
Letter y play dough mats
Uppercase letter Y and lowercase letter Y Playdough Mats
Beginning letter Y sound coloring pages
Push pin letter Y fine motor activity
Check out the hands on letter a activities post to see how to use these activities.
To see how I use the fingerprint, push pin and play dough activity check out this post.
DOWNLOAD THIS FREE ACTIVITY PACK HERE
Click here to get the full Alphabet Letter Pack bundle that includes all the color and black and white activity packs.
Letter Y Crafts
The Letter y crafts, y is for yo-yo and y is for yakcan be found in the alphabet letter crafts bundle.
Letter Y Sesame Street
<
Letter Y Songs ABC Mouse
Check out this song from ABC Mouse. If you like the video and want to do more activities then you can get a free trial at ABC Mouse here. We love it!