Join a llama and a ladybug in our next alpahbet letter printable pack: the Letter L Worksheets. This alphabet activity pack focuses on the letter l, letter l words and letter l sounds. It is the next installment in our Free alphabet ABC Printable Packs that are a fabulous addition to use with our printable alphabet letter crafts too! These letter l activities include letter l phonics worksheets, handwriting and tracing worksheets, do a dot activities, clip cards, coloring pages and so much more!
Letter L Worksheets
This Letter L Preschool Pack contains lots of fun and exciting printable activities revolving around both the uppercase and lowercase of the letter L. It includes letter l word list and nine words that begin with the letter L: lighthouse, llama, ladybug, leaf, lemon, ladder, lantern, lamp and lips.
Materials Required:
Please note that affiliate links are used in this post.
Here are some items that pair well with these activities. You will use each of these items over and over during all my printable preschool activity packs.
This Letter L Worksheets pack contains over 80 pages and includes the following activities: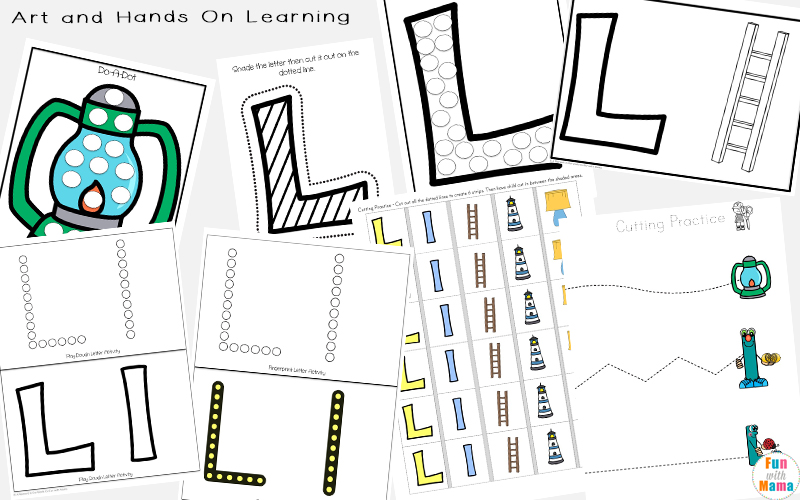 Playdough letter L activity
See and Stamp letter l pages
Fingerprint letter L painting activity
Push pin letter l fine motor activity
Uppercase letter l and lowercase letter l Playdough Mats
Alphabet letter L themed Do-A-Dot pages
Color the letter l Activity
Beginning letter l sound coloring pages
Cutting Practice page
Cut and Paste the Missing Numbers
Count and Clip Cards
Simple Addition Pages
I Spy
Simple Subtraction Pages
tracing letter L worksheet
Shade and Cut Pages
Mazes
Color matching cards
Shade the Picture pages
2 piece, 3 piece and 4 piece letter l puzzles
Number Puzzles including beginning letter l images. This includes skip counting and even and odd numbers too.
Letter L Word Building Puzzles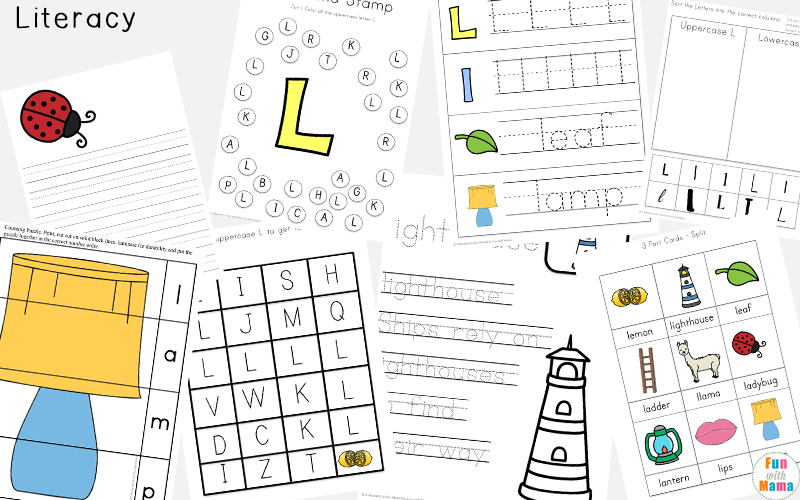 Beginning Letter L Sound Montessori 3 Part Cards
Trace the Letter L worksheets
Follow the Letter L worksheet
Sort the uppercase L and lowercase L
I can Write Pages
Story / Creative Writing Pages
Check out the hands on letter a activities post to see how to use these activities.
To see how I use the fingerprint, push pin and play dough activity check out this post.
If you are looking for a great reading program, I highly recommend the All About Reading program.
GET THE ACTIVITY PACK HERE
GET THE LETTER WHOLE LETTER A-Z ACTIVITY PACK HERE
You can find the letter A-Z activity pack here in the shop. The packs include a color copy as well as some black and white copies of the activities.
Also Included In These Bundles – Save BIG TIME!
Printable Letter L Crafts
Letter L is for lion craft

letter l for ladybug craft
You could download the letter letter L Crafts here and the free letter crafts templates here.
GET THE PRINTABLE A-Z ALPHABET LETTER CRAFTS HERE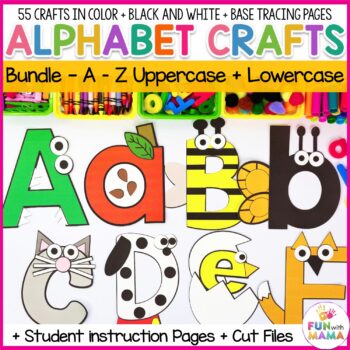 These alphabet crafts are a fun and creative way to explore uppercase and lowercase letters A-Z. They are perfect for preschool and kindergarten students. Each letter craft is presented on one page and both color and black and white versions are provided. Each craft also includes an optional tracing page to glue your craft onto and a student instruction page.
You can find all of our alphabet activities for kids here.
Letter L Preschool Songs
Check out this song from ABC Mouse. If you like the video and want to do more activities then you can get a free trial at ABC Mouse here. We love it!
Letter L Sesame Street Song