The twenty-second letter of the alphabet is V, which is the theme of our next installment in our Free alphabet ABC Printable Packs. This Letter V worksheets for preschool + kindergarten can be used in conjunction with our printable alphabet letter crafts too! Including many fun activities, such as puzzles, letter formation worksheets and play dough fun, kids will enjoy learning with violins, vegetables and vultures.
These printable packs have activities and worksheets that help kids learn simple math, literacy, help strengthen fine motor skills and so much more. With each page there is a new game, puzzle or activity to excite kids while they learn. The packs are excellent for both preschool or kindergarten age children.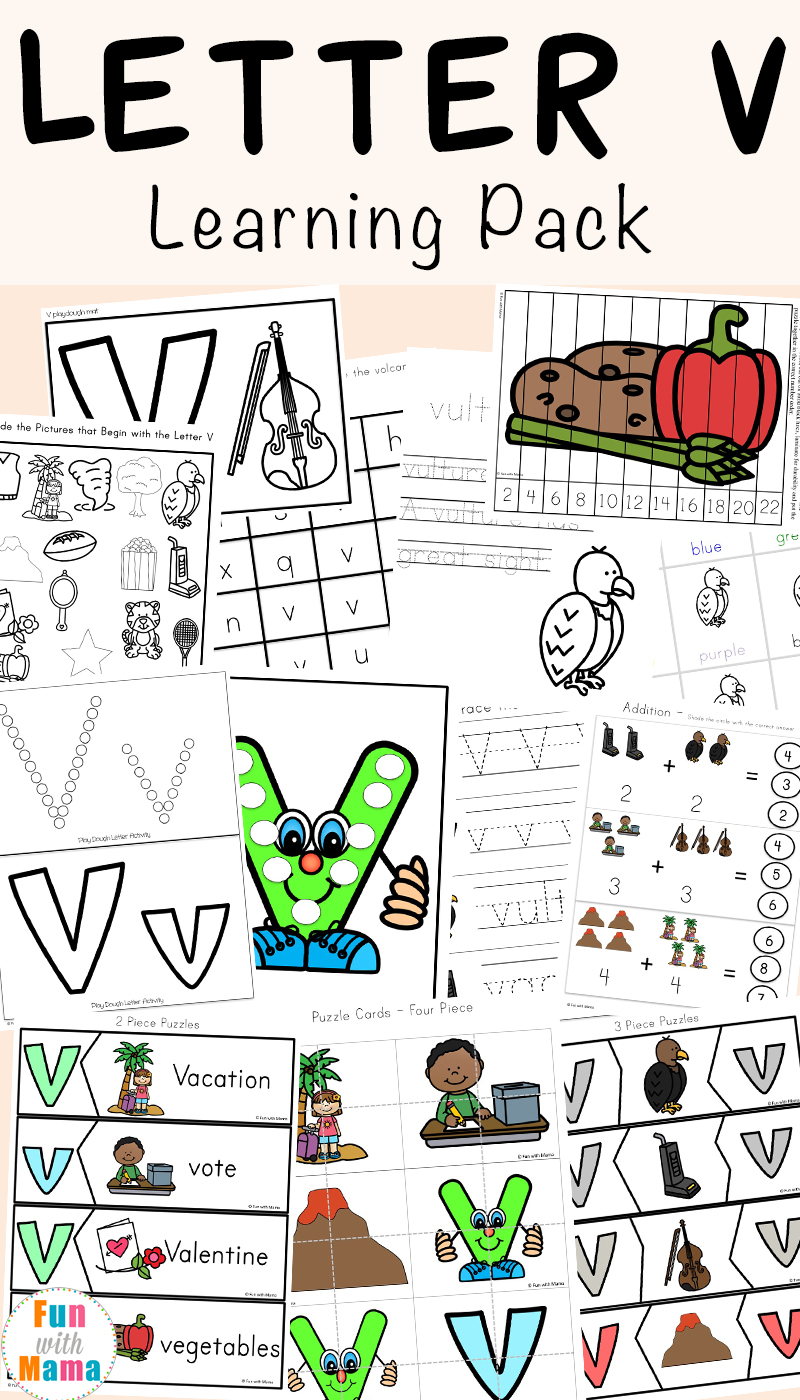 Letter V Worksheets
Have fun with this fantastic letter V printable pack. Focusing on both the upper and lowercase letter v words, you will find all the activities incorporate the following vocabulary words: vest, vulture, vacuum, violin, vote, vacation, volcano, valentine, and vegetables.
Materials Required:
Please note that affiliate links are used in this post. Please see my disclosure policy for more information.
Here are some items that pair well with all Fun With Mama Preschool Activity Packs
This Letter V worksheets pdf contains over 90 pages and includes the following activities: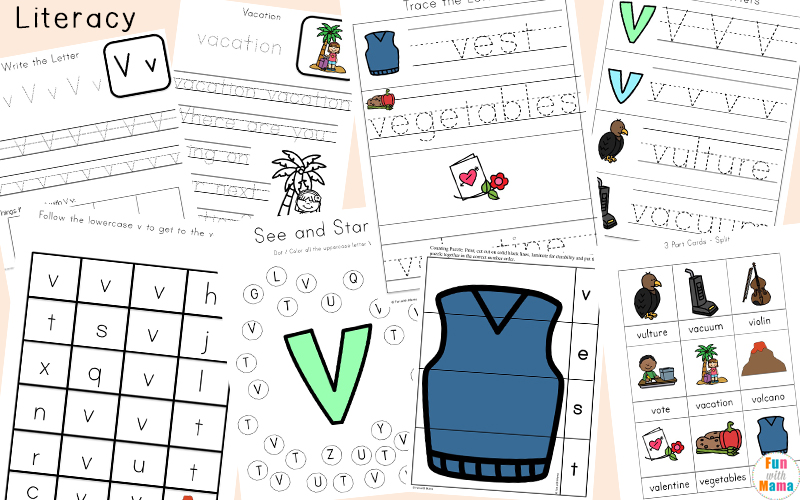 Build letter v words
Letter v words 3 part cards
Letter v cut and paste worksheets
Letter v handwriting practice
There are many literacy activities in this printable pack. Many of them can be laminated and used over and over again, especially for children that are struggling. The vocabulary cards can be laminated and placed in busy bags for kids to use while waiting at appointments.
Throughout this pack, are many math activities that concentrate on the numbers from one through ten. The cut and paste missing numbers activity is a great way to kids to learn skip numbers with a fun, hands-on approach, while using the count and clip cards with pegs, kids will also be strengthening their fine motor skills.
Playdough letter V activity
See and Stamp letter V pages
Fingerprint letter V painting activity
Push pin letter V fine motor activity
Uppercase letter V and lowercase letter V Playdough Mats
Alphabet letter V themed Do-A-Dot pages
Letter v coloring pages
Beginning letter V sound coloring pages
Cutting Practice page
2-4 piece letter v image puzzles
Number Puzzles
Word Building Puzzles
letter v tracing worksheets
find the letter v worksheets
Shade the pictures that begin with the letter v
letter v coloring pages
We use the worksheets pages with write and wipe pockets. This way all of our children can use the one printed page, multiple times, until they fully understand the concepts being taught.
Check out the hands on letter a activities post to see how to use these activities.
To see how I use the fingerprint, push pin and play dough activity check out this post.
GET THE ACTIVITY PACK HERE
GET THE ACTIVITY PACK HERE
GET THE LETTER WHOLE LETTER A-Z ACTIVITY PACK HERE
You can find the letter A-Z activity pack here in the shop. The packs include a color copy as well as some black and white copies of the activities.
Also Included In These Bundles – Save BIG TIME!
GET THE PRINTABLE A-Z ALPHABET LETTER CRAFTS HERE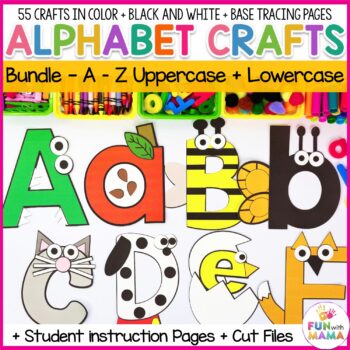 These alphabet crafts are a fun and creative way to explore uppercase and lowercase letters A-Z. They are perfect for preschool and kindergarten students. Each letter craft is presented on one page and both color and black and white versions are provided. Each craft also includes an optional tracing page to glue your craft onto and a student instruction page.
Printable Letter V Crafts
The Letter V crafts v is for volcano craft and v is for vase craft can be found in the alphabet letter crafts bundle.
Letter V Sesame Street
Letter V Songs ABC Mouse
Check out this song from ABC Mouse. If you like the video and want to do more activities then you can get a free trial at ABC Mouse here. We love it!