Enjoy the fun book Commotion In The Ocean by Giles Andreae. Then enjoy some ocean themed activities with your preschooler. Includes free printable count and clip cards.
THERE'S A COMMOTION IN THE OCEAN
Oh my there's a Commotion in the Ocean this month. The octopus is tickling, the whales are whooshing, and the lobsters are clippetty-clapping snippety-snapping. Described as, a noisy rhyming romp, this delightful book by Giles Andreae takes us on adventure under the sea.
As you turn the pages you'll be introduced to wide variety of sea creatures, ranging from blue whales to jellyfish. Each creature gets its own poem and is brought to life with fabulous illustrations. The rhymes are a delight to read, and you will find it easy to encourage your children to join in once they've heard the book a few times.
The illustrations and bright and cheerful, so kids love them. I love the big smiles and vibrant, quirky pictures of each animal. Children also enjoy the funny little details hidden around the pages, so take your time with this book.
The descriptions of the various creatures such the jellyfish jiggling and the turtles scampering, will delight your child and stimulate the imagination.
WHEN YOU ARE READING
This is a story that begs to be told with different voices and lots of energy. Listen to Euan Kilpatrick read this book. Do you hear how he uses his voice to make the animals come to life?
What voices could you do?
Some of the animals make sounds like the " click whistle squeak " of the dolphins and the "clippetty-clapping snippety-snapping of the lobsters." Encourage your child you mimic those sounds
You can also use your hands as you read. When the turtles scamper in the sand, make your hand scamper up and down your child's legs. When the octopus tickles its child's tummy, give a little tickle.
Before you read each poem, point to the animal and ask
What is this animal called?
Take a look at the details in the pictures and ask
What is going on in this picture?
Once you've read the book a number of times, pause before the final word of any poem and invite your child to fill in the word.
MORE OCEAN STORIES TO ENJOY
SOME OCEAN THEMED ACTIVITIES
There is lots of movement in this book
Crabs walk sideways
Jellyfish jiggle
Penguins waddle
Invite your child to pretend to be a sea creature and move around the room. Try and guess what animal they have chosen.
Fingerplay and songs
5 little fishes
5 little fishes swimming near the shore
1 took a dive and then there was 4
4 little fishes were swimming out to sea
One went for food and then there was 3
3 little fishes said now what should we do?
One swam away and then there were 2
2 little fishes we are having great fun
One took a plunge and then there was 1
1 little fish said I like the warm sun
Away she went and then there were none!
Octopus
An octopus has Eight long arms (Hold up four fingers on each hand)
It lives in the sea, but don't be alarmed (Wave hands back and forth to show no worry)
He squirts out ink (Clap hands), when it is the prey
And waves it's arms all through the day (wave arms)
Fish Are Swimming (Tune: Are you Sleeping)
Fish are swimming, fish are swimming,
In the sea, in the sea,
A-splishing and a-splashing,
A-splishing and a-splashing,
Look and see, look and see.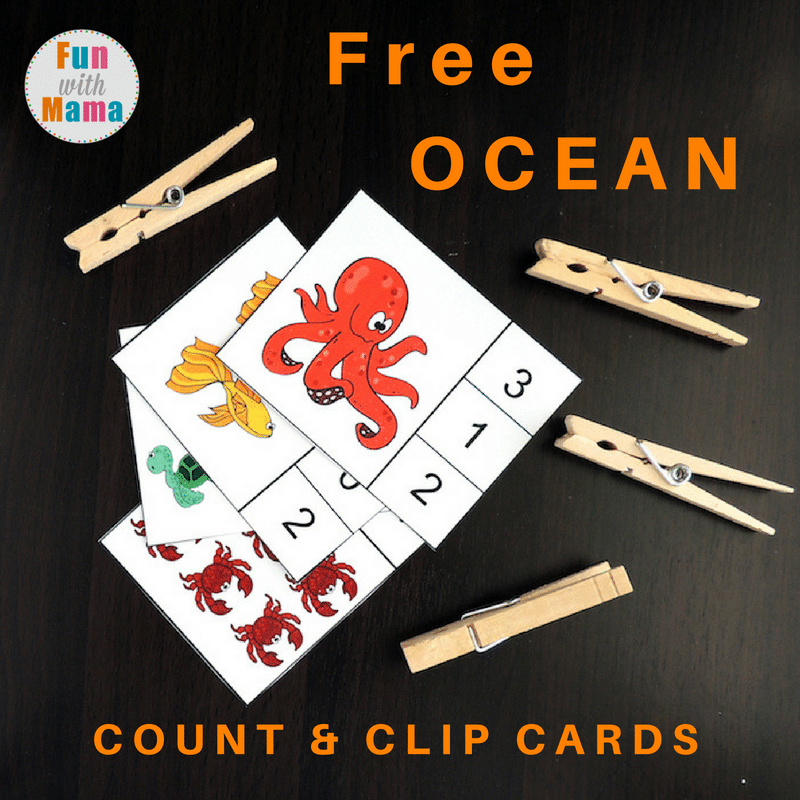 FREE OCEAN COUNT AND CLIP CARDS
We've created some count and clip cards to use alongside this wonderful book. These cards are a great way for children to practice counting and identifying number. They also help them develop their fine motor skills at the same time.
MATERIALS
Free printable (download below)
Cardstock
Laminating pouches/ laminator
Scissors or paper cutter
Dry-erase marker
Wooden clothes pins
PREPARATION
Print both sets of cards onto cardstock.
Laminate the sheets and cut out the cards (laminating isn't necessary, but will make the cards last longer.
INSTRUCTIONS
Invite your child to choose a clip card. Together count the number of ocean creatures on the card. Show them how to clip a clothespin on the correct number. Repeat until you have clipped all of the cards.
Younger children will need a lot of help, but older preschoolers will probably be able to do this themselves.
WHERE TO GET THE COMMOTION IN THE OCEAN COUNT AND CLIP CARDS
GET THE COMMOTION IN THE OCEAN COUNT AND CLIP CARDS HERE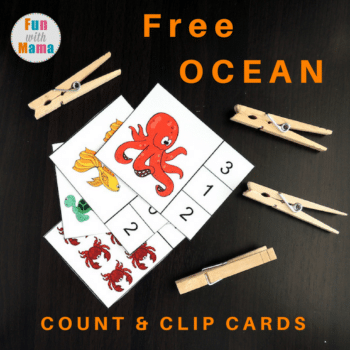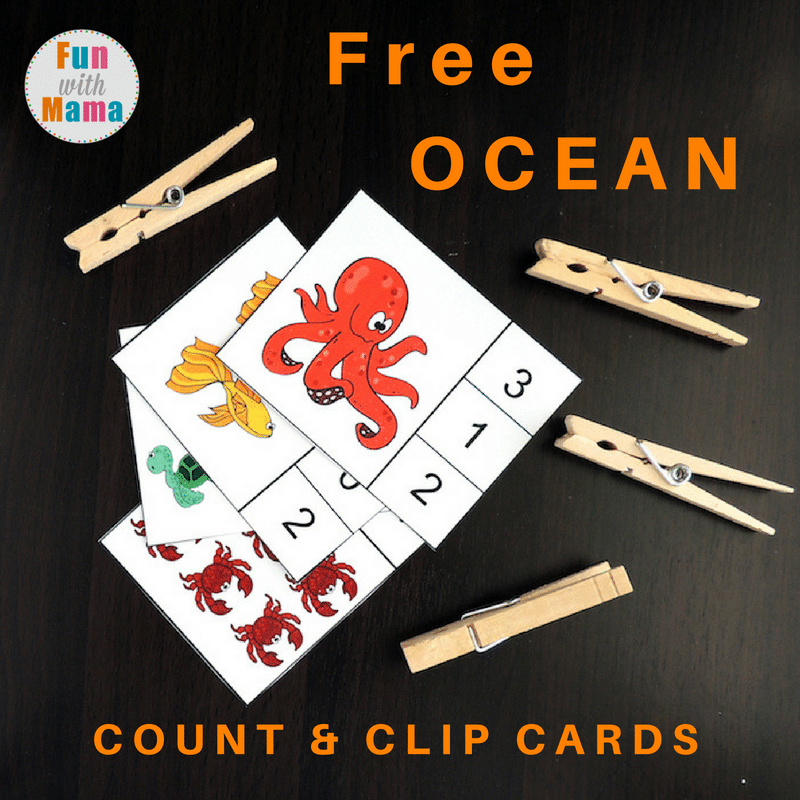 Already a subscriber? No problem. Just enter your details above so we can send this printable directly to your inbox.
Create an ocean atmosphere:
MORE OCEAN FUN
If you have enjoyed this activity, you might want to try
Fish Eyes Book: Activities And Crafts
Ocean Theme Preschool Sensory Bin
Or make some Under the Sea Fluffy Slime: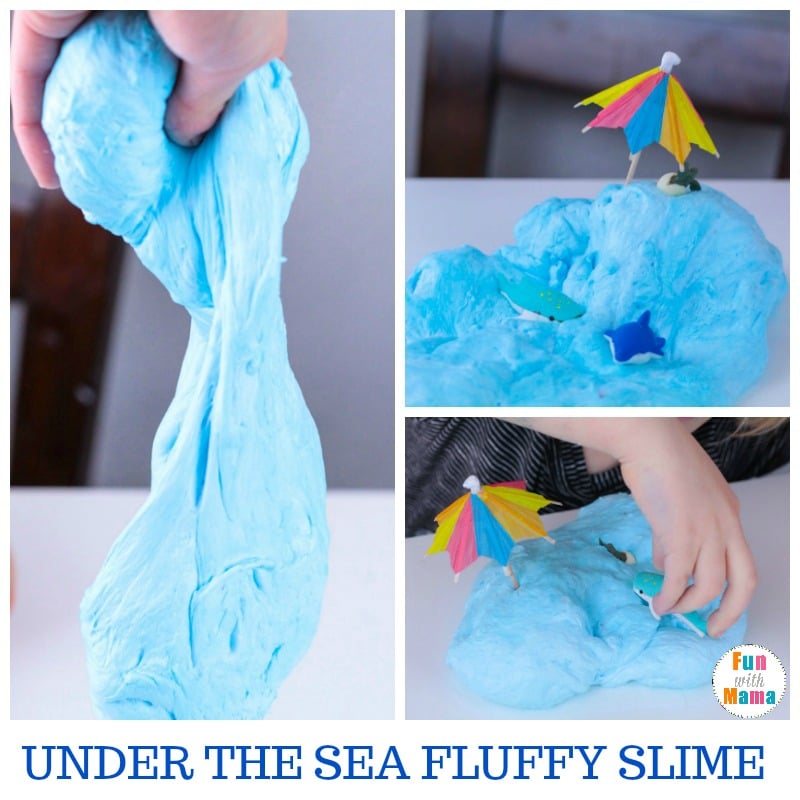 WANT TO SAVE THIS POST FOR LATER?
Pin the image below
Check out this ocean animal activities pack
GET THE OCEAN ACTIVITIES PACK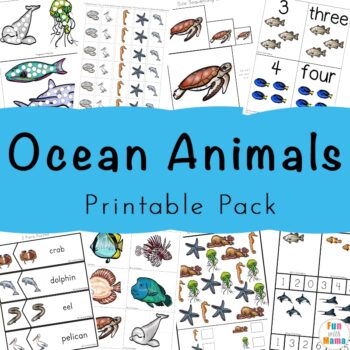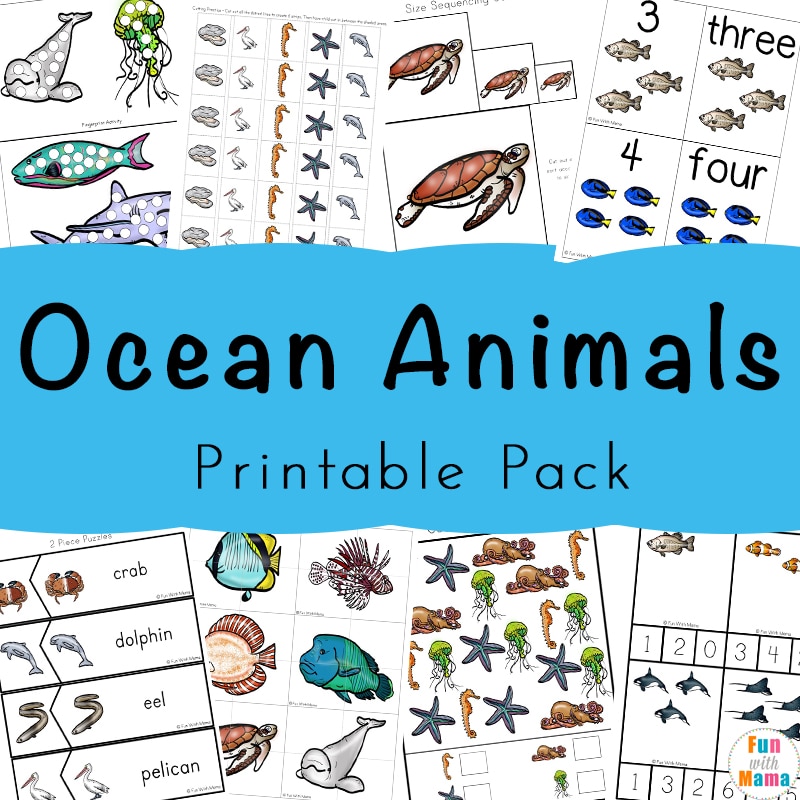 Explore under the sea with this fun ocean activities pack. Available in color and black and white with math and literacy activities.