These fun Winter Pre-Writing Worksheets are perfect for young children who are just learning to hold a pencil and write. They will also learn letter recognition while completing these pages.
We love winter in our house and are always creating fun new ways to combine our love of learning and the changing seasons. My son really loves to be outdoors and exploring so we find a good balance between indoor activities and outdoor activities as well.
I hope that you enjoy these winter worksheets just as much as we do!
WINTER PRE-WRITING WORKSHEETS
These Winter Pre-Writing Worksheets are a fun activity for children this winter to practice holding a pencil and working on their handwriting and letter formation skills.
Materials Required for these winter pre-writing worksheets:
Please note that affiliate links are used in this post.
Here are some items that pair well with these activities. You will use each of these items over and over during all my printable preschool activity packs.
This Winter Pre-Writing printable pack contains 15 pages of printables.
In this pack, you will find two mats per page. Once printed out, these pages could be laminated and children could use a dry-erase marker to complete them. Once they have finished, the pages can be stapled together to make a book or held together with a binder ring.
The themes in this pack include:
Stockings
Christmas Tree
Hot Chocolate
Mittens
Penguin
Snowman
For each of the themes, there are five different mats. Each mat contains different strokes for the children to follow.
Each mat contains 7+ lines for children to trace, with each line having a large black dot. This dot is where children start tracing from. Sometimes they will trace from left to right, and other times, they will trace from right to left. The key is to look for the black dot before starting each line.
At the bottom of the page is the name of the picture. Children can also practice writing letters of the alphabet by tracing over these words.
This pack is free and comes in black and white only. (but for a little bit extra fun, you can have the children color in them as well!)
Where to get the Winter Pre-Writing Worksheets below!
GET THE WINTER PRE-WRITING MATS HERE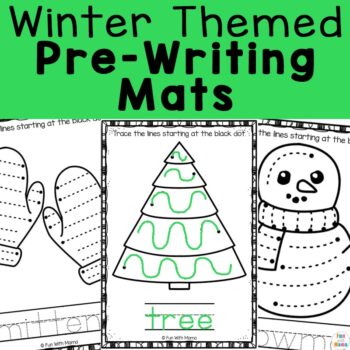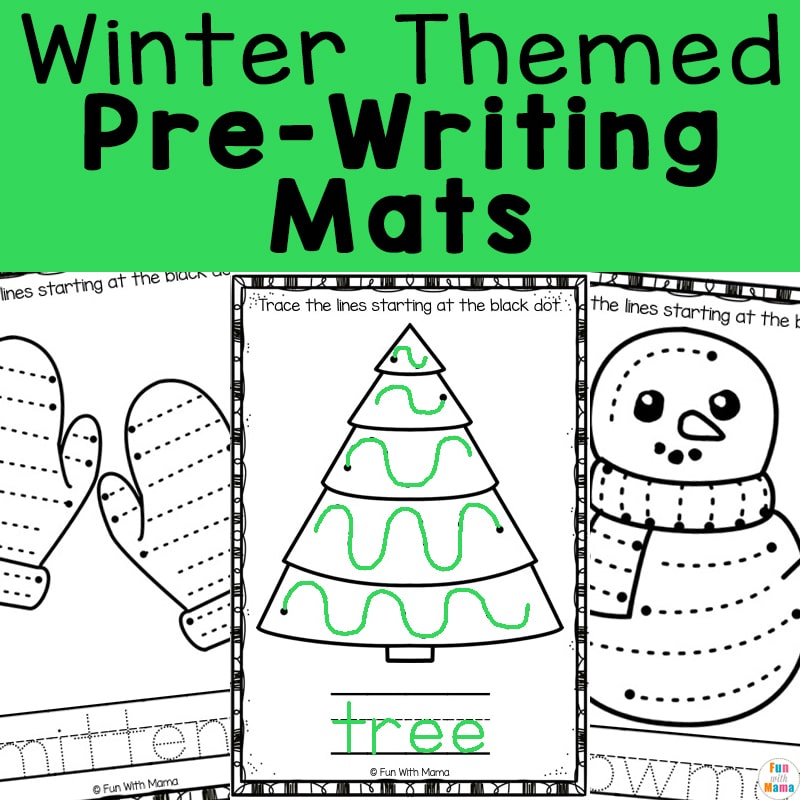 Already a subscriber? No problem. Just enter your details above so we can send this printable directly to your inbox.
Now is the time to print out these winter pre-writing worksheets to get your child engaged in learning. They're going to love this themed preschool activity and won't mind doing these worksheets at all.
Make certain that you pull up a chair next to them and join in on all the fun. While you don't need to help them with these winter pre-writing worksheets, they'll love having you sit next to them while they're creating and showing off their skills.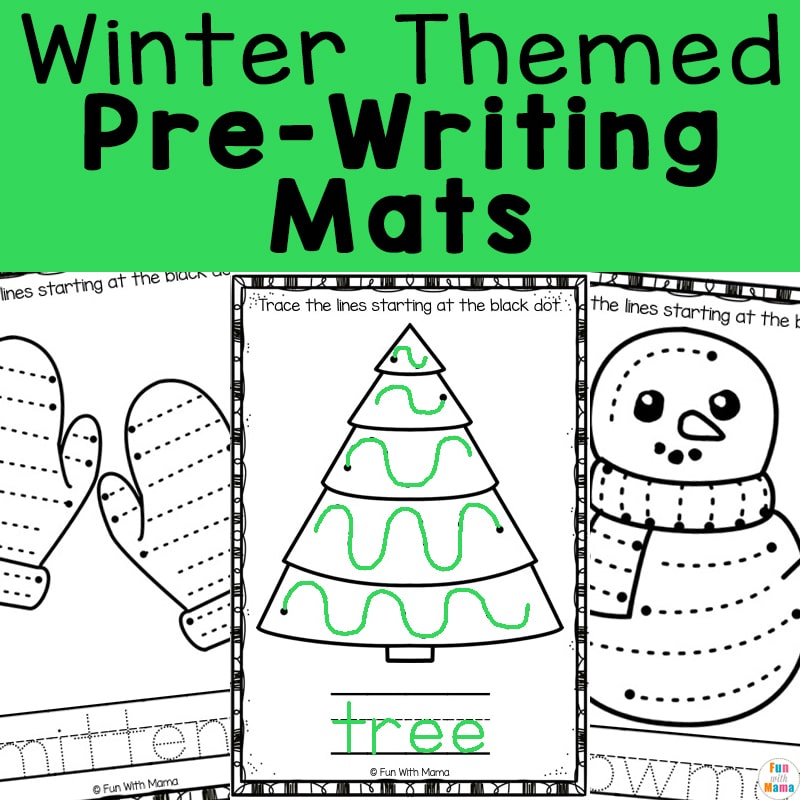 What will your child learn from these winter pre-writing worksheets?
Your child will actually learn quite a few things from these mats! They'll learn how to spell words, how to trace them correctly, trace fun lines, and possibly even color within the lines as well.
And on top of all of that, they'll be able to put the spelling of the word with the picture, too. There are really quite a few learning lessons that they'll get from these winter pre-writing mats!
Do you love these learning printables? If so, check out some of these other great mats as well:
Winter Playdough Tracing Mats Playdough Cards
Christmas Math with Tree Addition Mats