It is time to take off and fly high in the clouds with this exciting new Airplane For Kids activities pack. Not only will you find airplane coloring pages, you will also find many airport learning activities too. Whether you will be going to Travel With Kids or Flying With A Toddler these activities will get your child used to their upcoming travel experience. This transportation theme preschool activity can also be used in a classroom or homeschool setting. Our printable packs introduces children in preschool and kindergarten to these amazing machines and their home, the airport.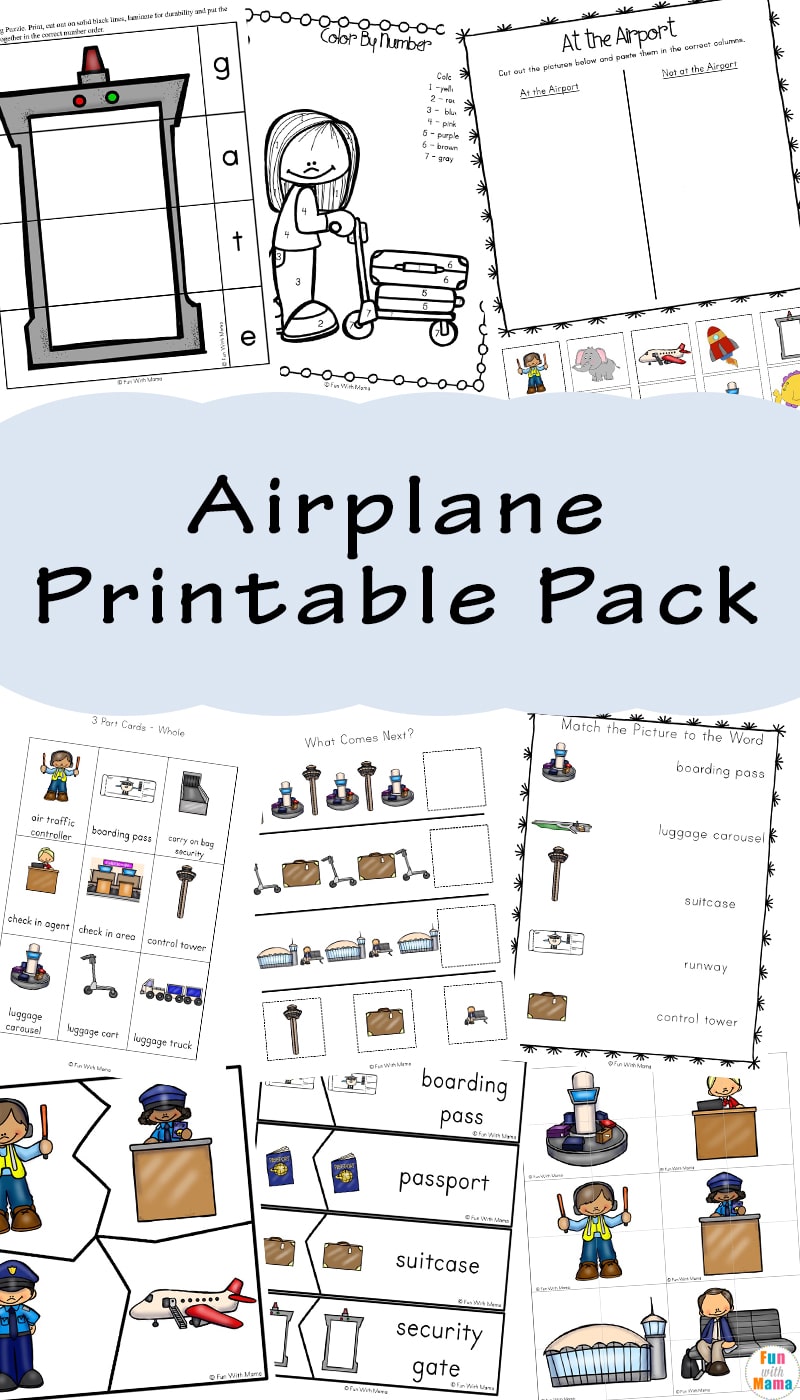 Airplane For Kids
Aimed at children ages three through eight, this fun Airplane Printable Pack includes a variety of math and literacy activities while introducing children to things they will find in an airport.
Check Out More Printables You May Love Here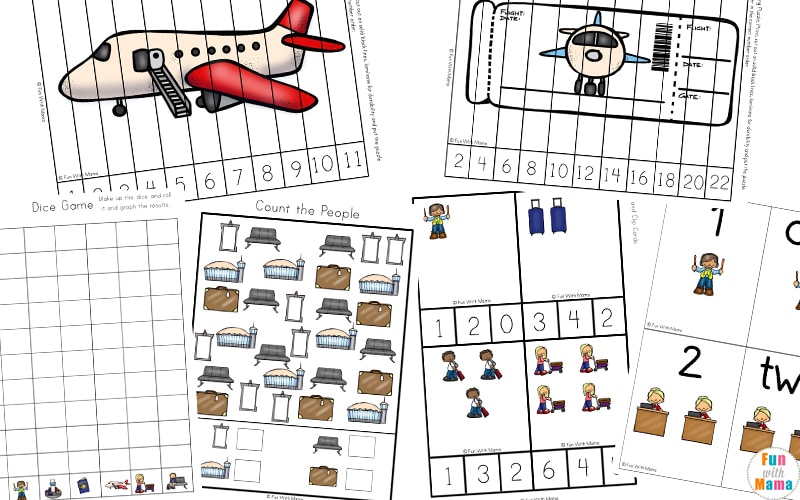 Materials Required:
Please note that affiliate links are used in this post.
Here are some items that pair well with these activities. You will use each of these items over and over during all my printable preschool activity packs.
Card stock(to print everything out on.)
A pocket chart(I have this one and this mini one too.)
Write and wipe Dry Erase Pockets
Laminator with pockets (If you want to make it reusable.)
Clothespins (for the clip cards)
Color Pencils, Crayons or Markers
Lead Pencils
This Airport Printable pack contains over 90 pages and includes many activities.
In this printable pack, children will be introduced to airplanes as well as things they will find at the airport such as air traffic controllers, luggage carousels and carts and security officers.
There are a variety of math activities that help children with counting, skip counting and graphing. At the end of this pack, you will find a mini book in which children are able to learn to read about the airport and then color in the pictures. There is also a page for children to cut out ten pictures to place in the correct colums; at the airport or not at the airport.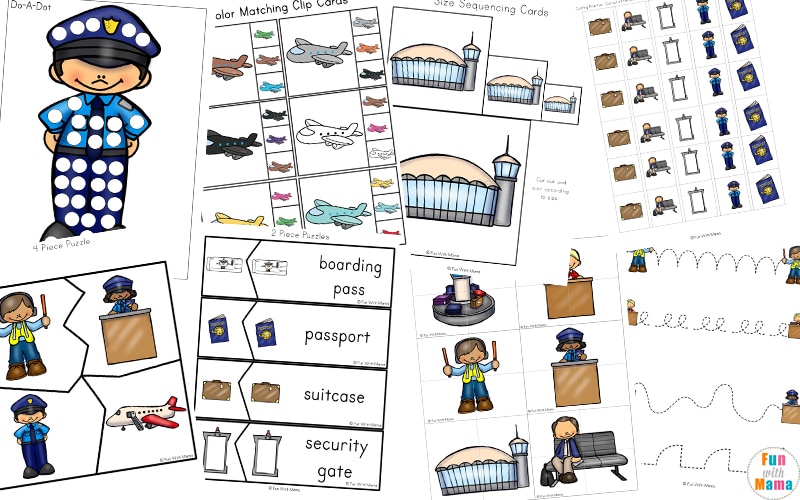 Other activities in this Airport Printable Pack include:
Fingerprint letter activity
Color Matching Clip Cards
Montessori 3 Part Cards
Size Sequencing Cards
Number Puzzles
Word Building Puzzle
Number Cards
I Spy Fun
Puzzles
Line Tracing Page
Count and Clip Cards
Cutting Practice page
See and Stamp pages
Trace the letters
Story / Creative Writing Pages
Color by Number / Letter Pages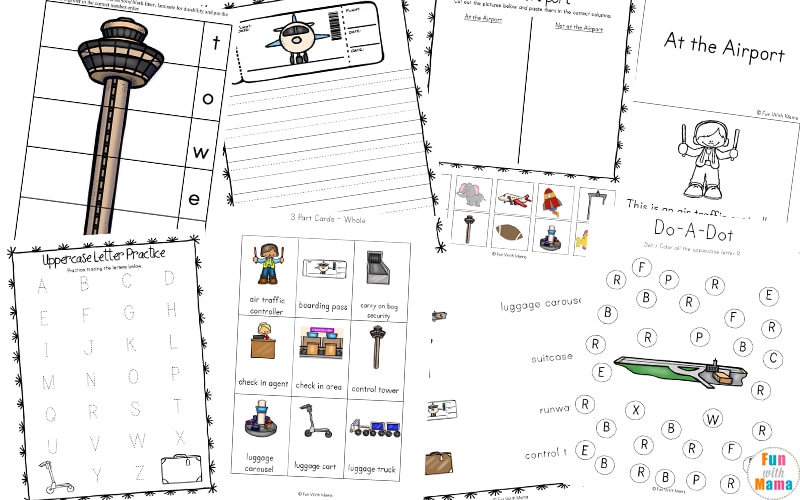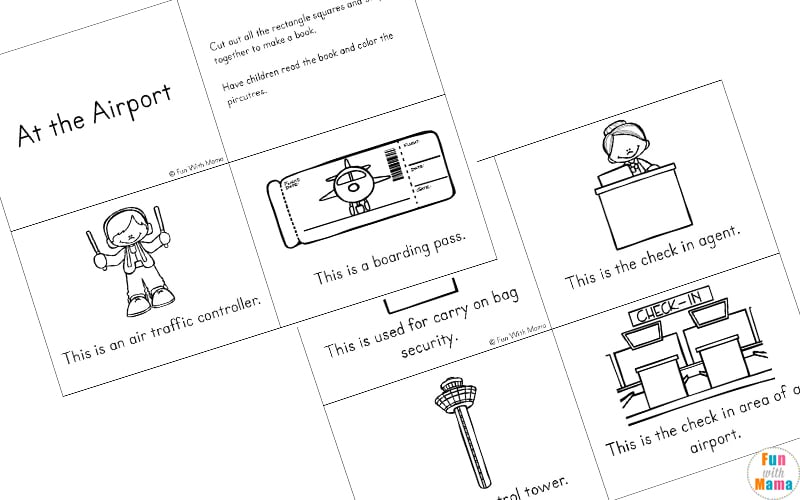 The airplane for kids can sometimes be very confusing. That is why it is great to print out the airplane coloring pages as well as do some of these activities ahead of time so that your child can familiarize themselves with the experience. If they aren't traveling, I'm sure they still are airplane lovers!
WHERE TO GET THE ACTIVITY PACK
GET THE AIRPLANE ACTIVITIES HERE
Get your students excited about all things airplanes and airports with this fun Airplane Activity Pack for Kids. Packed with math and literacy activities, children will learn about airplanes as well as things they will find at the airport such as air traffic controllers, luggage carousels and carts, and security officers.
More Airplane Activities You May Like:
Transportation Theme Preschool Activities
Travel Adventure Books For Kids
Travel Activities And Airplane Travel Toys For Toddlers