As a family, we travel a lot locally as well as internationally. It is easy to travel with kids if you come prepared! These kids carry on luggage ideas will make it so much easier when flying with a toddler. This is also great as a restaurant kit or doctors office visits. When flying with a preschooler, you wont need to stress out keeping your child seated when the seatbelt sign is on if you prepare a special airplane bag for them.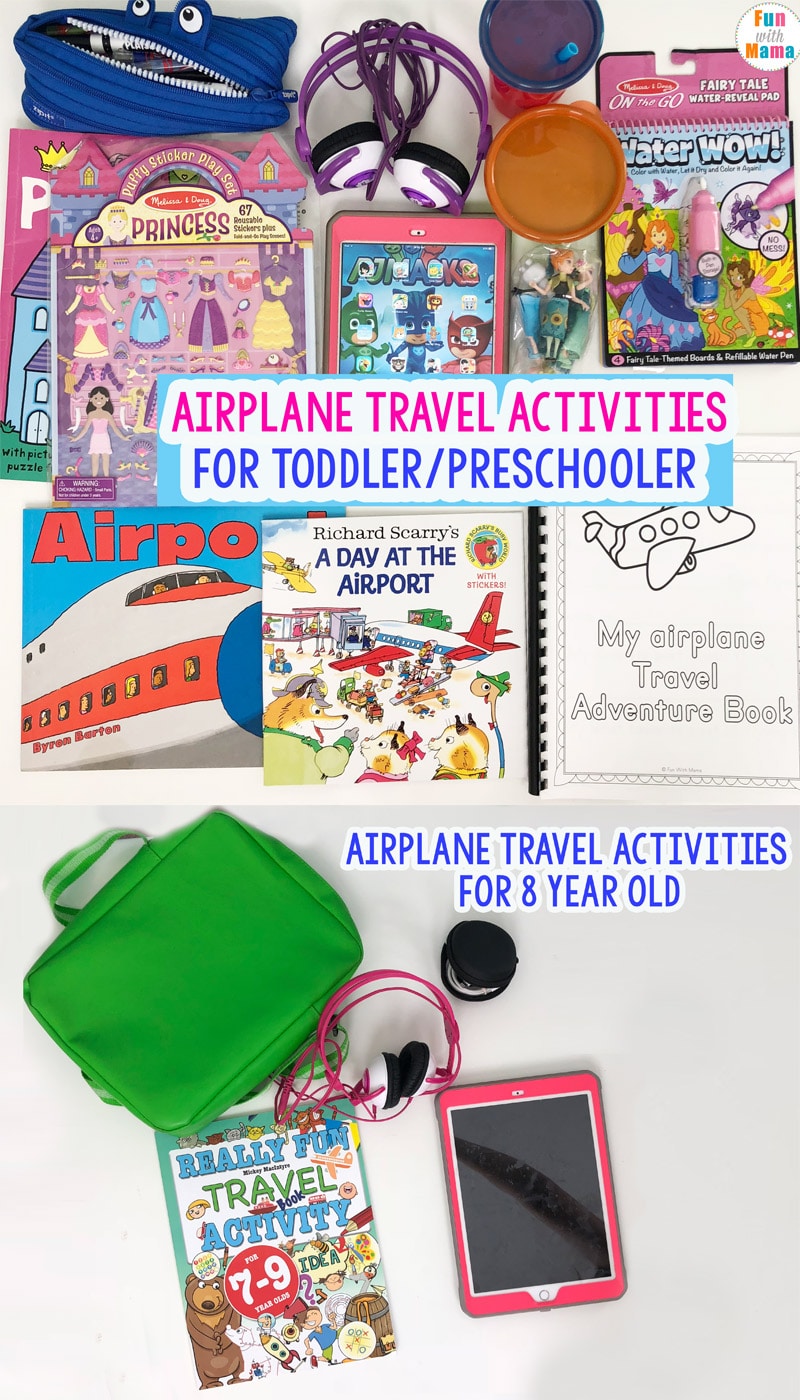 Travel With Kids
Having taken over 40+ flights with my children, I wanted to share tips and tricks that I learned. You can see some of our family vacation ideas here.
If you are flying with a baby, check out my travel essentials for flying with an infant and younger child. I have also done a post on airplane travel toys for toddlers too. Traveling with kids can be easy!
I suggest you watch the video first because I explain it all so much better in the video. Don't forget to subscribe to my channel for more helpful tips. You can watch the video in a larger form on YouTube.
I have included links below to all the items I recommended. I stand behind each and every item and purchased these items myself. Please note that this post contains affiliate links. Please see my disclosure policy for more information.
Kids Carry On Luggage
My favorite iPad covers are these Unicorn Beetle covers . None of our iPads are free from covers. Not even mine. I had a situation many years ago where a brand new iPad was dropped by my then 3 year old. It shattered immediately and there was nothing I could do with it. After that experience.. the kids aren't allowed to use iPads without covers. I have tried many covers in the past and these are by far my favorite. Knock on wood, but I've never had an iPad break in one of these cases. Please make sure that you purchase the right version for your iPad. When I travel with kids, their ipads often come along with us.
I do not allow my four year old to see what I have packed in her bag. I want the whole thing to be a surprise!
In my kids carry on luggage for my 4 year old I packed:
Kids Carry On Luggage for my 8 year old and 12 year old, I packed:
When I posted about the Little Kingdom princess dolls that I planned on giving my daughter throughout the trip, I received A LOT of questions and requests about where to purchase these dolls. While I love traveling with small toys, I did remove the smaller pieces that could easily get lost. I put those pieces away for when we return from our trip. It was mostly the shirts, as they would constantly fall off. But the figurines were a hit with the girls. They just loved the little kingdom dolls!
Here are the ones I purchased:
Flying with a toddler
Don't stress out when flying with a toddler or baby. Once you have prepared yourself with the right tools and toys, the whole family vacation will go smoothly.
We love to travel with kids and hope these tips were helpful to you. Do you have anything to add to my list or things that I should try next time?