Check out this post to see 10 Galaxy's Edge Disneyland Star Wars Land MUST DO's… things that you don't want to miss out on… if you have an upcoming reservation, booked a stay at a Disneyland Hotel like we did or just want to learn more about Galaxy's Edge at Disneyland then this post includes all the details.
Don't forget to check out my Disneyland Galaxy's Edge Tips before you go too!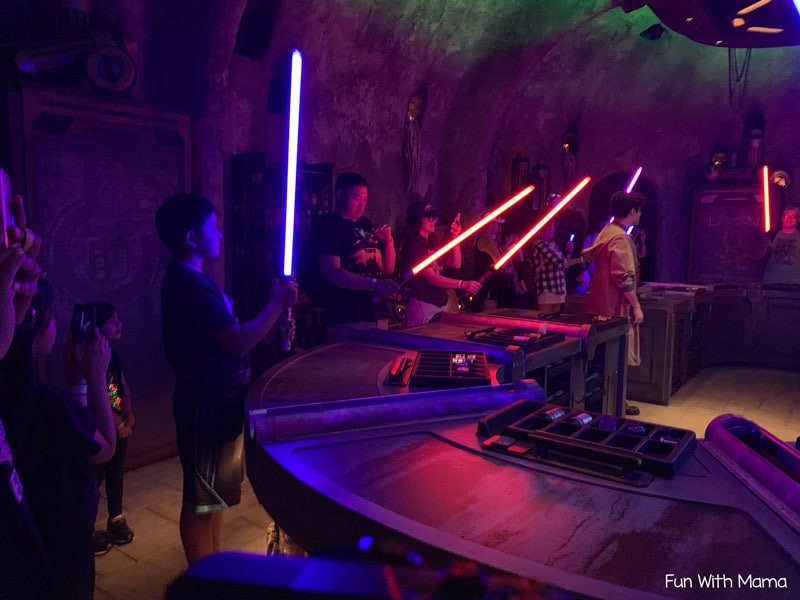 With only a 4 hour window per reservation, Batuu is filled with activities that in all likelihood, you wont see everything during your first trip. That's why it is important to create a plan of what you want to do before you go.
10 Must Do's in Disneyland Star Wars Galaxy's Edge
If you prefer watching it as a video, I have these two video's that include Vlogs on my YouTube Channel.. although the information contained is different. I'd suggest you watch both. You can find my Disney playlist here and don't forget to subscribe to my YouTube Channel too.
Part 1:
Part 2:
1. Savi's Workshop
– the hand build light saber experience. Each lightsaber costs $199 and includes the lightsaber + a bag. (Reservation's are required and you can get them once you get into Galaxy's Edge.) Check out my
Galaxy's Edge Savi's Workshop Lightsaber REVIEW
to get all the details.
2. Oga's Cantina – this is the only alcohol serving bar/place currently in Disneyland. We do not drink alcohol. They have non-alcoholic drinks too and it's worth a look.. the vibe is pretty cool. (Reservation's are required and can be made once you get into Galaxy's Edge.) We preferred the blue colored drink, the Blurgfire to the Hyperdrive Punch. The Hyperdrive Punch was sweet and tasted like a fruit punch. Learn how to get a reservation at Oga's Cantina on my Galaxy's Edge Disneyland Star Wars Land Tips blog post.
3. Shows – We caught the tail-end of one of the shows or rather, a scene of some sort. This is something to look out for once you get there. It really brings Batuu and Star Wars Land to life.
4. Millenium Falcon: Smuggler's Run – This is currently the only ride in Galaxy's Edge and it is fun. Try to ride this one at least twice to get the most out of your experience. There are 2 pilots, 2 gunners and 2 engineers on each ride and guests will take on one of each of these roles. It is an interactive ride and we really enjoyed it.
5. Build A Droid Experience at Droid Depot – Create your own custom Droid! The droid costs $100 each and adding personalities and other characteristics cost extra. You can check out our Galaxy's Edge Droid Depot Review here.
6. Shopping – The little shopping area is themed so beautifully and there is an adopt a creature area store too. The shopping area is also where you can find the unique color and flavored popcorn. Unfortunately, to my disappointment I didn't have enough time to get to try it.
7. Try out the specialty snacks and drinks. – Drink the blue milk and green milk. The blue one tastes like a popsicle to me…. There are so many unique food and snack items in Star Wars Galaxy's Edge. I highly recommend you check out this post to learn more.
8. Interact with the characters – Chewbacca was a little annoyed that my son was wearing a Darth Vader T-shirt and he made his disappointment known. It is really fun to interact with each of the Star Wars characters and everyone stays true to their character. That means some will be friendly, other's will be a little mean and the more in character you stay with the cast members, the more they will talk to you.
9. Look around and take it all in... Batuu in Galaxy's Edge truly brings Star Wars to life. I wish I had more time to explore.. the 4 hours just wasn't enough for how many things we wanted to experience.
10. Use the Disney Play app to interact with the environment. – Make sure you download the app before you get to the land, just in case your wifi connection isn't strong enough.
With only 4 hours in the land, I recommend you pick and choose how you want to spend your time. You will definitely want to visit Batuu multiple times to really take it all in.
Have you been to Batuu?