Have you ever wanted to build your own lightsaber? Then you need to check out my Savi's Workshop review, a magical place where you can build your own handbuilt lightsaber.
Lightsabers are built at Savi's Workshop in Galaxy's Edge. Please note that unlike the Droid Depot (see my Disneyland Droid Depot review) this experience requires a reservation. This reservation can only be made once you enter the land. There is also a limited amount of reservations available during each time slot so if this is something you are keen on doing, you better make sure to line up early to get into the land and then head straight to Savi's Workshop as soon as you get in.
You can watch a video of our experience below. You can find my Disney playlist here and don't forget to subscribe to my YouTube Channel too.
Part 1:
Our reservation in Galaxy's Edge was from 11AM-3Pm. We tried to line up at the entrance to the land (near the Hungry Bear Restaurant in Critter Country) at 9am.. but they did not allow us to do this. We tried again at 10AM and there were a few people in line at that point. We were amongst the first in line. We split up our group so that we could get the reservations we wanted to. (One at Oga's Cantina and one at Savi's Workshop.)
As soon as they allowed us in to Galaxy's Edge my son and husband immediately headed straight for Savi's Workshop. They are hiding from the First Order and purposely make everything around Savi's Workshop look like scrap metal.
On check in you will need to pay to make your reservation. The light sabers cost $199 plus tax. It includes a carrying case and the experience lasts about 20 minutes. It is recommended for children ages 5+ but to be honest, those handbuilt lightsabers are heavy and I am not sure a 5 year old can comfortably carry it.
As soon as my son got to Savi's Workshop they allowed him into the line. They then asked him which type of light saber he wanted.
There are 4 themes, which include:
Peace and Justice- Salvaged scraps from fallen Jedi temples and crashed starships in these Republic-era designs honor the galaxy's former guardians.
Power and Control- Originally forged by dark side warriors, this style features rumored remnants from the Sith homeworld and abandoned temples.
Elemental Nature- This theme embodies the Force—an energy created by all living things, like Brylark trees, Cartusion whale bones and Rancor teeth.
Protection and Defense- Hilt materials bear mysterious motifs and inscriptions that reconnect users with the ancient wellspring of the Force.
They then gave him a badge and a credit (ticket) to get in. We then paid and our reservation for the lightsaber experience was within the first group. There was a huge line within a minute of getting there.
We waited about 10-15 minutes and we were then brought into a room by the Gatherers ushers. The room is filled with unique bits and pieces from all over the galaxy.
I have heard that they only allow one person in along with the person who is participating in the experience (therefore, 2 people) but they allowed my husband and other 2 children in too.
Each participant gets a workspace area.
The Gatherer then guides each guest through the lightsaber making process. The Kyber Crystal is a very important piece as it brings life to the lightsabers . They then make you close your eyes and think about what color Kyber Crystal you want. The crystals are stored in a chamber. They then bring the crystals around for each participant to choose one.
The Kyber Crystals are available in the following colors: Red, blue, green or violet.
Each box contains 1 hilt, 4 sleeves (choose 2) , 2 emitters (choose 1), 2 pommel caps (choose 1) and 2 sets of activation plates and switches (choose 1 set).
Each lightsaber requires: 1 hilt, 1 emitter, 1 pommel cap, 1 set of activation plates, Kyber Crystal and a 31″ lightsaber blade.
One of the most magical moments is when the lightsabers turn on.. it is a breathtaking sight!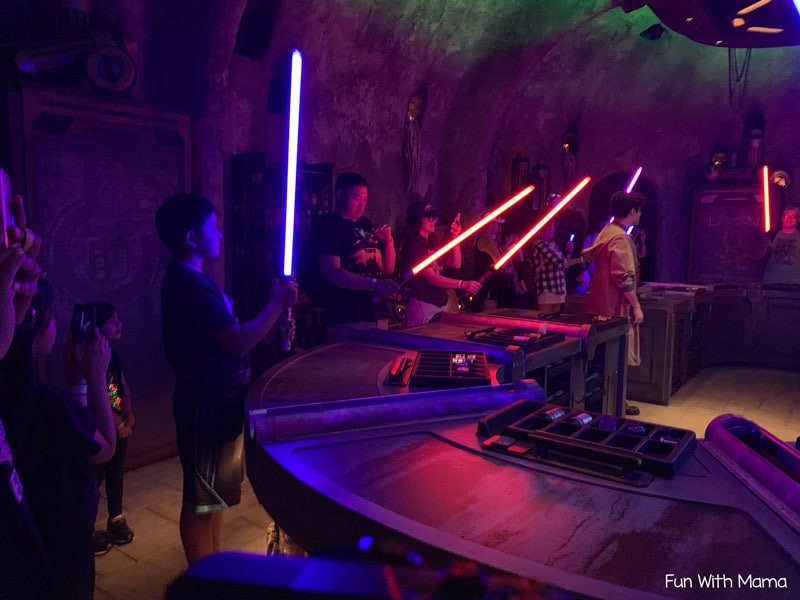 You then get your lightsaber carrying case for safe keeping.
But be careful if you run into any of the First Order Stormtroopers!
Have you been to Galaxy's Edge?
Are you interested in learning more about the other experiences available in Disney?