If you are looking for some homemade Father's Day gifts from kids, this post has you covered. We also include other Father's Day Gifts from kids that can be purchased too!
Father's Day is just around the corner so it's time to start thinking about all those gift ideas that need to be created. Luckily, we've rounded up 20 homemade Father's Day gifts from kids that are certain to be loved and cherished for life.
If you're wanting to make this upcoming Father's Day one to remember, these Father's Day crafts are a surefire way to make it happen. Being able to work together with your child to give a homemade gift is a memory that will never, ever go away. Plus, everyone loves receiving a homemade gift so these options are certain to put a smile on Dad's face!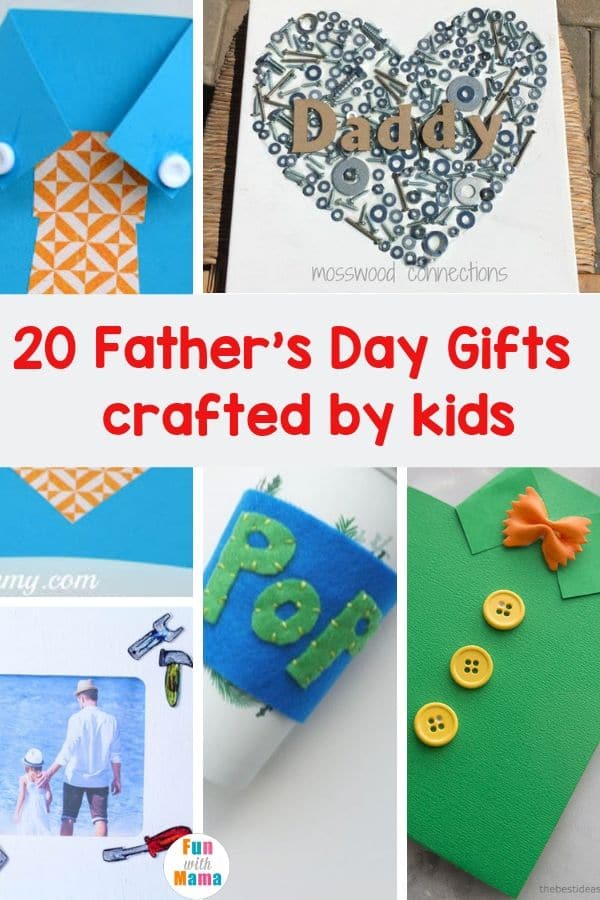 20 Homemade Father's Day Gifts from Kids
Get your crafting gear ready! Here are some of the cutest and best Father's Day gifts from kids!
Shrink Art Tool Frame
Homemade Father's Day gifts from kids are truly the most heartwarming gift and this frame from Fun with Mama is a great way to showcase all the family and dad!
"Dad Rocks" Jar
Creative Green Living has just the cutest Father's Day craft, ever! Simple and so much fun!
Super Dad Father's Day Gift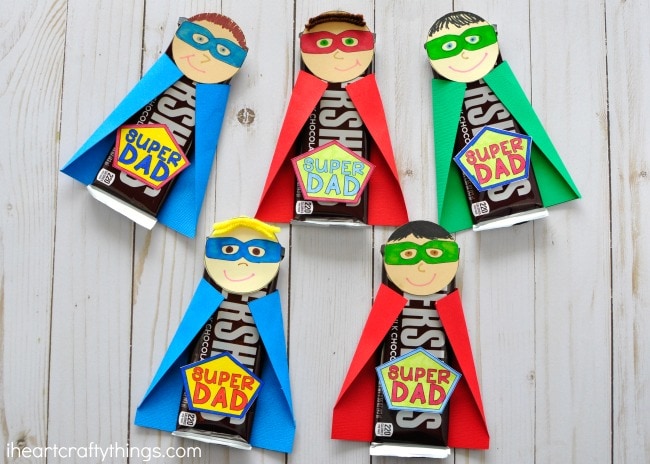 I Heart Crafty Things combines art, creativity…and chocolate! Dad is certain to approve this homemade Father's Day gifts from kids!
Father's Day Printable Drawing
Show dad how artistic the kids can be with this fun and pretty printable from Sixth Bloom.
Shirt and Tie Father's Day Card
Instead of gifting dad with a real tie this Father's Day, East Coast Mommy Blog gives you the directions to make a fun tie card instead!
Upcycled Felt Bookmark
With this simple DIY craft, dad will never have to worry about losing his page ever again. Thanks, Creative Green Living!
Guess Whoooo Loves You Father's Day Craft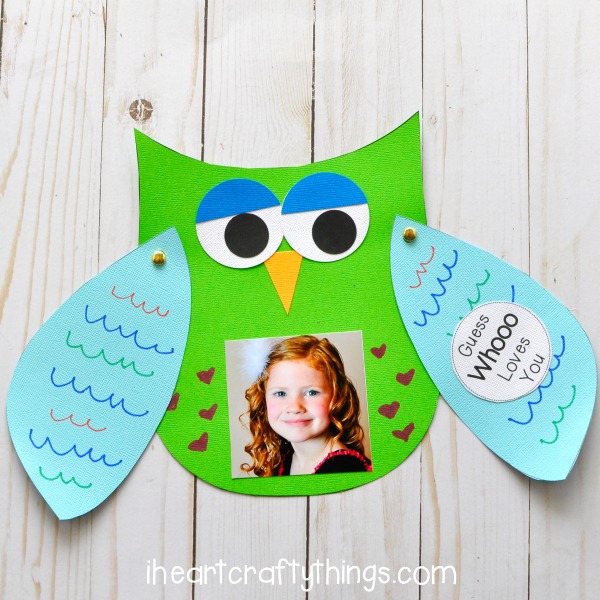 This craft from I Heart Crafty Things is a total hoot! This is fridge worthy for sure.
"Best Dad Ever – Hands Down" Card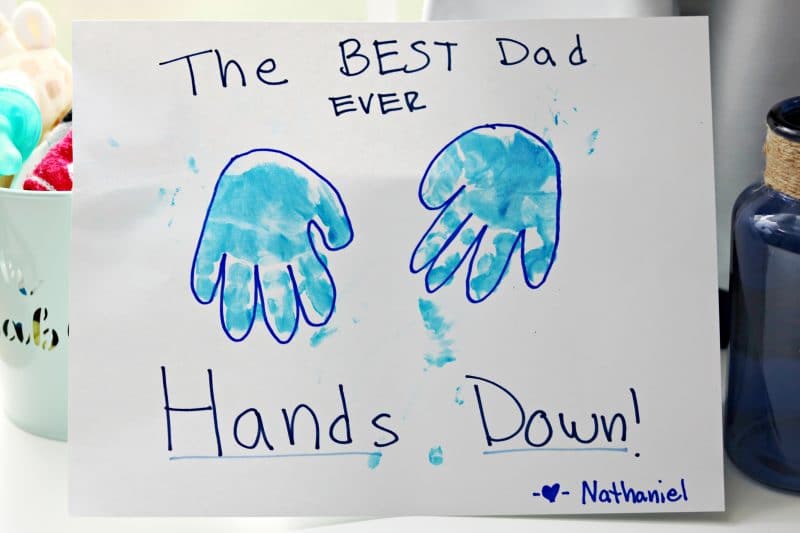 Great for little ones, this simple card idea from Crayons and Cravings won't take long at all to do.
Shrink Film Cufflinks
While there will need to be some parental help on this one, the outcome from this craft from Creative Green Living is stunning.
Father's Day Shirt Card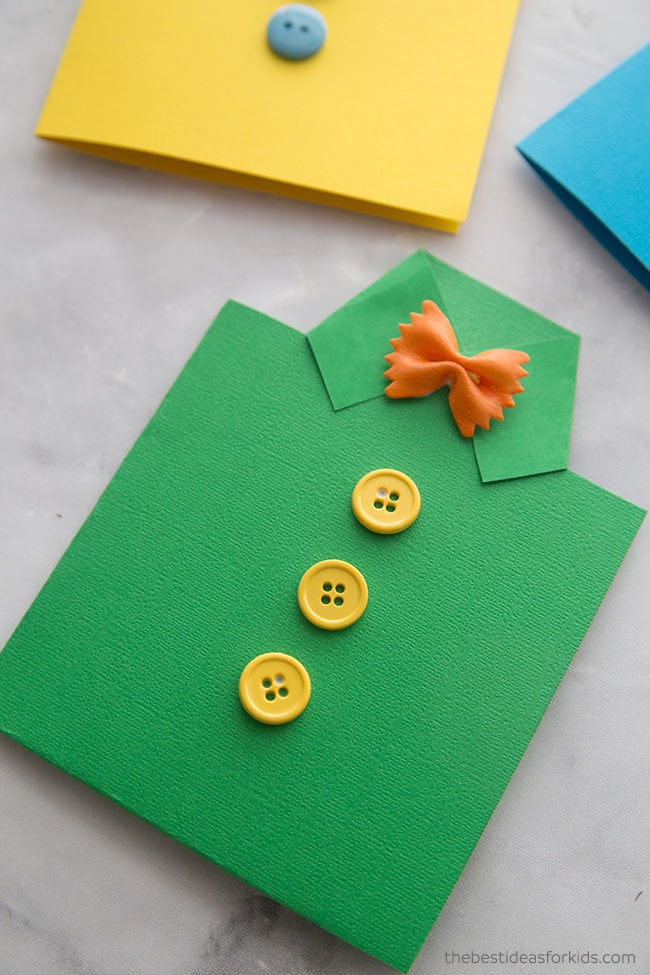 This handmade shirt is one of the cutest Father's Day Gifts from kids and can be created by a variety of ages. This card from The Best Ideas for Kids is one that is a keeper!
DIY Coffee Sleeve
There's no doubt that coffee is hot! Kitchen Counter Chronicle has the cutest craft to take care of that issue!
A Great Big Hug
Perfect for preschoolers and younger kids, this hand craft from Blissful Domestication will make Dad's day.
Upcycled Nuts and Bolts Heart Craft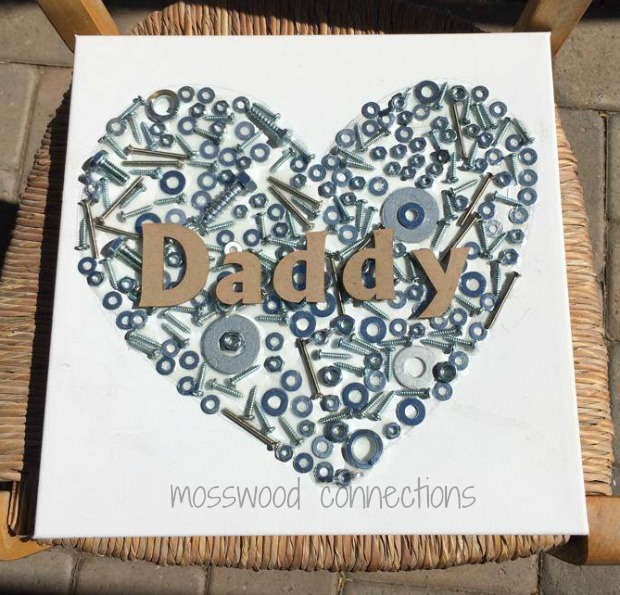 How creative is this Father's Day craft from Mosswood Connections? Head out to the tool shed and see what you can find!
Father's Day Toddler Finger Painting
Painting is always a good time and this simple craft from Books and Giggles is quick and easy to do.
Keychain for Dad
Not only is this a great Father's Day craft from kids from Kitchen Counter Chronicle, but it also helps your children work on their hand-eye coordination as well.
Father's Day Fishing Card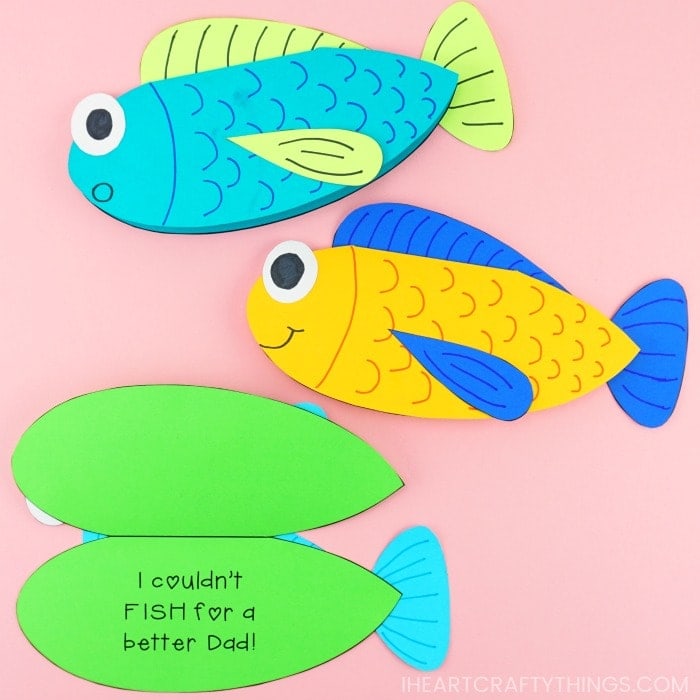 How cute is this card? You can get all the simple directions from I Heart Crafty Things. This is one card that Dad is certain to love!
Father's Day Candy Tie
Your child will love to create this delicious Father's Day tie from Natural Beach Living. And if any of that candy falls looks…dibs! This is another one of my favorite father's day gifts from kids, I mean.. can it be any cuter!
I Love You Painting Craft
Show dad a little love this Father's Day, with this super simple and easy panting activity from Fun with Mama.
DIY Father's Day Painted Mug
There's no doubt that Dad's love coffee so this painted coffee mug from This Ole Mom is perfect!
DIY Shark Keychain
Who wouldn't want a shark keychain? This craft from The Inspiration Edit is cute and fun!
See how much fun homemade Father's Day gifts from kids can be!? Simple and so easy! However, if you're wanting to pair up a homemade craft with something from the store as well, here are 10 great gift ideas that dad will absolutely love!
Other great gift ideas to spoil dad on Father's Day
If you are short on time or your child isn't old enough to make a handmade Father's Day Gift, then check out these fun options:
Does dad like to grill? Give him his very own apron to make it official!
A fun personalized t-shirt is always a great gift idea!
Who says dad shouldn't have the kids faces all over his socks? These personalized socks are awesome!
There's a good chance that dad needs a new wallet, and this option is pretty unique and cool!
Give dad the gift of golfing with these personalized golf balls!
Add some fun to family game night with these unique and family-friendly playing cards!
If dad likes to read, create this customizable "Super Dad" book all about him!
Give dad some style with this customizable and snazzy cuff links!
A daddy picture frame is one gift that he'll display proudly on his desk.
An Amazon Fire Tablet or if he likes to read, a Kindle is also another great gift.
Which father wouldn't love a toolbox?
or a fancy barbeque grill now that summer is here?

With all of these great gift options, you can give the gift of a homemade Father's Day gift from kids and a store-bought one as well!