Learn more about the Pottery Barn Kids Backpacks and Pottery Barn Teen backpacks in this blog post that contains Pottery Barn Backpacks review. I go into more details on the sizes and what fits into each Mackenzie bag.
Being a mom to three growing kids means that I'm constantly on the hunt for the latest and greatest backpacks. And while it still currently might be summer break, back-to-school sales are already gearing up for the upcoming start of school. Instead of stressing out and scrambling to find good backpacks, I'm happy to recommend these Pottery Barn Backpacks as some of the best options there are!
It's such a nice thought to know that we can buy backpacks that are going to look great and last for the entire duration of the school year! (and honestly, even longer. I've gotten several year's use out of each Pottery Barn backpack we've owned!)
Please note that when ordering personalized items from Pottery Barn Kids… order in advance! I can't even begin to tell you how many times I wanted to order a specific print on the website (in August or late July) and then seeing that the backpack would not be here in time for the first day of school.
This year, I don't plan to purchase new backpacks for my older 2 kids (10 and 12 year old's). They will use their backpacks from last year because the backpacks look almost brand new one year later!
If you're looking for reliable, dependable and functional backpacks for all ages of children and students, here are my thoughts about Pottery Barn Backpacks.

Pottery Barn Backpacks
When you stop and think about a backpack, there really is quite a bit that it's used for. Not only does it hold all their books and lesson plans but it also is a place that holds their lunch boxes and personal items as well.
One of the biggest factors that pop into my mind when thinking about book bags is that I want them to be functional and comfortable for the kids.
Pottery Barn does a great job at offering quality backpacks that fit various body sizes and needs. While I've created a YouTube video below showing off several of their backpacks and lunchboxes, here are some specific details and facts about some of their varied backpack offerings.
The YouTube video has a lot of hands-on information that gives you a closer look at the backpacks and the sizes. Please don't forget to subscribe to my YouTube Channel too.
YouTube Video:
Pottery Barn Kids Backpack for kids
The Pottery Barn Kids Backpacks available on the website include the Mackenzie Backpacks. You can find all the different backpack prints and sizes here.
There are 3 Pottery Barn Kids backpack sizes: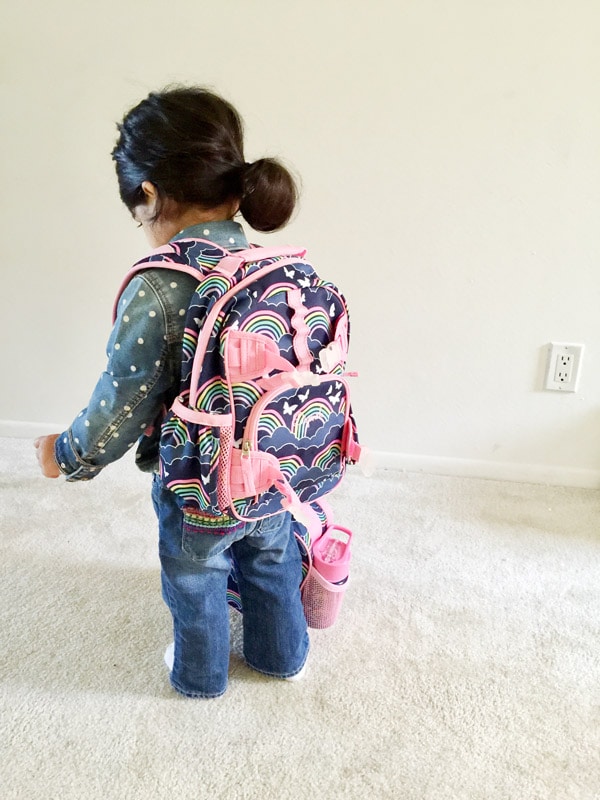 I purchased the mini for my then 3-year-old daughter and I must say, we barely got to use it. I do, however, think it is the cutest sized backpack for a young preschooler. Unfortunately, I didn't check with the school beforehand to see their backpack requirements and, we didn't get to use it in school.
My 8-10-year-olds used the Pottery Barn Kids Backpacks size Large. For my now 5 year old, I think I will be heading straight into the large bag for Kindergarten.
This backpack is the Pottery Barn Kids Backpack – Allover Star Wars bag in size large with the cold pack lunchboxx.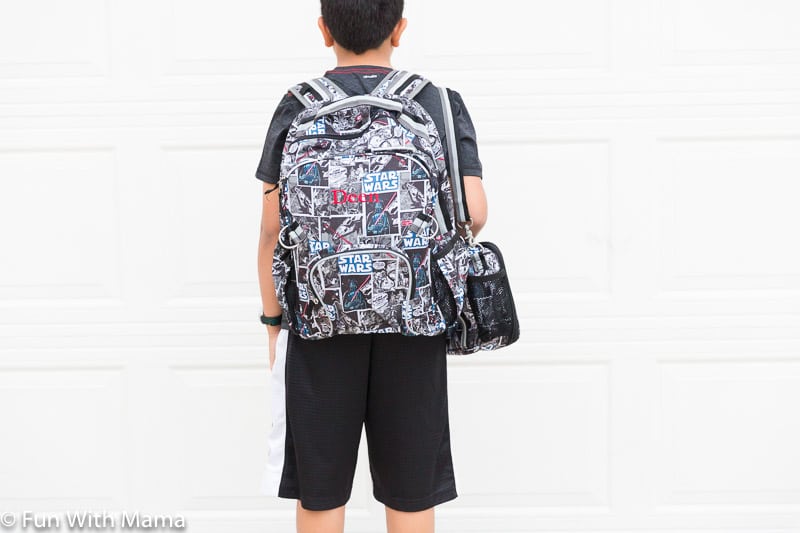 This backpack is the Pottery Barn Backpack in the print called Rainbow Unicorns in size large.
Here is my older daughters backpack for third grade.
For fourth grade we decided to go with this backpack below: The Mackenzie Lavender Mariposa Glow In The Dark Lavender Pottery Barn Kids Backpack in size large.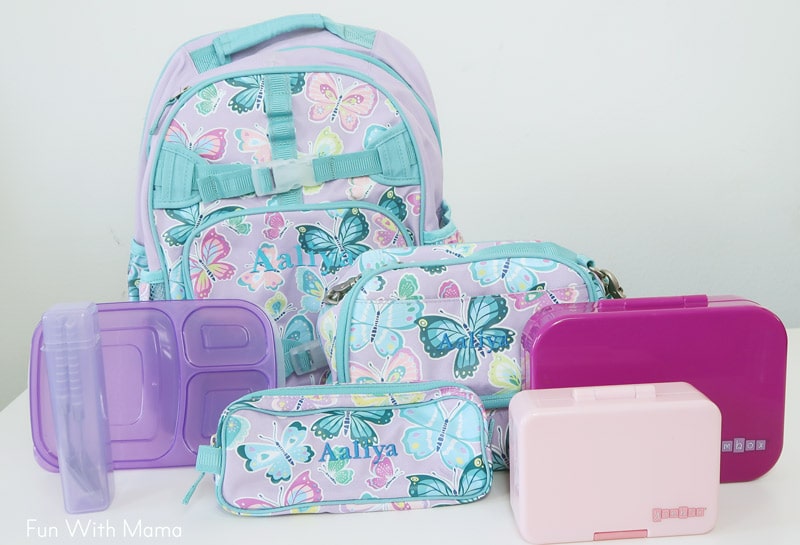 This backpack is a huge hit for my middle daughter as she loves the bright colors and prints. I'm also a fan of it as well as it's a really great size for her body. There's nothing worse than having a super heavy backpack that just doesn't fit right!
One other big positive of this backpack is that it comes with a chest strap to be even more fitting, a padding back for comfort and also padded shoulder straps as well.
My daughter really enjoys all the compartments in it where she can put all her things, too. This one has a little "secret" compartment at the very top that she really loves.
We also added the matching lunchbox to go with her backpack this year, and we love it! It has a shoulder strap so she can wear it like a purse and that actually makes it super simple to take in and out of the backpack. Plus, it's large enough that it can fit in items like her Yum box and thermos easily as well.
Pottery Barn Teen Backpack
You can see all the Pottery Barn Teen backpack prints here on the PBTeen website.
Having an older child means that their backpack needs to be bigger. It's amazing how many books they can fit in there! This is one of the biggest reasons that I love the Pottery Barn Teen Backpack.
It's large enough to hold all his school items but not too large that it's uncomfortable. Plus, it's appropriately sized for a teens body and comes with a nice padded back and straps.
There are actually several compartments to this backpack and that makes it nice to set up some sort of organization that works for him. The smaller compartment is great for electronics or smaller items while the middle can be used to store smaller books or even a tablet. The larger area is more than enough to hold all of their books, plus a lunch box as well.
As you can see, we have the matching lunchbox to the book bag from Pottery Barn and it works out great. This lunchbox is a really good size and I can use it easily to fit in a Yum Box or an Easy Lunch Box, a thermos for hot and cold food and even the must-have Pottery Barn Cutlery set that organizes their silverware for the day without making a huge mess.
I also love the fact that it's made with durable material that is waterproof as well. Because well….rain happens but that doesn't mean that everything inside the backpack has to get soaked!
Why Pottery Barn Backpacks?
Our household has been a fan of Pottery Barn backpacks for quite some time. One other big positive is that we love how long they last. We've actually been able to use them for more than one year and have only really needed to upgrade because the kids are growing in size and just need a bit bigger space.
If you're looking for quality backpacks at an affordable price, check out the offerings from Pottery Barn. From fun glow in the dark prints to other great options, you're certain to find one that will be a fit for any school-aged child in your family.
My Suggestions from the Pottery Barn kids Backpages for 2022 are:


Have you ever purchased a Pottery Barn backpack before?