I have found that the best way to organize toys and to keep your house clean with toddlers and kids is to create a play space for them. In this post I show you how to create a kids playroom. From start to finish you will see how we planned and organized this room to make it one of our favorite and most used rooms in our house. Then on Monday, I will give you a tour of our kids playroom and include playroom design and storage ideas that would work for toddlers, preschoolers and older kids. These ideas will be gender neutral and thus work with both girls and boys.
How to create a kids playroom
Since we had already moved into the home I needed to store our playroom furniture and create a kids play space while we were in the midst of creating their playroom. This was our initial set up during our construction phase.

This project was done between my husband and I as well as our builders. I will always remember this as one of my favorite projects with my spouse. Having the input of two people who know the kids well gives you a unique insight into what your playroom needs are.
How to setup a playroom
Step 1: Get out a pencil and a paper to design the layout.
I think one of the most important steps of creating a playroom for the kids is to first take a piece of paper and write down your needs.
My needs were:
An easy to clean and good sized table that the kids could do arts and crafts on together. I also wanted this to be a homework station (hence the drawers that I added.)
Lots of toy storage areas that would still look neat and relatively clean daily.
A train table for imaginary play.
An area for their game boxes like their playstation and xbox. This needed to be in an area where all their cousins and friends could play together.
Visible book storage – I have a million kids books. I love reading to my children and besides there being wonderful benefits it really calms me and makes me feel connected to them before we sleep. Because I have a million books I know that too many choices is often the worst thing for kids. I wanted to display a specific set of books for the kids to have access to each week. This would enable them to actually read the books instead of being overwhelmed.
A place for their hundreds of stuffed animals to live.
I wanted a playroom with a modern kid friendly look using a gender neutral feature color. We settled on red because it is my son's favorite color.
A comfortable floor that they could sit on meaning the thickest carpet I could buy with the deepest foam inside.
A display area for their lego's and things they want to be seen.
An area really close to their table for all their art supplies with removable cups for easy movement around the house. (Check out my DIY kids art cart here)
Step 2: Measure each part of the room.
This is the room we started with.
You need to measure the walls, placement of windows and general room size. From here you take a piece of paper and draw out what you need. I knew I needed as much storage space as possible because we have collected way too many toys over the years. This means I needed as many long cupboards/cabinets as the room could hold without being overwhelmingly full. Draw out the long cabinets, choose your placement of drawers.
Step 3: Choose paint colors that will match the theme you are going for.


I am sure you have seen how yellow my before picture is. I think because it was so gold, yellow and mustard we wanted the exact opposite. We have always been more drawn to silvers and blacks. For the wall we chose a light to medium grey color.
Step 4: Build
My husband can't build furniture so we found a carpenter to help us with this project. We gave him a detailed explanation and list of what we wanted as well as where we wanted our feature colors to be. All he needed to do was put it together.
Step 5: Place your items in their designated spot. Add in artwork and pictures to create warmth in the room.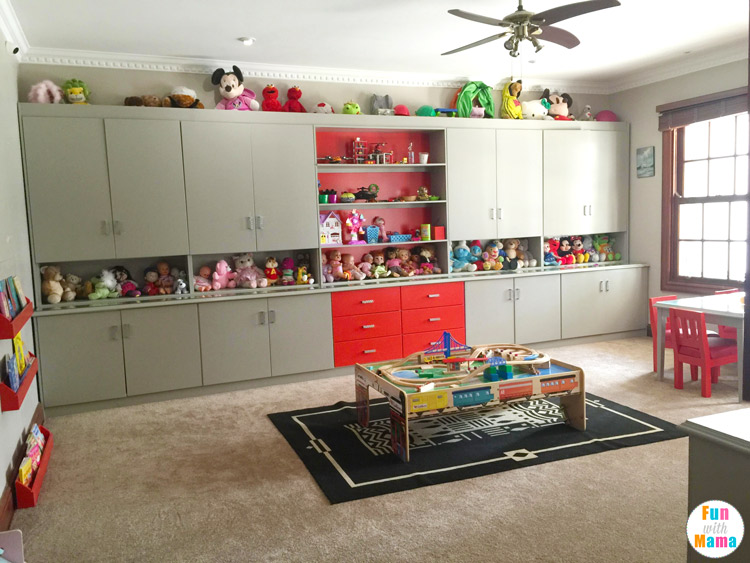 Tomorrow I will be posting a kids playroom tour and how to set up a playroom at home. This post will give you a more detailed look at each part of my playroom including organization ideas and tips. Sign up for my newsletter above to be notified about this post.
You will find the details of what is in our playroom there. You can also find my recommendations below.
My Playroom Picks
More of my Organization Posts:
More kids organization ideas from around the web