Wanting to spend good quality time with your children? Then check out the best board games for families to play together. Playing board games together is a great way to re-connect, give each other some undivided attention and also teach the younger children some important skills and life lessons. Often times, as Mom's we want to spend good quality time with our children but coming up with ideas can be tough. Maybe the weather isn't cooperating or it just seems like too much work to get all the kids out of the house. Board games are perfect for these moments.
In the list below I have included only games that our family has tried, tested and loved. Sure, some of them can get a bit repetitive, but there is also a reason that many of these are classic games. It means that these board games are childhood staples!
Best games for families to play together
I'm always looking for good family games to play for family night. We try to incorporate playing board games on the weekends or when we have some down time at home. I love that board games are beneficial for children.
Why is it good for children to play board games? It teaches them to:
take turns
learn to be cooperative
accepting that you cannot always win
learn crucial skills like counting and budgeting money.
But how do I play board games without my kids fighting all the time?
In our home, we are currently working on social skills like team spirit, playing for fun rather than to be the winner and how to take turns and control our excitement AND disappointment. I wont pretend that game playing with my children is fight free. If I leave my children to play a board game together without any supervision, I will hear a lot of fighting and the words, "HE'S CHEATING" or "SHE'S CHEATING". I guess I lived in a different world those 20 something years ago. My brother and I could play board games for hours without ever fighting.
I have three very competitive children who all "have" to be the winner. I would hate for them to go to a friends house, play a board game and be a sore loser in the whole thing. The best way to alleviate this is to teach them, under my patient supervision, how to play board games together and enjoy their time together. It isn't about always winning. I remind them that they have laughed a lot throughout the game and sure, winning is fun.. but it is not the reason that they play together.
Dice games are sheer luck. I teach them that. Strategy games, on the other hand, are more about your own skills. The more you play the better you get at it.
I think that this is because the world we live in today, especially in elementary school is so geared towards "everyone wins" during sports games, rather than their being clear winners. Our kids no longer have the skills to accept critical social and life skills that there will be a winner. Not everyone can win all the time. In their future jobs, promotions can't be given to anyone. It will be given to the person who has worked the hardest and sometimes by pure luck!
We will be playing board games over.. and over and over again until I see these social skills being met. Until I see my children end a board game without a major fight. When they learn to treat each other fairly during the game play and try not to entice reactions out of each other.
Each time we play a board game it gets better and better and better. I see the differences in their reactions now and what better way for them to gain these skills than under the natural tenderness of their parents? Lessons hidden amongst fun times spending quality time with their parents?
Please note that this post contains affiliate links. Please see my disclosure policy for more information.
Best Board Games For Kids
1. Monopoly Classic Edition
Number of players: 2 – 9 for the classic edition and 2-4 players for the junior version.
Ages: Depending on the edition you buy, it can be 3+ for the preschool edition and 8+ for the classic edition.
No childhood board game collection is complete without this classic game. Each player takes turns rolling a dice and can purchase properties. Whenever a player lands on someone elses property, they have to pay them a rental fee. It is so much of fun. The Monopoly Junior edition is one of my favorite board games for 4 year olds and up. It is more geared towards younger children than the classic. The classic can be enjoyed by adults too! My 4 year old, 8 year old and 10 year old happily play the junior edition. There are so many variations of Monopoly, but I always feel the classic editions are often the best. There is even a Monopoly card game that is quick and fun! If you are not keen on dealing with "money" (although that is mostly the point of the game) then you can get the credit card version. If you want to play the game with your preschooler or young children then get the Monopoly Junior Edition. There is also a personalized version that you can add our own families pictures to.
2.
The Game of Life
Number of players: 2-4 players
Ages: Ages 8+ but my children have played it from ages 4+
The Game of Life involves players choosing a career and their life path. they can purchase property and have children through their journey. This game has moved with us over two countries. Yes, it is a true favorite in our home. I think kids are fascinated about the fact that, in the game, they can become mom's and dads. They can have twins and real jobs. It gives them such a fun sense of pride. Especially when they announce that they have just had twins! You could get the electronic banking card version which would make it easier for the kids to play alone. They would miss out on all that money counting practice, but it puts a 'credit card' and calculator into practice.
3.
Candyland
Number of players: 2-4 players
Ages: 3+
The Candyland board game is among my favorite first board games for kids. It is also a great way to practice color recognition. It's fairly simple to understand and the game isn't too long. There is no dice, just cards. Each card contains a color that your player needs to go to. Candyland is one of the best board games for 3 year olds and up!
4.
HiHo Cherry-O
Number of players: 2-3 players
Ages: Ages 3+
This game is another one for younger kids, especially as a first board game. The game goes by quickly, contains simple concepts and teaches kids to wait for their turn. Children spin the spinner and then add in or remove apples from the game board. This is definitely one more for preschool age children. If you are looking for board games for 3 year olds then this is the one to start with!
5.
Zingo
Number of players: 2-6 players
Ages: Ages 4+ but my children have played it from 2+
This version of Bingo can be played by children as young as 2. It becomes a quick toddler and preschooler favorite. This is a great birthday present idea for your child's friends second and third birthday. You could also print out one of our free printable bingo games for kids. I'd say this is more appropriate for children ages 2-6. This is a must have in your toddler board games closet!
6.
Blokus
Number of players: 2-4 players
Ages: Ages 7+
This is a fun strategy game perfect for families. Players take turns playing pieces from their particular color on the board.
7.
Chutes and Ladders
Number of players: 2-4 players
Ages: Ages 4+
This is another original and classic game. You can get a newer version of the game here. Players spin the spinner and then move the appropriate amount of squares. If there is a ladder on the square, the player can climb up to a higher square. If there is a chute, then the player will have to slide back down.
8.
Qwirkle
Number of players: 2-4 players
Ages: Ages 6+
There are many in game choices you can make in terms of play. This one is suitable for 6+. This is one of the best board games for 5 year olds and older!
9.
Clue
Number of players: 2-6 players
Ages: Ages 8+
There's been a murder at the mansion and the point of the game is to see who can solve the mystery first. You will have to figure out the weapon used, the room it occurred in and who did it. You can try the version for younger kids, but it seems the reviews are more favorable for the classic. Clue is one of the best board games for families to play together.
10.
Sorry
Number of players: 2-4 players
Ages: Ages 6+ but I feel it is suitable from ages 3+
The game of Sorry is another fun board game that the whole family can play. It involves rolling a dice, counting the correct amount of spaces and moving around the game board until you get to your home. If two pawns, however, land on the same spot then "Sorry!" you bump the pawn back to the starting place. The 2013 edition includes 3 pawns instead of 4. We personally have the Classic edition .
11.
Uno Attack
or the
classic Uno game
Number of players: 2-4 players
Ages: Ages 7+ but 4 year olds can grasp the concepts with a little bit of teaching help during a game or two.
Uno Attack is another fun version of Uno that incorporates more elements. The classic Uno game is still the best travel game and a must have in any home.
12.
Head's up
Number of players: 2-4 players
Ages: Ages 8+
One person draws a card and without looking at it puts it on their forehead. Everyone else has to give that person clues to help them guess the word on their head.
13.
Don't Break The Ice Game
Number of players: 2-4 players
Ages: Ages 3+
My children have also loved this game for years. It attracts a wide variety of ages from the youngest being 2 years old. Players need to tape out the ice blocks one by one without breaking the full set. This game is perfect for preschoolers!
14.
Rummikub
Number of players: 2-4 players
Ages: Ages 8+ but 7 year olds can grasp the concepts too.
This is one of our favorite games to play, not only as a family but also as a couple. This is a very strategic game and you will really use your mind. This is the game my husband and I reach for. I can see it helping children gain important math skills here but it is definitely a good board game for adults.
This is our stash of board games below.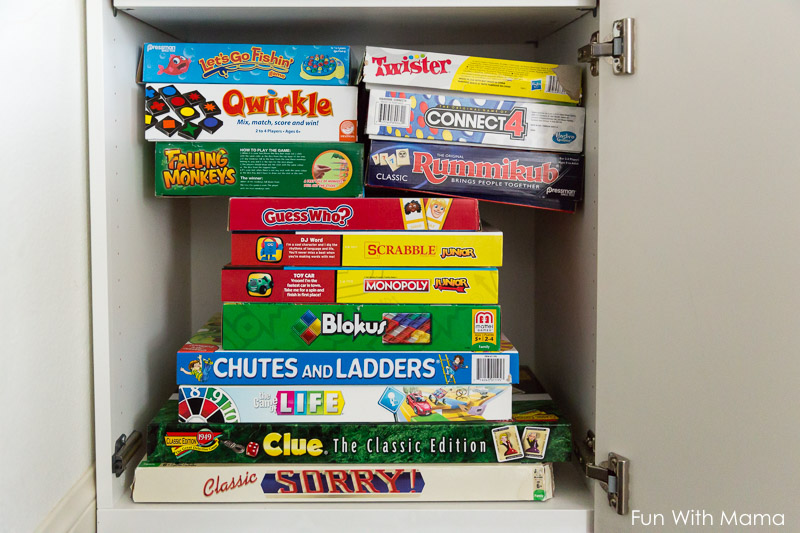 Here are some more board games that fellow Fun With Mama readers have loved and highly recommend!
Best Board Games For Kids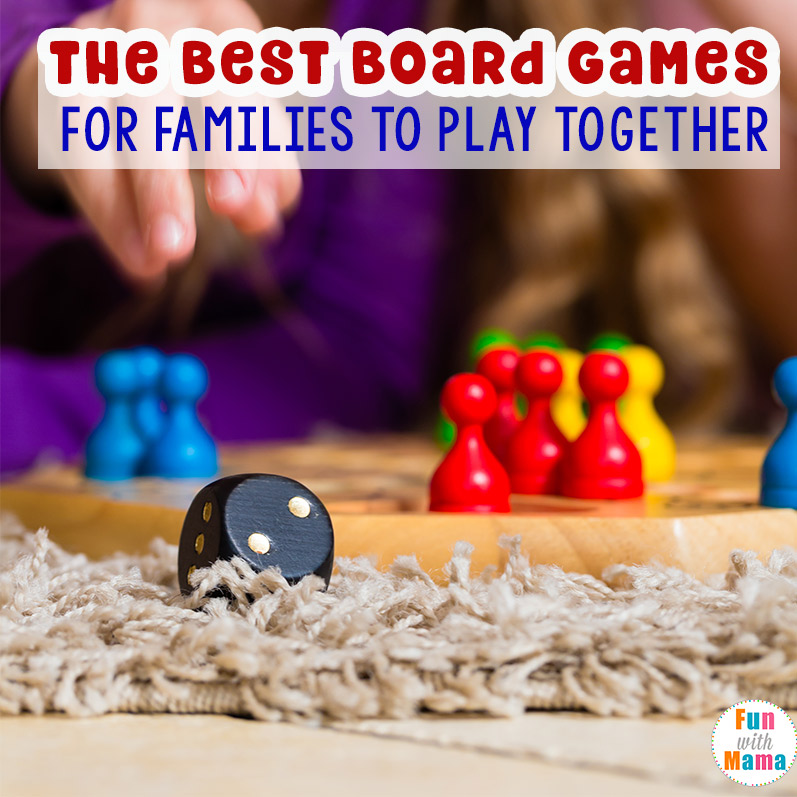 Need some ideas on how to store board games? Then check out these ingenious organization solutions!
I hope you enjoyed this list of top board games for families to play together. Do you have any favorites to add to the list?
How do you stop children from fighting when they play board games together?
Leave a comment letting me know which are your favorite board games for families to play together.