These Ramadan Color By Number worksheets are a great, simple, no-prep, Ramadan-themed coloring activity that works on number recognition and fine motor skills.
Ramadan Coloring Pages
Ramadan is almost here and now is a great time to start planning Ramadan activities for kids. We've started displaying our Ramadan decorations and placed our Ramadan books for kids on our bookshelf.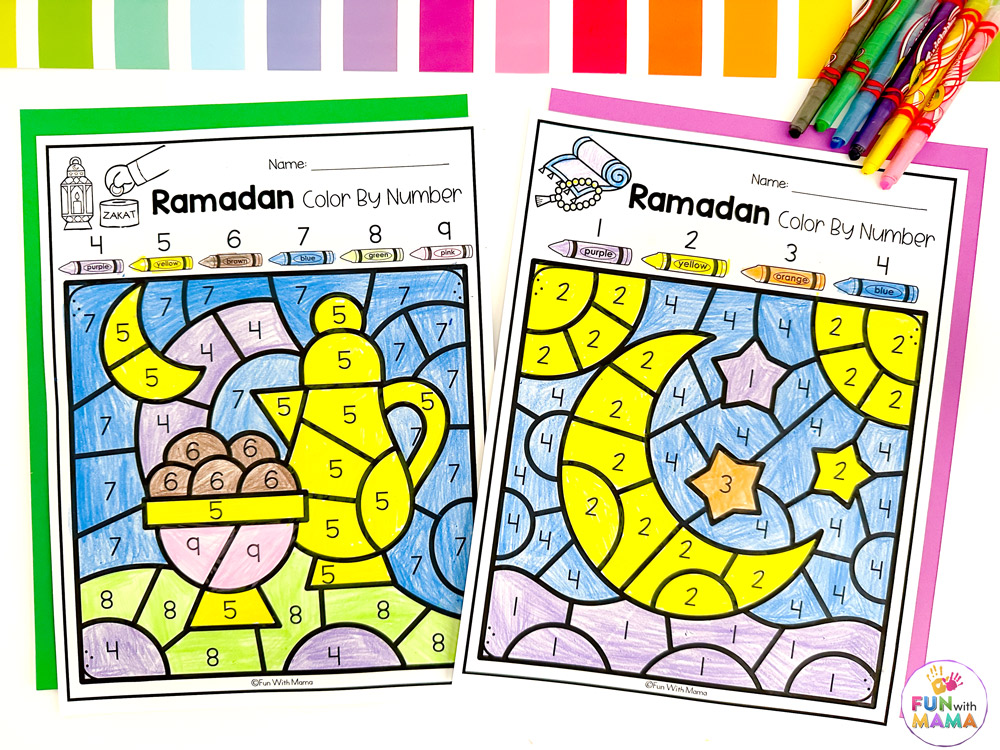 The freebie includes 2 pages of the Color By Number pages as seen above. It has the moon and stars as well as dates and tea.
The freebie focuses on the numbers 1-9.
Using Ramadan coloring pages that incorporate numbers and a key like this works multiple skills like a child's fine motor skills, number recognition, and number sense.
We also have a paid pack version that includes 6 Ramadan Color By Number pictures in color and black and white.
This is helpful for children who can't identify colors by color words.
If you'd prefer to use the black and white worksheets with a child who cannot identify color words, use the color chart at the beginning of the activity and just have them color in the crayons with you at the start.
They also are differentiated. One set includes numbers, while the other set includes number words.
One thing that I really love about color-by-number activities is that they can be used by people of ALL ages. I actually had the most wonderful and relaxing time coloring in these pages and I think I've officially become a color-by-number fanatic.
We are currently working through bringing more holidays around the world activities here at Fun With Mama and think it's really important to encourage cultural diversity in a classroom (see this post 15 Cultural Diversity Activities) so that children feel seen and represented in their classrooms.
As a minority, I grew up celebrating other cultures in my classroom, and yet, my own culture was never celebrated. It at times made me feel so small and that's not the kind of world we want to live in. We want to live in a world that celebrates our differences, celebrates our cultures, and celebrates OTHER people's cultures.
What do you need for this activity? Just crayons or markers!
GET THE FREE SAMPLER RAMADAN COLOR BY NUMBER PAGES HERE
Already a subscriber? No problem. Just enter your details above so we can send this printable right to your inbox.
WHERE TO GET THE RAMADAN COLORING PAGES PACK
GET THE RAMADAN COLOR BY NUMBER WORKSHEETS HERE
In the Ramadan Color By Number Worksheets pack, students will explore Ramadan decorations and vocabulary words through mystery pictures. The worksheets focus on the numbers 1-9.
How do you celebrate cultural diversity in your classroom?
Are there any other holidays around the world that you'd like me to create activities for? Leave a comment and let me know.