These Ramadan activities for kids printable pack is our first pack in our holiday's around the world guide. The activities in this pack focus on Ramadan vocabulary words, math activities, tracing, and more!
Printable Ramadan Activities
Looking to introduce Ramadan into your classroom or home? This pack is PERFECT for you.
This pack, as a part of our holiday's around the world activity packs, is great for promoting cultural diversity in classrooms. (Check out my post 15 Cultural Diversity Activities for kids.)
Students will be introduced to a few interesting facts about Ramadan and they will learn some Ramadan vocabulary words.
The activity pack includes a variety of centers and activities that are Ramadan themed but that target fine motor skills, counting, math, creativity, color recognition, and more.
We have our Ramadan decorations up and our Ramadan books for kids out and ready to go.
Watch the Ramadan Activities Pack Video
The activity pack also includes some great worksheets to use and print out.
Please note that while this activity pack incorporates multiple age groups so that you can easily pick and choose what works for your class or student's age.
Here are the Ramadan Activities you'll get:
Ramadan Patterns
Build a pattern with counting cubes. Students will place the matching color linking cubes on top or below the pattern picture and then finish the pattern.
Pom Pom Color Match
Work those fine motor and color recognition skills with this activity. Use tweezers to place matching colored pom poms on the lantern.
Pattern Buttons
Match the colored shape buttons to the lantern. Older students can then finish the pattern in each row by placing the correct shape below the pattern.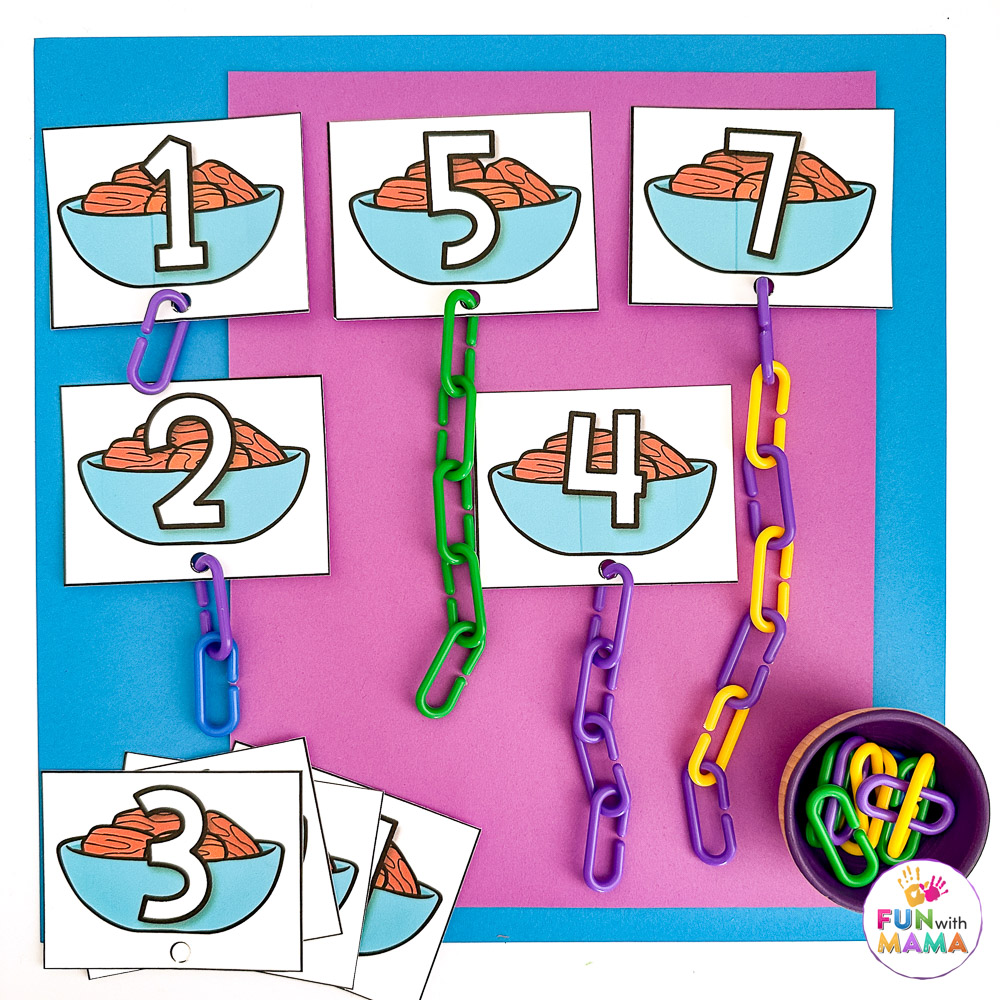 Linking Chain Numbers
Use linking chains to place the correct number of chains under the date bowl. This activity works on counting and fine motor skills.
Counting Clip Cards
Count the pictures on each card. Then use a clothespin/peg to clip the correct number. You can also place a gem or math manipulative/marker instead of using a clip.
Henna Designs
Copy the henna design or create your own on the blank hand. To make the activity re-usable laminate or place in a page protector.
Dates Ten Frame Count + Trace
Identify the number on the ten frame card. Then trace the number on the recording sheet. Ten frame cards can be placed in a sensory bin or hidden around the room for a more interactive experience.
Alphabet Letter Tracing Henna
Trace the alphabet letters on the Henna design.
Ramadan Patterns
Build the letter by using popsicle sticks on the lantern.
Muslim Dress Up Doll
Print, laminate and cut. Then dress up the muslim doll in a scarf, abaya and shoes. There are multiple clothing items to choose from.
Ramadan Writing Center + Word Chart
Work on writing and vocabulary with the writing center and word chart.
Shape Moon Play Dough Mats
Create the shapes with play dough on the mats.
Sticker Color Match Gifts
Use dot stickers and place them on the correct color gift. For older children use the mats that have white circles.
Ramadan Fact Cards
Learn a little more about Ramadan with these easy-to-understand fact cards.
Worksheets Included:
GET THE RAMADAN ACTIVITIES PACK HERE
Already a subscriber? No problem. Just enter your details above so I can send this printable directly to your inbox.
Don't forget to check out the Ramadan Color By Number activity too.