Have you ever tried the Baking Soda volcano experiment? This has been amongst my children's FAVORITE activities ever. It is simple to put together and you probably already have everything you need in your kitchen. (Minus the sand.) Read on to see how you can create a volcano science experiment for kids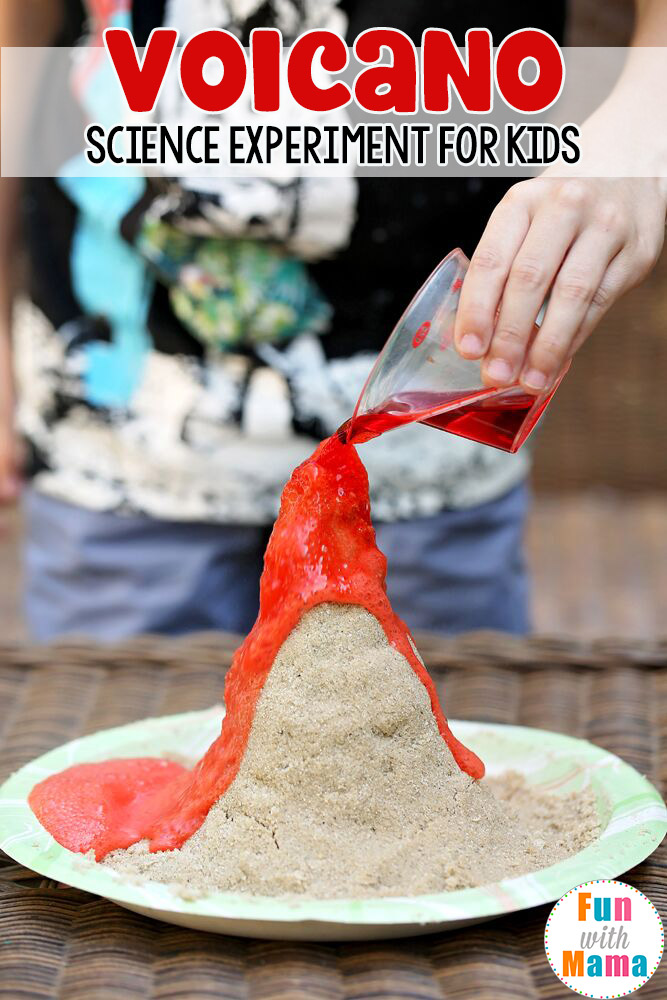 Volcano Experiment
Have you ever tried a volcano science experiment with your kids? It is truly one of the most exciting activities we have done. I love that it can be a science experiment for 3 year olds all the way to 13 year olds. It doesn't lose its excitement. I have started doing science experiments for kids from the time my children were 2 years old. The vinegar and baking soda experiment is so easy to put together!
If you would prefer to purchase a Volcano set you can do that, but it is also very easy to do with materials you probably already have at home.
Please note that affiliate links may be used in this post. Please see my disclosure policy for more information.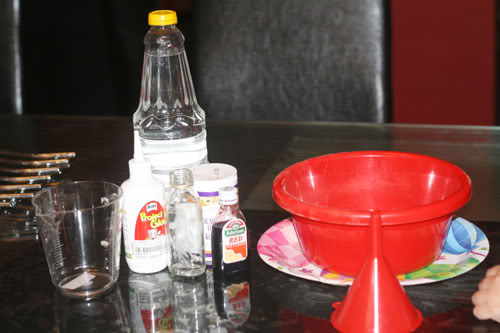 Volcano Experiment Ingredients:
Sand (its in the red dish),
Beakers for pouring. I LOVE this set for all of our science experiments.
or plastic bottles (I used 1 glass bottle and one pouring cup)
Vinegar,
Bicarbonate of soda
Paper plate or tray – Basically something just to catch the liquid to prevent mess.
Children's Lab Coat. This one is cute and versatile. Melissa and Doug also makes a great lab coat.
Don't forget the eager child! 🙂
If you want to make it as easy as possible then just buy a Volcano Kit.
You can always find my favorite kids activity supplies here.
Please note: To make the sand mould to your required shape, mix in a little bit of water.
How to make a volcano science experiment
You can watch the video we created to show you how the experiment works.
Vinegar and Baking Soda Experiment
Mix some red food coloring with vinegar in the pouring cup.

Add some bicarbonate of soda to the glass bottle (not the same bottle as the vinegar).
Pour sand on paper plate with the bottle in the middle.
At this stage you should notice that I've been sleep deprived for the past few nights… yep the sand part…
In the book I had it said cover the bottle with glue so that the sand sticks to it… which I did… but umm… the rest of the sand wasn't sticking… (trust me… i REALLY couldn't figure that out lol but read on…)
Pour Red colored vinegar into the bottle (use a funnel if you need).

Move hand and cup away quickly!
This is one of our favorite science activities for toddlers and preschoolers.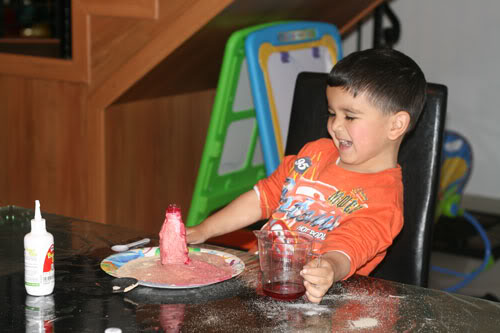 Oooh now THIS looks more like a volcano doesnt it…. It finally dawned on me…
(Note to self: being sleep deprived delays reaction time…)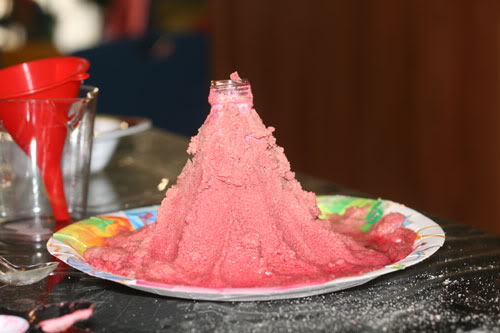 Moisten the sand! Then it will mould better….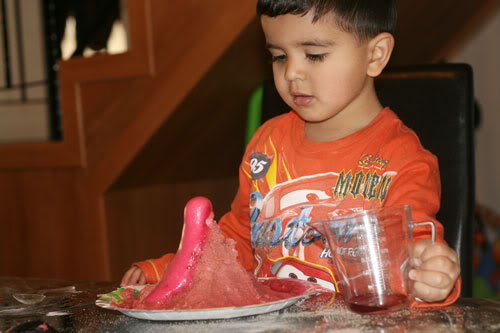 This project was probably D's favorite activity that I've done with him so far…
"Mama I LOVE this, can we do this again tommorow?" awww.. 🙂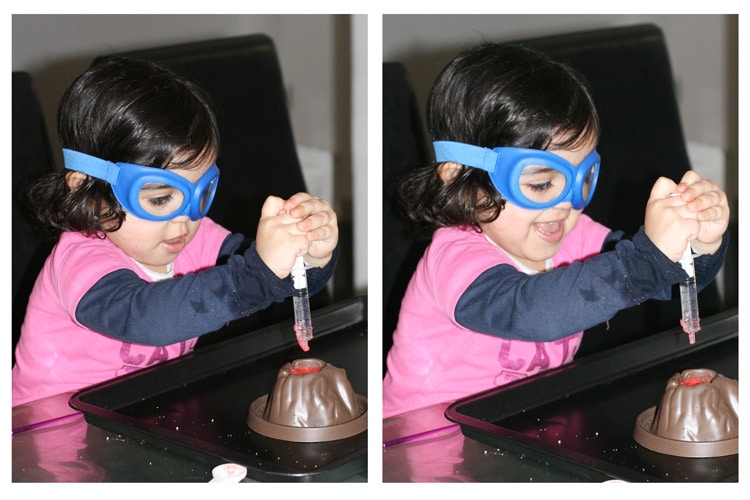 The baking soda volcano activity makes a great science project for kids at home and should definitely be added to your at home science bucket list.
Add in some science safety goggles for an extra wow factor. These googles are great for multiple children too.
The volcano science experiment is one of the best science experiments for kids. It is simple to create and has a major wow factor.
You can find all of our Science Experiments for kids here.
Do you have a science loving kid? Here are my favorite Science themed picks for kids: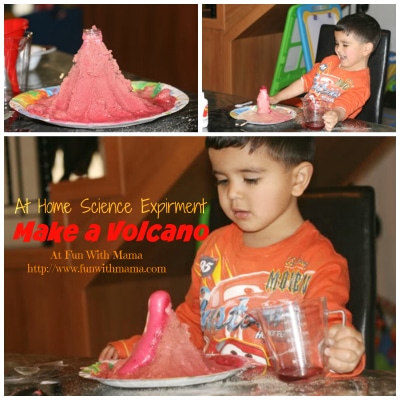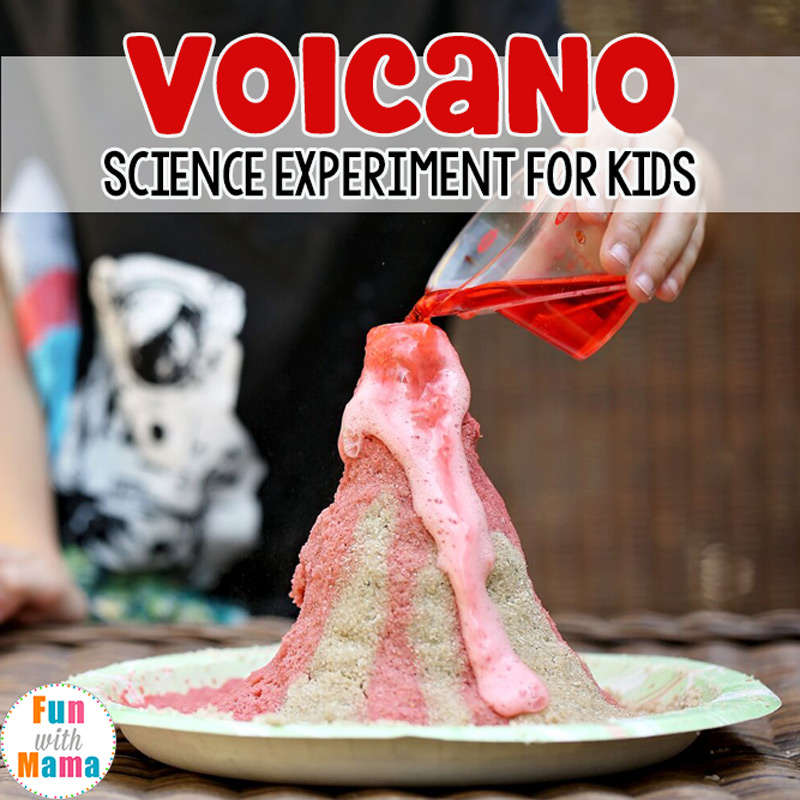 Have you tried the Volcano Experiment?
Initially posted on August 28, 2009