We are big fans of all things Disney, hence why we do a lot of Disney family vacations. Since we are back at home we were really missing those delicious Mickey waffles from our Chef Mickey experience. (Check out my Chef Mickey Review and tips.) We set out to find a Mickey Mouse waffle maker and so I searched up mickey waffle maker and was led to the Disney store website.
Mickey Mouse Waffle Maker
They had a really cool looking 90th anniversary Mickey Mouse Double Waffle Maker on the Disney Store website.. Looking at the reviews (because I'm a review junkie) I saw that a lot of the reviews stated that they are the closest thing to the Mickey waffles at the theme park. The only problem was… it wasn't in stock anymore! Since they hadn't removed it from the website, I decided to try my luck by checking the store every day. I added a bookmark to the page on my home screen of my cell phone and each night before bed, I'd have a look at the site. One day, it came in stock and I added it to my cart. As I tried to check out it said it was no longer available.
That was so disappointing, but hey… where there's a will there's a way.
This is the page where you can order this particular waffle maker.
A few weeks later I saw it in stock once more and quickly grabbed it. I ordered, paid and then crossed my fingers that it would actually arrive at home.
A week later, it was here!!
You can check out my YouTube video of the Mickey Mouse Waffle Maker review and instructions on how to use it. You can find my Disney playlist here and don't forget to subscribe to my YouTube Channel too.
We used the Golden Malted Waffle mix… the one where you just add water and it was simple.
You can get the same waffle mix here. I would love to try the original mix that you add eggs into. It's supposed to be even better.
After actually testing it, I am so happy to report that YES it is amazing. It looks exactly like the theme park. (Although I do think I should have had it on a darker roast.
Here is the box for the Mickey Mouse waffle maker:
It can make six Mickey waffles at once.

You then pour in the mixture (you can see a tutorial in my YouTube video for the Mickey Mouse waffle maker.) A green light will alert you when the waffles are roasted to your setting choice.
This is what it looked like on a medium roast. In the future I would do it on the dark roast setting. I like my waffles to be a bit crunchier.
It was really simple and quick to use this particular Mickey Mouse waffle maker. Have you ever tried the Mickey waffles at Chef Mickey?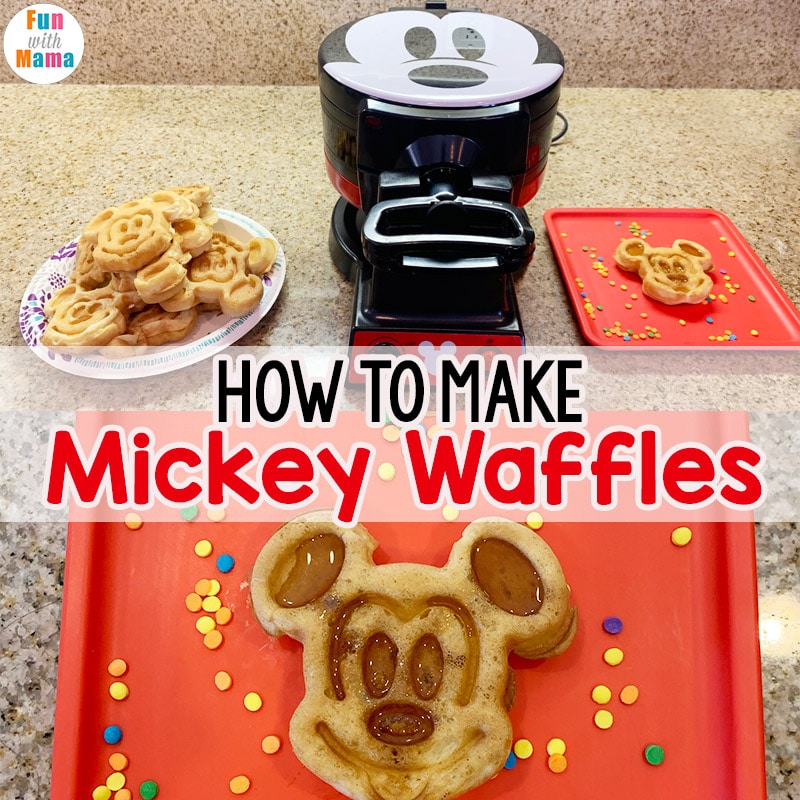 Check out more of my Disney posts including:
The Disney Bibbidi Bobbidi Boutique Review, Disney Magic Cruise tips + review and Disney Dream Cruise tips and review.