Who else can't wait for the upcoming Star Wars Han Solo film called Solo A Star Wars Story? Our friends at Disney have kindly given us some amazing Star Wars coloring pages and Star Wars printables to share with you all. Tickets are currently on sale for the movie so make sure to get them as soon as possible. The movie opens in theaters everywhere on May 25th!
Please note that affiliate links may be used in this post. Please see my disclosure policy for more information.
My son talks about the new Star Wars movie every single day and if you have seen his Lego Star Wars collection then you know that he is an avid Star Wars collector. He just did a video review on the Star Destroyer and is working on the Yoda Hut video and Imperial Tie Fighter video too. Yes, some of that daily talk includes which Star Wars Lego he wants to purchase next but he is in love with the whole Star Wars galaxy, especially the movies!
The lego's that I feel pair best with the upcoming Han solo film are the following Star Wars Legos: Lego Imperial Tie Fighter, Han Solo Landspeeder, The Y Wing Tie Fighter, First Order Star Destroyer and Moloch's Landspeeder.
Han Solo Film
Board the Millennium Falcon and journey to a galaxy far, far away in SOLO: A STAR WARS STORY, an all-new adventure with the most beloved scoundrel in the galaxy. Through a series of daring escapades deep within a dark and dangerous criminal underworld, Han Solo befriends his mighty future copilot Chewbacca and meets the notorious gambler Lando Calrissian, in a journey that will set the course of one of the Star Wars saga's most unlikely heroes.
Solo A Star Wars Story Characters
The Han Solo film stars Alden Ehrenreich, Woody Harrelson, Emilia Clarke, Donald Glover, Thandie Newton, Phoebe Waller-Bridge and Paul Bettany.
You need to watch the Han Solo film trailers below. They are amazing!
Here is the newly released trailer too:
Star Wars Coloring Pages
I know how much you all love coloring pages so when these Star Wars printables were sent to me I was so excited to share them with you. Use them before you watch the Han Solo film or after. It would be amazing to see how different your pictures would look if you colored them twice. Once before and once after watching the Han Solo movie.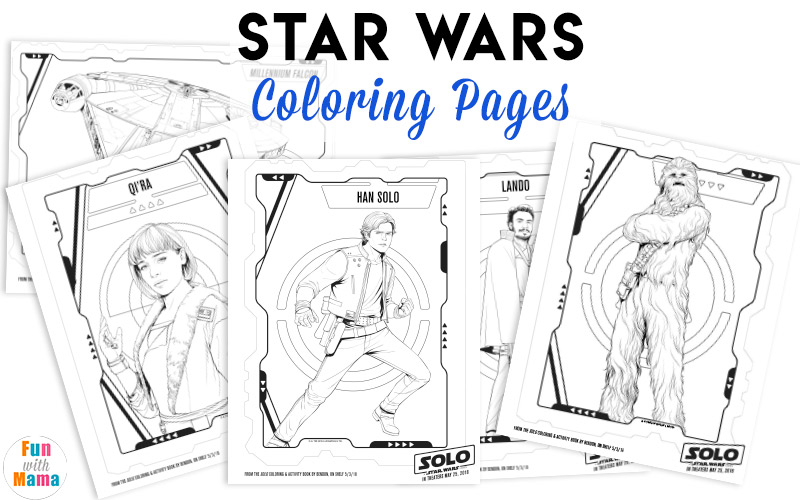 In this activity pack you will find:
Han Solo coloring page
Chewbacca coloring page
Lando Coloring Page
Qira coloring page
Millenial Falcon coloring page
There are also more Star Wars activities, that includes:
Star Wars mazes
Star Wars word searches
Star Wars crack the code
Download the Star Wars Coloring Pages here.
Tickets are now on sale everywhere that tickets are sold! For more information about in-theater events and giveaways visit StarWars.com.
Don't forget to:
Visit the official SOLO: A STAR WARS STORY site