Ladybugs are gorgeous, little flying creatures that children love to watch make their way around the garden. The Ladybug life cycle, also known as the ladybird lifecycle in some countries, is fascinating! In this ladybug life cycle activity, children will learn about the four stages of the life cycle: the egg, ladybug larvae, pupa and adult. There are also interesting ladybug facts for kids and ladybug book suggestions.
Ladybug Life Cycle
Pair this printable activity with a real life ladybug life cycle activity, like the ladybug growing kit for some hands on fun..It includes a ladybug habitat. We previously did the real life caterpillar to butterfly life cycle activity and it was truly amazing.
Dive into the ladybug life cycle with a printable activity pack that shows you the parts of a ladybug, the ladybug life cycle stages and ladybug facts. Incorporate art, math and sensory exploration.
Explore questions like:
What do ladybugs eat?
Ladybugs are known as a gardener's best friend because they eat insects that are considered pests to plants. Ladybugs eat Aphids. Aphids are soft bodied insects like mites and white flies.
How long do ladybugs live?
The ladybug lifespan is 2-3 years. After a ladybug lays eggs, those eggs will hatch between 3-10 days. The larvae will then grow for around a month. It will then enter the pupal stage. The adult ladybug can live between 1-3 years.
Pair the activities with the Insect Sensory Bin, as shown above. The bottom of this post contains more ladybug themed activities and ladybug crafts.
Materials Required:
Please note that affiliate links are used in this post.
Here are some items that pair well with these ladybird life cycle activities. You will use each of these items over and over during all my printable preschool activity packs.
If you are doing these activities with a preschool or kindergarten class, you have to check out this adorable book featuring a ladybird as the main character. Another good book is The Grouchy Ladybug.
Ladybird Life Cycle
This Ladybug Life Cycle pack contains 70+ pages and includes many activities.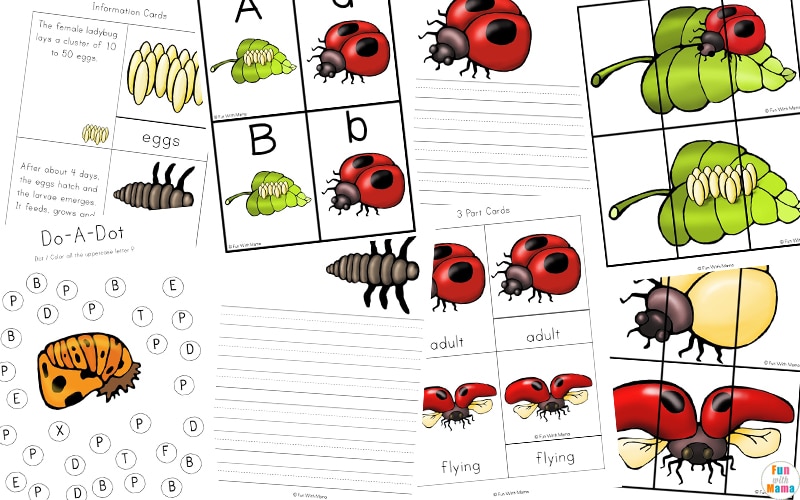 Besides being introduced to the life cycle of a ladybug. There are a variety of math activities that help children with counting, skip counting, addition, subtraction and graphing.
There are also quite a few activities that focus just on the life cycle of a ladybug. These include two different life cycle posters, a ladybug life cycle sequencing activity, ladybug information cards and a cut and paste parts of a ladybug activity.
Other activities in this Ladybug Life Cycle Learning Pack include:
Montessori 3 Part Cards
Size Sequencing Cards
Number Puzzles
Number Cards Puzzles
Line Tracing Page
Count and Clip Cards
See and Stamp pages
I Spy Fun
Trace the letters
Story / Creative Writing Pages
WHERE TO GET THE ACTIVITY
GET THE LADYBUG LIFE CYCLE PACK HERE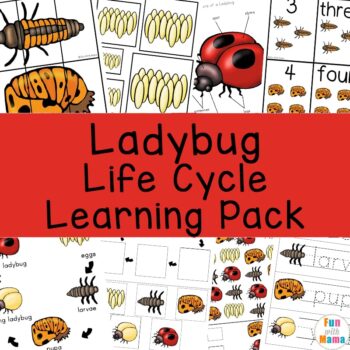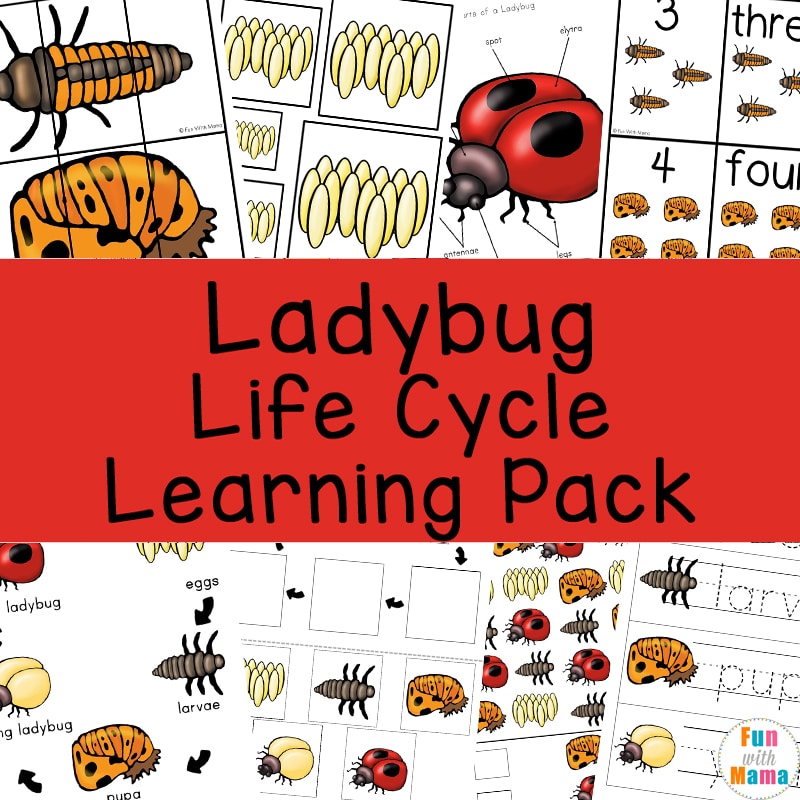 Explore the ladybug life cycle while also working on fine motor skills, math, literacy, and creativity with this activity pack. It comes in color and black and white and is sure to excite your young learners.
If you want more in depth life cycle and animal studies, check out these animal life cycle and animal study products.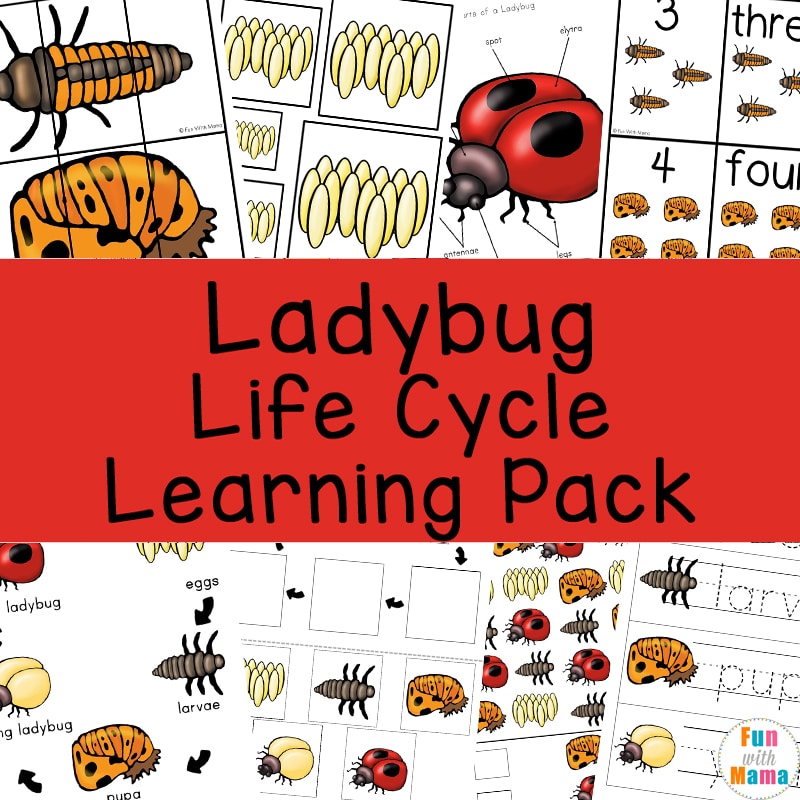 Add on these ladybug craft and activities:
There are also other fun ladybug activities online.