Looking for a fun winter activity for toddlers or preschoolers? Then these free winter Bingo game cards are perfect! You can talk about winter themed vocabulary words, while having fun at the same time!
Bingo Winter
As you know, I have an exciting and full class pack Winter Bingo game set but I wanted to offer my valued readers a freebie of some sort. These free Bingo winter boards include 9 images, instead of the 25 in the full pack and are perfect for toddlers and younger preschoolers who have a shorter attention span.
The free set includes 4 game boards in color. As always, the calling cards can be used as a memory matching game or as vocabulary word cards.
Grab a hot chocolate and spend some quality time playing board games with your child. The benefit of this one is that since there aren't that many game spots, the game goes by pretty quick! Check out my list of Best Board Games For Families To Play Together
The Winter Bingo classroom set includes 30 game boards in color and black and white with cute calling cards. Get it below.

Have you seen our new Bingo Growing Bundle? It is AMAZING! It will include 12 Bingo game sets (30 game boards in each set). The earlier you buy the more you will save.
Get the bingo set here: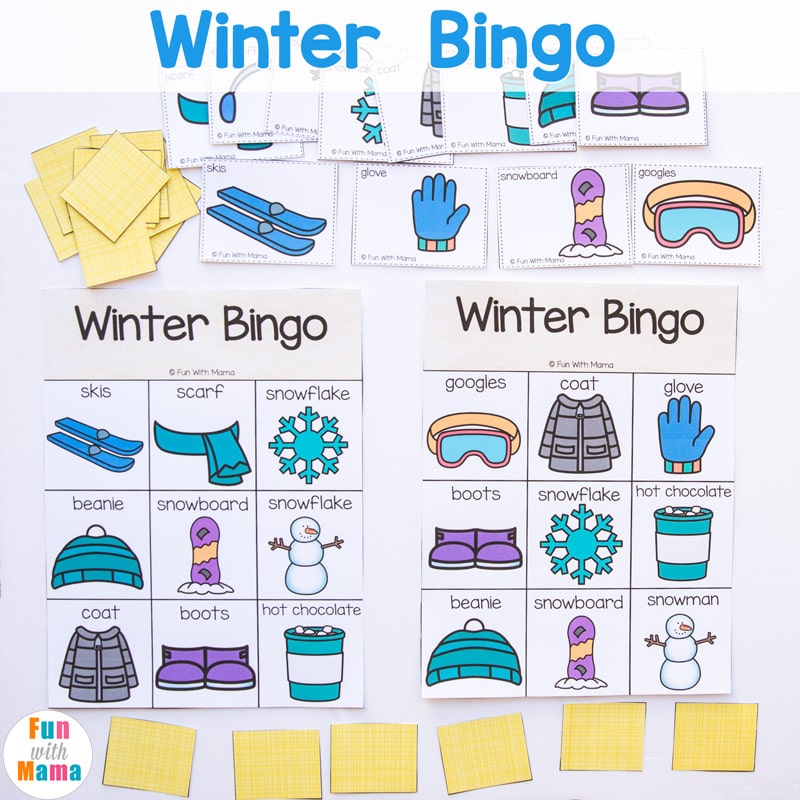 Want more winter activities?
Try out fizzing candy canes or make edible slime . Have you seen our Printable Winter Paper Dolls Dress Up Busy Bag? It is super cute and a great way to talk about the seasons. The paper doll dress up pack is so much of fun!
Work on patterns with the Winter Pattern Cards.
Winter Preschool Count and Clip Cards is a great way to work on those numbers and counting skills. For a fun winter craft check out the snowman craft.