Do you need some simple counting worksheets? These free Fall worksheets are perfect for children who are just starting to learn how to count. Designed for beginners these worksheets practice number order and help practice number recognition. Click over to download your FREE printable.
Make certain to check out our Numbers 1-10 Worksheets as well! Any review of numbers is always a good idea.
Free Counting Worksheets
Fall arrives early in our part of the world. The trees are ablaze with yellows. The geese are starting to fly south, and we have had our first killing frost. My boys used to love the Fall. There were piles of leaves to jump in; pinecones to gather and of course, Pumpkins to carve.
We thought it would be fun to make some FREE counting worksheets with a fun Fall theme. This fun set will help kids with their counting and give them a chance to identify numbers. All you need to do is download and print.
What is Involved in Learning to Count
There are four worksheets in our Fall math printable set. All of them give children the chance to practice counting. This basic math skill seems so simple to us, but there is a lot for young learners to grasp. They must
Learn about our numbering system and how it works.
Memorize the order of numbers.
Realize that counting pairs each object with one, and only one, number.
Discover that as you count up, the quantity increases by one.
Grasp that when you are counting, the last number said equals the number of objects.
Learn how to recognize numbers and numerals.
Grasp what those numerals and numbers symbolize.
A lot more complicated than you would think right? Fortunately, most children grasp these ideas through lots of hand-on activities.
Since there is so much to absorb, young learners need LOADs of practice as they begin to learn to count. These worksheets will give them some of that practice in a more formal way.
We would encourage you to pair the worksheets with lots of games and hands-on activities. Here are some ideas for you to try
What is in the Free Counting Worksheets Printable?
The first sheet simply encourages learners to cut out the numbers and paste them in order. There is a number line to help them do that. It may seem simple, but children need to do this over and over.
The second sheet is similar. This time children will fill in the missing numbers. When learning to count, children must come to a point where they can count forward from any given number. This will help when they start to do addition and other math exercises. We have provided a number line that the children can use if they get stuck.
The third worksheet features ten frames. These are such a useful tool as they allow children to visualize the number. Ten frames also lay the foundation for the concept of our base 10 numbering system. Students read the number and color in the correct number of squares to match
The fourth worksheet is more advanced. Children must understand the quantity to be able to do the exercise. Children compare two numerals and color the picture with the larger number. Do not give this worksheet to your child until they have had a lot of practice with numbers.
What Skills do Our Counting Worksheets Practice?
Our Fall counting worksheets invite children to practice
Counting from 1-10
Writing numbers from 1-10
Count forward from a given number
Identifying the larger number

Where to get the Free Counting Worksheets
We've created black and white worksheets that are perfect for photocopying. The art features cute fall pictures, so it's just right for this time of year. The pictures are also great for coloring if you wish.
GET THE FREE COUNTING WORKSHEETS HERE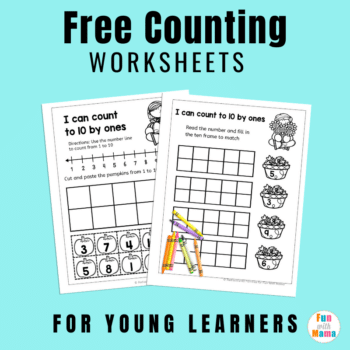 Already a subscriber? No problem. Just enter your details above so we can send this printable directly to your inbox.
Young learners thrive in different learning activities. Try these other counting activities with your child.
Living in the Southern hemisphere? Try our Spring counting activities