Kids love sensory experiences, particularly if they are toddlers or in preschool. If you are looking for a fun sensory activity to try with your kids, they will love this sensory foam play! This DIY soap foam recipe is easy-to-follow and will keep your kids entertained for quite some time (not to mention squeaky clean!).
If you're looking for another fun sensory activity, this Goop With Cornstarch And Water is another really great activity that the kids can sink their hands into!
How to Make Sensory Foam Play
For this soap foam play recipe, you will need a powered mixer of some kind. We used a hand mixer, but you can also use a stand mixer. There are three secrets to this soap foam recipe.
The first secret is to beat the foam for a long time. You want the soap foam to look like meringue peaks, with frothy tips that stand on their own. If you don't beat the foam to this point, you'll have disappointing foam.
The second secret is the little bit of flour added. The flour helps the soap foam keep its shape a little longer, so your kids can play with the foam longer.
The last secret is to use liquid watercolors rather than food coloring. Liquid watercolors don't stain the skin and won't stain your tub or containers.
How to Make Soap Foam
Follow this recipe to learn how to make soap foam. It's such a fun activity for the kids, even if it is a bit messy. Messy play isn't bad as long as you prepare to clean it up ahead of time!
What you need for the DIY Soap Foam Play Recipe:
Dish soap or baby soap
Liquid watercolors
Flour
Water
Large bin or tray
Stand or hand mixer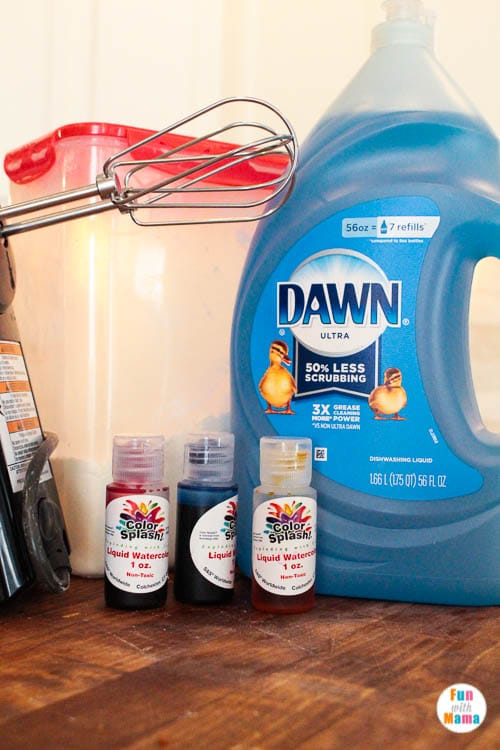 Making the Soap Foam Play Recipe
In a bowl, add 3/4 cup soap, 6 tbs flour, and 1 1/2 cup water. This is enough soap foam for 3 recipes. You probably won't be able to mix this all up in the mixer at once, but you can do the initial mix before it gets too foamy.
Divide the mixture into 3 containers. Add red coloring to one bowl, blue to another, and yellow to the last bowl. You'll probably need to add a lot more color than you think to get vibrant colors. We used almost the entire bottle of color.
Mix the soap foam one color at a time on high speed. Keep mixing until peaks form and the foam holds its shape. You don't want any liquid to remain, it should all be foam.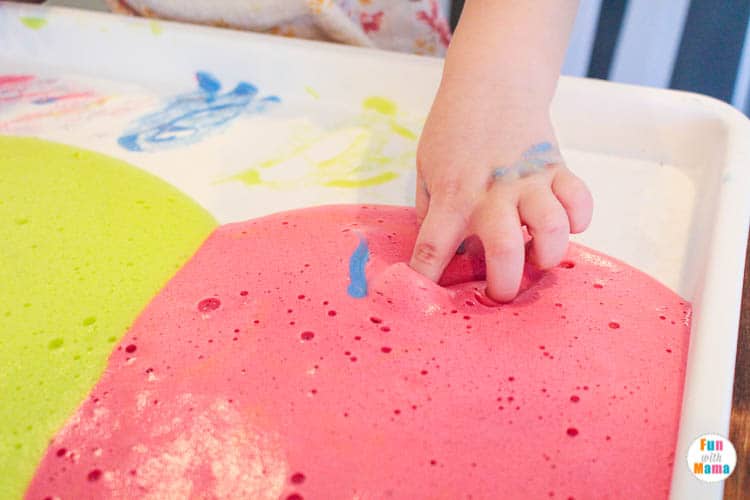 Add the foam to your tray or container (or bathtub) and continue with the other colors.
Let your kids play in the foam and mix the colors. What color combinations can they come up with?
Like this sensory foam play activity? We have so many more fun sensory activities for kids!