Germ Counting Mats are a great way to combine two important topics all in one simple lesson. Teaching children all about germs and the importance of keeping hands washed and clean is key. This picture mat and the discussions that can be had while using it can show this message loud and clear. This counting mat is also great for working on those math skills like counting, addition and subtraction.
With many kids home more often now while many schools are closed, it's important that we structure their days with learning and fun.
If you haven't downloaded or checked out my 90+ Indoor activities for kids during school closures then you definitely need to check this one out. There are so many activity ideas to keep your children busy and having fun.
With bad germs being dangerous to a child's (and those around them) health, we need to try to instill good hygiene and hand washing from the early years. This germ counting mat can help you explain why.
Germ Counting Mats
While these are geared more toward early learners like preschool-aged children and kindergartners, who's to say that all kids couldn't use a refresher on the importance of getting rid of germs?!
And if this simple kid's activity helps our children to be more aware of germs in a way that keeps their hands clean and clear of places like their face and mouth all the time, I'll consider that to be a win as well.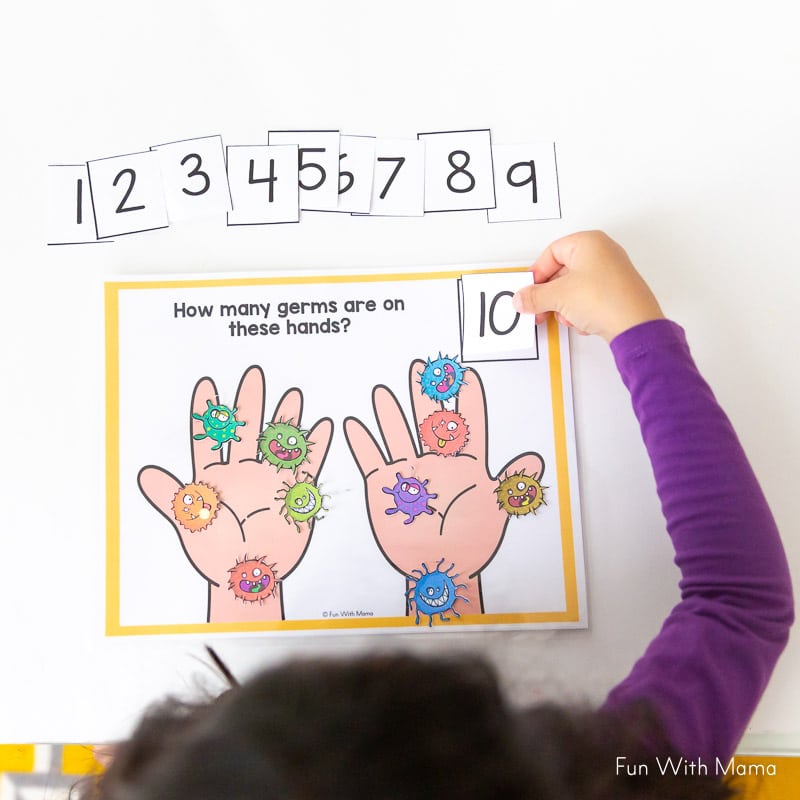 What will your child learn from these germ counting mats?
Your child will learn numbers, counting, and also associate that germs can be something way more serious than they thought they were before.
This preschool activity opens up the door for a conversation about germs as well.
Here are some questions you can ask when using the mat:
How many germs are on the mat? How could he/she have gotten these germs?
Remove two germs, how many are left? How could she have gotten rid of these germs?
Add three more.. how many germs are there? How'd she get those?
What happens to the germs if she washes her hands for twenty seconds? (They are all gone)…
But what if you touch the bathrooms doorknob when you are in a public restroom? The germs come back.
These are all great talking points and a great way to get your child to understand that germs are everywhere and it's time to take precautions. The next time your child goes to a public restroom, they may think before forgetting to use soap or opening the door with bare hands.
Talking to your children about germs
While washing hands is key, it's more important for your child to understand how germs are easily spread from one surface to another.
The sooner that you can have conversations with them about doorknobs and door handles and how those are just a huge germ collecting area (along with other places), the more they'll start to understand how they can make changes as well.
Where to get the Germ Counting Mats
GET THE GERM COUNTING MATS HERE
Already a subsriber? No problem. Just enter your details above so we can send this printable directly to your inbox.
We love to use lessons over and over again and this Germ Counting Mat is one that I know we will. You can easily print and take with you so your children can work on it as your traveling, too.
If you homeschool or know other parents that homeschool, make certain to pass this along to them as well so they can come and print their own counting mat. The more children that we can teach and educate to properly wash their hands, the better.
That just means that there are fewer germs to be spread around and more healthy habits for all!
More Counting Mats for kids:
More Activities for Kids: