Do you have a little one in the house? This Tape the Toys activity is the best baby activity ever! Not only is it perfect for hours of play, but it's a great way to help them learn independent play as well.
As their minds are growing and they're learning how to play with their hands and fingers, activities like this one are great. They'll be able to see the object, grab the object, and pull it off – all on their own! Watch their smiles appear because it's going to happen!
Be sure to check out my Best Baby Toys 0-6 Months for even more fun learning activities and ideas! You can never have too many options for babies.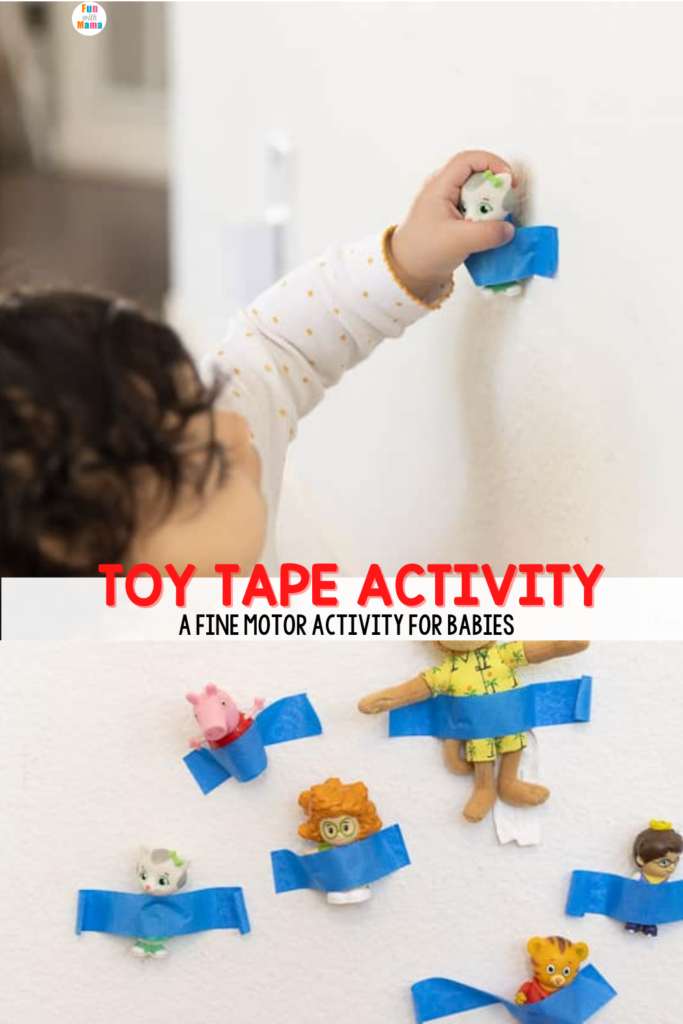 Tape the Toys – A Baby Activity
The fun part about taping toys to the wall is that it's an activity that takes just minutes to set up. It's also one that you can do almost anywhere, as long as you find a place to put the tape.
This is a fun way to break up the day or to encourage your little one to be independent and showcase their skills.
The importance of tape activities for kids
I think that tape is actually great learning material! Tape can be used to hold objects to count or can even be used for an art project as well.
This Fun Washi Tape School Bus Craft For Kids is one awesome example of how tape can create a masterpiece!
You will also love this Baby Tape Activity as well. Change things up and have different colors of tape for all the different activities.
You can even use that colored tape to work on color matching as well. There are endless opportunities as long as you're there to supervise and help.
How to create this Taped Toys Activity for Babies and Toddlers
I told you this was simple, right? You literally just need tape – and toys. That's it.
One of the biggest things to remember, though, is that you want to use tape that won't tear the wall or peel the paint. For this, masking tape works great!
Supplies:
Masking Tape
Small toys/stuffed animals
Have your little one grab a handful of their favorite stuffed toys to be a part of the process!
Once they bring them to you, put a piece of masking tape on them (make sure it's long enough to hold them in place) and tape them on the wall!
You can take them higher so that they have to stretch (safely) to reach or tape them low so that they bend down to grab.
You can even be silly with them and tape them upside down as well!
I also love to take the tape off the toys and stick it on their toys and ankles so that they reach down and peel it off. They love that and have so much fun!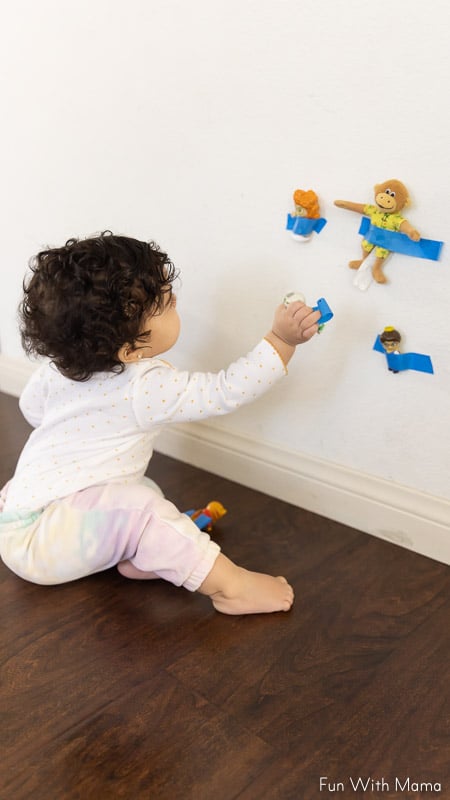 Fun With Mama is a participant in the Amazon Services LLC Associates Program, an affiliate advertising program. As an Amazon Associate, I earn from qualifying purchases. Read more about these links in my disclosure policy.
Materials we used for this activity:
Once they're peeled all the tape off the wall, it's time to start all over again.
And if they're toddling and walking, you can put them in various places around the house to play "hide-and-seek" with them also.
As they improve their fine motor skills, you can add in other sizes of toys and objects to change up the process.
There are so many fun learning aspects to this that are truly never-ending!
More Baby and Toddler Activities