Some of our favorite back to school crafts in our house are ones that are tied to books that we have read and loved. Doing a craft based on, or inspired by, a children's book helps to extend the story. It gives a space to talk about the story while creating. If you and your kids are like us, our brains work best when we are creating. This particular craft, our fun Washi Tape School Bus Craft, was based on one of my daughter's favorite books and actually a fun children's song as well: The Wheels On The Bus.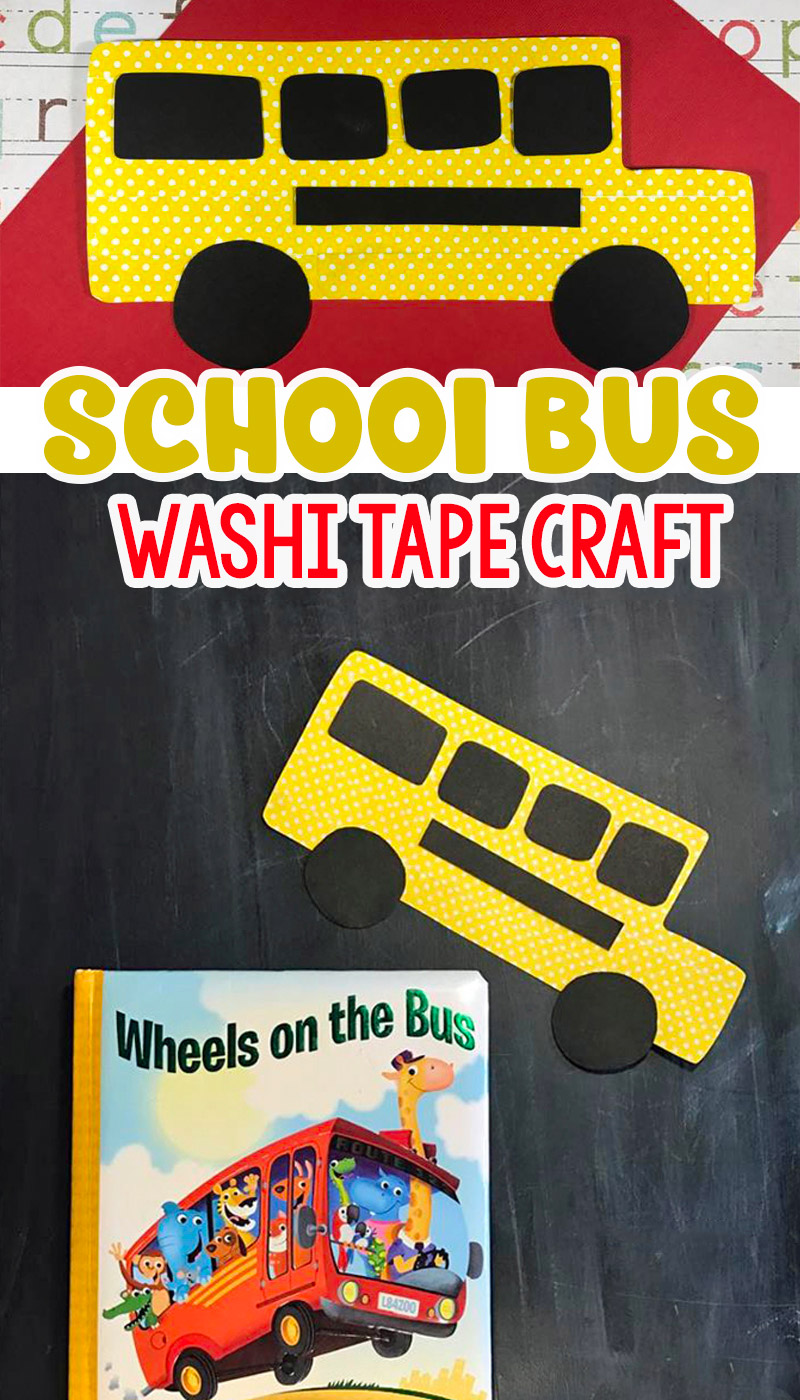 Wheels on the Bus Craft
Our fun Washi Tape School Bus is one that kids can do almost all on their own. It only requires a few craft supplies and is fun to be able to personalize as well.
Supplies Needed
Please note that affiliate links are used in this post.
Black Cardstock or Construction Paper (if you will not be using the printable.)
This activity is tied to The Wheels on the Bus book.

How We Made It
I cut out the shape of the bus out of white card stock. It actually doesn't matter if you have white cardstock or a different color, it is going to get covered up with the washi tape.
I asked my daughter if she wanted to cover the school bus with yellow washi tape, and she did.
While she was putting washi tape on the school bus, I cut out the embellishments. I did two circles for the wheels, squares for the windows and a long rectangle for the side of the bus. If your child is older or wants to, the pieces could be cut out by the child too.
When I was done cutting the pieces out and she was done with the washi tape, she glued the black pieces in place.
Simple right? Of course, we then played with it after. We drew a scene on the chalkboard and moved the bus around with a story involved. There aren't too many crafts that we make that don't become the center of a pretend play session. Is that the same in your family?
Fun Washi Tape School Bus Craft For Kids http://bit.ly/2uFNjzw
This craft is perfect for back to school time. It's technically my daughter's first year of school. She went to preschool last year but only for a couple hours. Kindergarten will be full-fledged, all day, full on school. We are both very excited and making crafts centered on this makes the excitement grow even more!
You can find more printable activities here: