This ocean theme preschool sensory bin is sure to work on some new vocabulary words and encourage sea exploration for children.
As soon as it starts to warm up, my children can't wait to get out the water play toys and activities. Today we decided that it was time to break out the water play and we started with this very fun Under the Sea theme sensory bin. We have recently visited our local aquarium so this sensory bin was a great extension to that learning experience.
Ocean Theme Preschool Sensory Bin
We had so much fun with this sensory bin, especially as it was a really hot day when we first started playing with it. My daughters have always had a love of the ocean and the animals that live under there. We are big fans of Octonauts and books like The Rainbow Fish, and are lucky enough to have an aquarium nearby where we often get to visit. This sensory bin kept my girls busy and happy for at least 45 minutes the first day that we put it out and they continued to play with it over the next week.
This sensory bin would be perfect as part of a larger learning unit exploring the sea.
What you need for an Under the Sea Sensory Bin:
Please note that affiliate links may be used in this post. Please see my disclosure policy for more information.
For this Under the Sea Sensory Bin activity you will the following ocean animals for kids and supplies.
Shells – we collected our from the beach, but you can buy them here.
Various sized containers
A scoop, fine motor toys, tea strainers, etc.
A small amount of sand
Any other toys that have an under the sea theme
Frozen blue Water (Freeze colored water in an old plastic yogurt container)
There's no specific way that you need to set this up. I added the sand and shells, then the figurines and then filled the container with water. I added some blue and green food coloring (more blue than green) and then put in our frozen block of blue ice.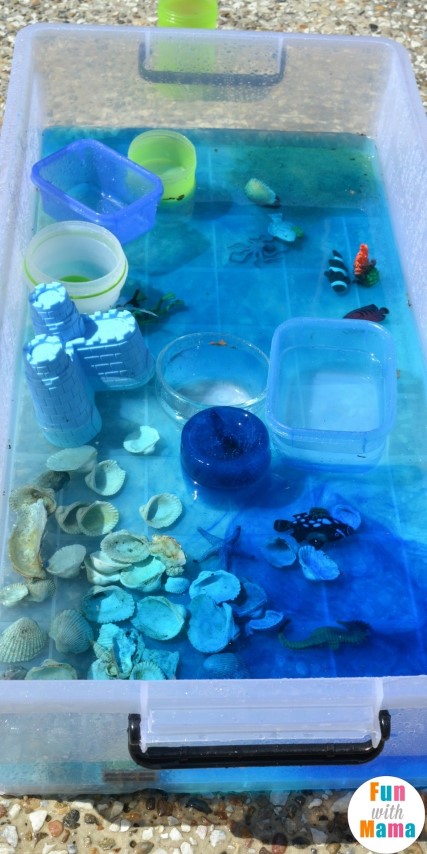 Under the Sea Preschool Theme
One of the reasons that I loved our Under the Sea sensory bin so much was that there were so many different ways to play with this. The language that was explored and the discussions that were started made this an excellent learning activity as well as fun one!
Here are just a few of the ways that my children engaged and played with this activity.
Playing with Ice
The children loved playing with the ice. We had discussions about what ice was, how it was made, why it was melting and why it was in the shape that it was. We then talked about where we would find ice and which animals would enjoy living in the colder climates. We then watched as the ice melted.
Playing with Treasure
The inclusion of the treasure chest was great for encouraging pretend play. We had several different pretend play stories revolving around this. The diver was looking for the treasure, the fish were hiding the treasure and then there were discussions about what could be in there.
Scooping and Transferring Water
By including the containers in the sensory bin, the children had lots of fun scooping, pouring and filling up and emptying the containers.
Scooping Fish
We also 'caught' the fish and shells and then discussed what they looked like, what their names were (google helped us there!) and talked about why fish had to stay in water to survive.
Transferring Fish and Sorting
We then transferred the fish into different containers. This a great opportunity in incorporate sorting skills. You could sort them by colors, by legs or no legs, fish or not fish etc.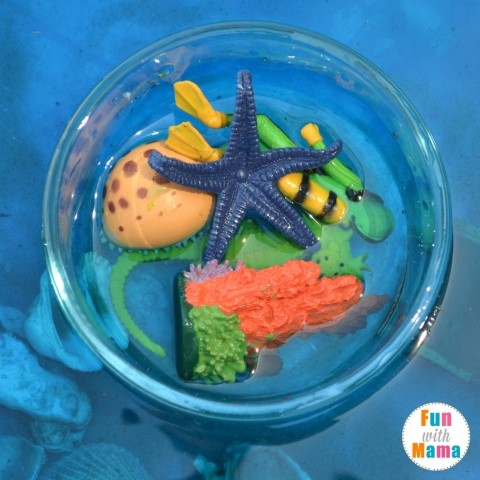 We have had so much fun playing with our Under the Sea Sensory Bin and I know that you will too! With so many opportunities for play, and it being so easy to set up, I can see this activity coming out over and over again in our house.
Check out the Montessori Ocean Activities.
You can always find more Sensory Table Ideas to go with your current theme. I love that this ocean theme preschool sensory bin is such a fun water play idea for toddlers and preschoolers who are always looking for an excuse to touch water. They just LOVE playing with water.