Leprechaun traps are a fun tradition to celebrate St. Patrick's Day. These 16 Leprechaun trap ideas are easy to make and so much fun to create!
Make them the night before, on March 16th, to try to catch a leprechaun of your own.
Easy Leprechaun Trap Ideas
Please note that affiliate links are used in this post. That means if you purchase through one of these links, at no extra cost to you, this site will earn a small commission.
These homemade leprechaun trap ideas can be made using common household materials. There's no need for a special trip for supplies (unless you just want to spruce yours up a bit). From cardboard tubes to Pringles cans and shoeboxes, all it takes is a spark of creativity and a little time for a memorable St. Patrick's Day leprechaun trap.
Why you should make a leprechaun trap with the kids
Building a leprechaun trap is an excellent STEM activity for the kids and can become an annual tradition if they enjoy it, much like Santa visiting for Christmas. Using their creative thinking and problem-solving skills, kids use common household materials and craft supplies to create a device that will "trap" the leprechaun. You can use these activities with preschool, kindergarten, and all the way up to elementary school-aged children.
Don't forget to set out your trap the night before St. Patrick's Day.
What you need to make a leprechaun trap
As mentioned above, you don't need expensive crafts supplies to make a leprechaun trap. Use empty boxes, cardboard tubes, cups, bowls, blocks, and other items to build your leprechaun trap.
However, if you want to make something really cute and crafty, here are some common materials used:
Green paint
Craft sticks (for ladders and such)
Cardstock
Pipe cleaners
What does a leprechaun leave in the trap?
When the kids awake on the morning of St. Patrick's Day, they'll find a small surprise like chocolate coins, rainbow candies, or four-leaf clovers as evidence that the leprechaun has visited. Really, though, the surprise can be anything you like!
Here are some fun ideas:
Fun Leprechaun Trap Ideas
If your family enjoys Pringles, remember to save those cans for cute crafts like this! Use the printable to wrap the container. Then, add straws to prop it up. This can be a rainbow slide for the leprechaun (remove the bottom of the can) or a trap to capture one inside.
What could be simpler—or more tempting—for a leprechaun than a jar filled with cold coins? Add a pipe cleaner ladder and a trap door on top, and you've got a leprechaun trap that's ready in under 10-15 minutes. This is a terrific project if you're short on time but still want to start this tradition with the kids.
Recycle a cereal box, and grab some cotton balls, construction paper, and gold glitter paper to devise this crafty trap. The cottony rainbow mat beneath the box trap is littered with sparkly gold coins. You'll need a dowel with a string attached to pull at the opportune time. Watch out—leprechauns are fast!
Upcycle a tin can to create an inviting trap or garden. The kids will cut the pretty rainbow and pot of gold from the template, put them on craft sticks, and add them to the rock bed. Faux plants, sparkly sequins, and jingle bells are also irresistible to leprechauns. Making the beaded garland is great for giving those tiny fingers some fine motor practice, too.
Instead of a trap, this is more like a little leprechaun oasis. Use a Dollar Store decorative globe, green gravel, faux moss-covered rocks, and sparkly shamrocks to create an enticing little den for the leprechaun to have a rest in.
Leprechaun Trap Garden in a Flower Pot
Here's a larger version of a leprechaun garden, this time in a flower pot. It's brimming with colorful and decorative pieces that any little leprechaun will love. Grab the leprechaun garden printable for the beautiful rainbow, mushrooms, ladder pieces, banner, and leprechaun house.
Do you have some old shoe boxes stashed away in the closet? Use one to make an epic leprechaun trap. It has plenty of space inside for faux gold coins or jewels to entice the leprechaun and is super fun for the kids to decorate using paint, stickers, paper, and other materials.
If your child prefers step-by-step instructions for crafts rather than open-ended ones, this tutorial is excellent. It shows children exactly how to build and assemble each piece, from the poster board leprechaun hat, to the pipe cleaner and pom-pom rainbow, to the pot of "gold" with Rolos candies.
Here's another shoebox leprechaun trap, but this one is styled completely differently. First, the signs leading to the trap are incredibly fun. The phrases say things like, "No gold here!" or "Not for leprechauns." The rainbow path is beautiful and is a craft in itself that allows kids to practice their painting skills. And just look at all those gold coins glued inside the lid!
Under the Rainbow Leprechaun Trap
This is such an inexpensive and cute design! You can find green hats at most Dollar Stores or craft shops in the spring. A hat is a great base for a leprechaun trap.
Add a sparkly ladder and gold coins to the brim and a pretty rainbow on top with a dangling gold coin. What's underneath all that golden grass? A trap door! It will trick even the cleverest of leprechauns.
We often think of trapping the leprechauns inside a box or something similar, but how about a tricky maze instead? This entire craft, from the leprechauns to the maze pieces, is made from recycled cardboard. The leprechauns are made with toilet paper tubes, while the stacking maze pieces are from a recycled cardboard box. The best part is painting and decorating each piece and then arranging the maze to stump the leprechauns.
Colorful Cardboard Leprechaun Trap
Don't you love all the different variations? Here's another leprechaun trap made with recycled cardboard, but it looks entirely different from the others. It even has a rainbow carrying handle to make transporting the trap easier. With lots of rainbows and sparkles and a tempting sign that reads, "Free gold coins," what leprechaun could resist?
Hat and Rainbow Path Leprechaun Trap
This is another idea for a green hat, and this time, a long winding rainbow road made with a homemade scarf leads the leprechaun to the gold. Kids will also love this idea for a leprechaun hunting kit from Crafty Little Gnome.
Rooftop Garden Leprechaun Trap
Perhaps you live in a city and the quaint country-looking leprechaun traps don't appeal to your kids. In that case, try this lovely rooftop garden trap! It's made with the box from saltine crackers and looks like a towering building. The trap is made with empty fruit cup containers — so clever.
Little builders will find this Lego-building challenge delightful! Decide how to use Legos to make shamrocks, rainbows, boxes, and ladders to trap the leprechaun. Don't forget to build a pot of gold and add some mini-figure friends into the scene as well.
Traditional Box and Stick Leprechaun Trap
Finally, you can't go wrong with the traditional box and stick trap. It's simple, but it works. Not only will the children have fun decorating their large boxes, but they'll love learning how this type of trap works by pulling the string that's connected to the stick.
We hope you feel inspired by these easy leprechaun trap ideas.
Pin this post to come back to it when you're ready to build!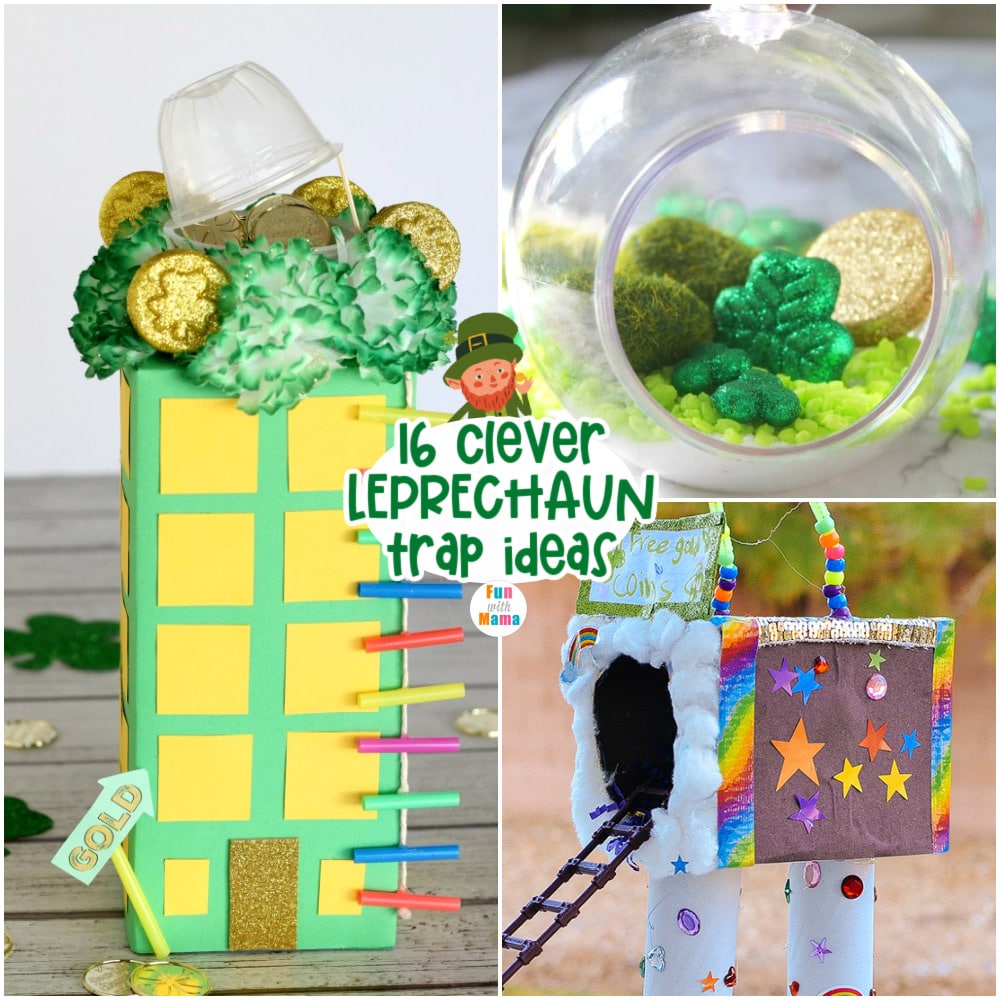 More St Patrick's Day Activities:
Salt Crystals St. Patrick's Day Science Experiment
Rainbow Colors Science Experiment For Kids
13 St. Patrick's Day Crafts and Activities for Kids of All Ages