Looking for KiwiCo Reviews? Then check out this months KiwiCo My Body and Me Subscription Box! In this post you will find an in depth look at the Kiwi Crate Monthly Subscription box and find an awesome KiwiCo Coupon code in this post too! Find our Kiwi Crate reviews here.
You can find updated Kiwi Crate coupon codes on our Kiwi Crate Promo Code page.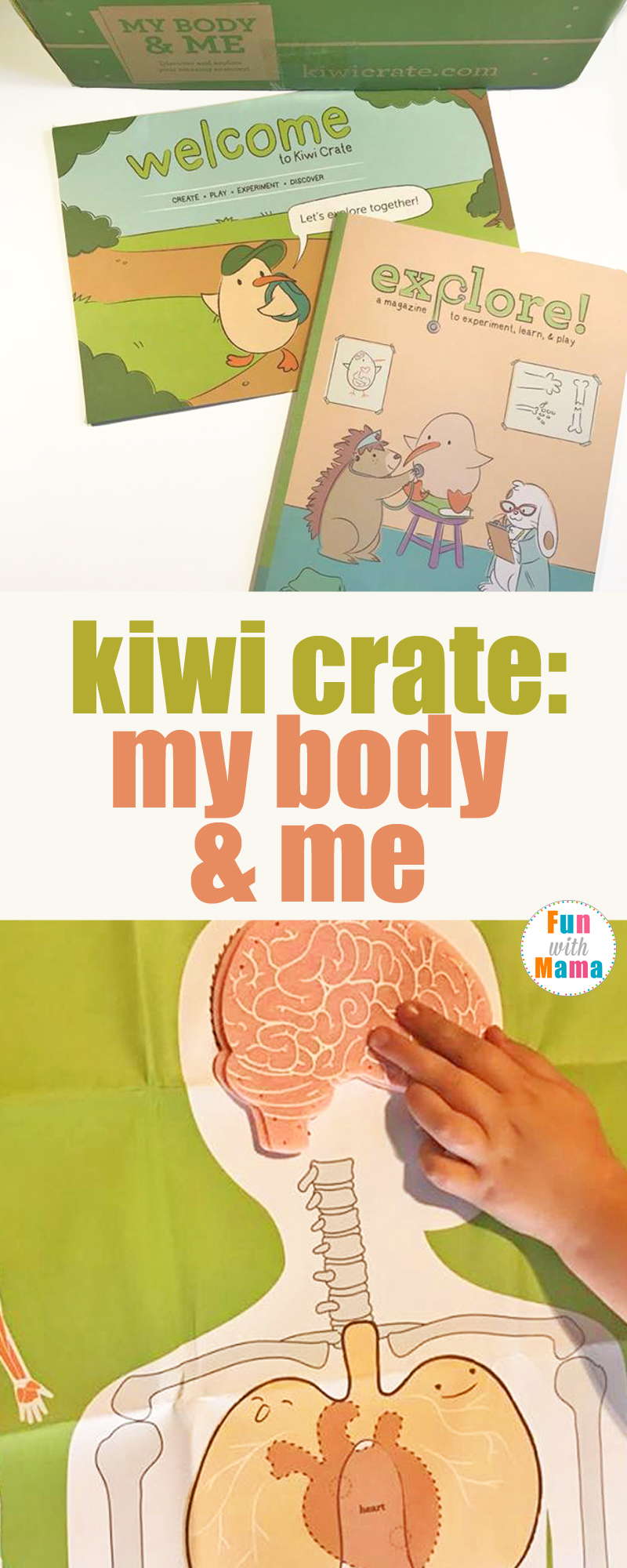 KiwiCo Review – October Kiwi Crate
Please note that affiliate links may be used in this post
My daughter is almost the spitting image of my husband. The way she talks, her sense of humor and even some of her facial characteristics. What she did get from me was a knack for crafts and hands on activities. We have been crafting since she was 2 and we have fun every time.
I pride myself on coming up with fun activities and themes, thanks to Pinterest, but it isn't always easy. It isn't always easy to combine a fun activity that teaches her something, doesn't take a ton of my time, doesn't drive me completely insane with mess or small pieces, and doesn't cost a fortune. It's possible but it's not always easy.
Solution? Enter Kiwi Box.
I've had subscription boxes before and they were sort of blah. We have construction paper and paint at home, I don't need a subscription box to do simple activities like that. My feeling when we opened the Kiwi Crate was the total opposite. We were both actually excited to get started. The only bad part was deciding which activity to do first. Ultimately we decided and this is how it went.
Activity #1: Create Your Own Stethoscope
I'm not kidding when I tell you this was amazing. I was hesitant to tell my daughter that it would actually work. I contemplated the idea that maybe it was just a 'toy', I didn't really believe that we would actually be able to hear our hearts beat. Well, when I am wrong I am the first to admit it and I was completely wrong here. After following the instructions and creating this tool, we could actually hear our hearts beat. Look at this girl, she was listening intently to her own heart beat with a tool that she made with her own hands. Amazing.
Activity #2: Lacing Felt Organs
This activity was a hands on lacing activity. The felt pieces fit together with a string and we stuffed it with the provided fluff. There was a brain, heart and liver. It was interesting because it sparked conversation about what the organs did and how they helped our bodies.
Activity #3: Create Your Own X-Ray
This was exciting as well. The multi step process allowed my daughter to actually create an X-ray. It involved stickers and a dry erase marker on glow in the dark paper. The black out of the stickers created the effect of an x-ray. She loved the glow in the dark effect. I appreciated that the stickers that created the arm bones resembled actual hand bones. It was realistic and created room for discussing bones and cartridge.
Additional Activities
Also with the box we received a large poster that showed most of the body systems including bones and organs. We were able to point out the different areas of the body and talk about their purpose. It was also fun because the felt organs came with sticky Velcro stickers that allowed my daughter to stick the brain, heart and liver to the poster. They still hang there today.
Parent Involvement
As a parent I found this box to be amazing. My daughter is 5 and although I did have to give her direction, she was able to pretty much do everything on her own. It was exciting to give my daughter the gift of creating and learning with little preparation on my part.
KiwiCo Coupon Code
If you would like to purchase a subscription to Kiwi Crate use my Kiwi Crate Promo code FUNWITHMAMA30 to receive 30% off your first crate with a subscription of 3 months or more! Please note that I will update this particular page whenever there is a better coupon code.