If you are one of those parents that want to do more crafts and art activities with the kids but the necessary preparation and supplies are holding you back? That is why we love ! KiwiCo boxes are amongst our favorite. In this Kiwi Crate April 2017 review + don't forget to grab the coupon code in this post. You can learn more about Kiwi Crate by checking out all of my Kiwi Crate Reviews. Add this box to your screen free weekly activities! This kids monthly subscription box is geared towards kids ages 5-8 and comes highly recommended by my children. I do, however, think that this box is perfect for older children too. My 10 year old shares this subscription with my 7 year old daughter and the activities are challenging enough and age appropriate for both of them.
You can find updated Kiwi Crate coupon codes on our Kiwi Crate Promo Code page.
Kiwi Crate April 2017 Review + Coupon: Color and Light Box
One of my favorite things about the Kiwi Crate Subscription box is that everything that you possibly need for the craft or activity comes in this box. Plus, the instructions are always easy to understand. Depending on your child's age that means that parent involvement can be minimal.
I have 2 kids sharing this box and they both eagerly wait for the box to show up. Once they see it outside they can barely wait to get started. I prefer to save the box for the weekend to alleviate any, "Mom! I'm bored!" moments and to prevent them from spending ridiculous amounts of time in front of the TV or iPad.
You might be wondering if this box is good enough for two children. Well, I wont pretend that it doesn't sometimes leave the two of them arguing about who gets to do which activity but we work it out based on their current interests. Also, if one child got first choice this month then that means next month the other sibling gets first choice. They both also simultaneously work through the box while my 3 year old daughter works through her Koala Crate box.
Parent Participation Required for this Box:
My 7 and 10 year old were able to accomplish the activities in this box without any help from me. If your child is 5 then she would probably need help.
Materials Required for this activity:
Please note that affiliate links may be used in this post.
– A Kiwi Crate Box. The box includes everything needed.
KIWI CRATE COUPON CODE
If you would like to purchase a subscription to Kiwi Crate use my Kiwi Crate Promo code FUNWITHMAMA30 to receive 30% off your first crate with a subscription of 3 months or more!
Activities In This Months Kiwi Crate Box
Activity #1: Projecting Colorful Shadows
My 10 year old chose this activity. I encourage the kids to take out the required materials for each project. This teachers them to be more responsible and independent.


After my son gathered the required items that were all conveniently found in the box he began to work.
Activity #2: Mixing Colored Light
For a sticker loving child, this activity was perfect! My 7 year old has always loved working with stickers so this month we could easily determine who was doing which activity.
These were the items used.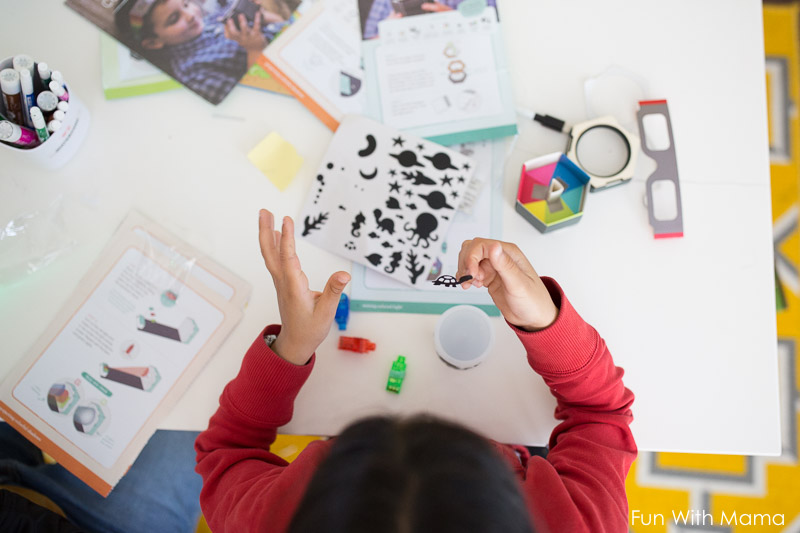 The finished creation was beautiful! Especially as a small night light to be used at bedtime.
Activity #3: Play with Rainbow Glasses
Both of my kids had fun using the glasses to see the effect it had on what they would see.
My verdict:

I can without a doubt recommend this subscription box based on our experience. My kids love it and it definitely gives them something to do at home that is low stress for Mom. That is also why I (even though I am a pretty crafty Mama) purchased a subscription for my kids too.
WANT TO GET A KIWI CRATE SUBSCRIPTION BOX?
Go to Kiwi Crates website and have a look at all the different types of boxes that they have. Choose one that is age appropriate for your child.
Kiwi Crate has four different boxes geared towards different ages and activities:
Koala Crate – is a play and learn box. It is geared towards 3-4 year olds. (My 3 year old and 7 year old love it.)
Kiwi Crate – is a science, art and more box. It is geared towards 5-8 year olds.
Doodle Crate– is an art and design techniques box. It is geared towards 9-16 year olds.
Tinker Crate – is an engineering and science box. It is geared towards 9-16 year olds.