Did you know that when you mix a white crayon and watercolors you can reveal the most amazing hidden messages? These Crayon Resist Painting Secret Love Notes activity is full of a special surprise message to the painter. I did this with my kids but imagine having your kids do this as a Father's Day activity or even a Mother's Day craft?
Crayon Resist Painting
When I did the crayon resist activity with my toddler I had to theme it according to his age. My 2 year old couldn't read but he definitely knew about shapes. Now that my other 2 children are 7 years old and 10 I can add in some secret messages that make this activity that much more special.
Materials Required:
Please note that affiliate links may be used in this post.
How to do the crayon resist watercolor painting activity:
You could watch the video of how to prepare this activity and what it looks like by watching this video.
Step 1: Write out a love note to your kids using a white crayon.


Then prepare your watercolor paints.
Watercolor Resist
Tell your child that you would like them to paint over all the white space in the picture. Then watch as your child starts to see the secret message that is revealed!
Write your kids secret love notes with this crayon resist activity http://bit.ly/2o6JU8L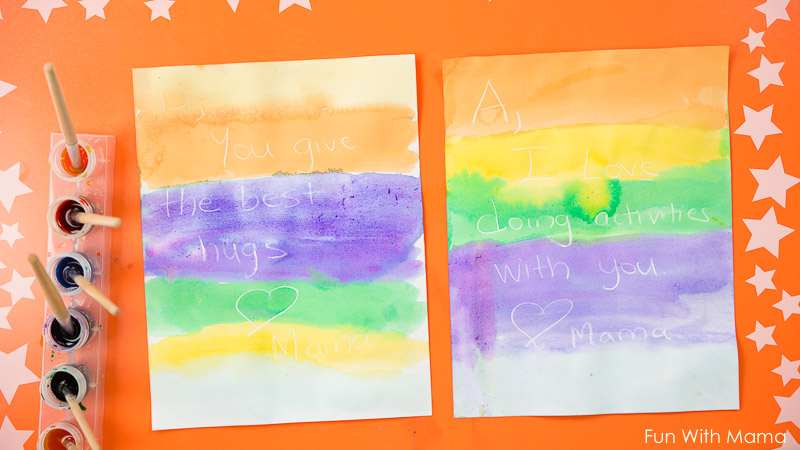 Secret Love Notes to Mom
I have the most amazing kids who seem to reciprocate my love for making them feel special. They each handed me a secret love note that I also had to decode through painting.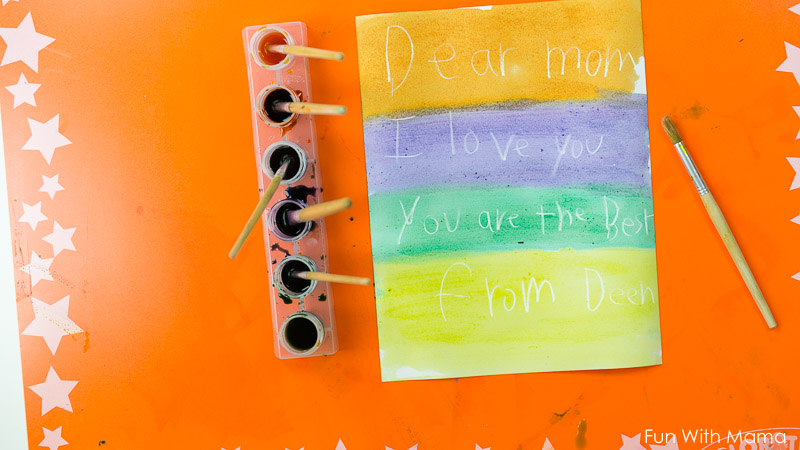 Variations for different age groups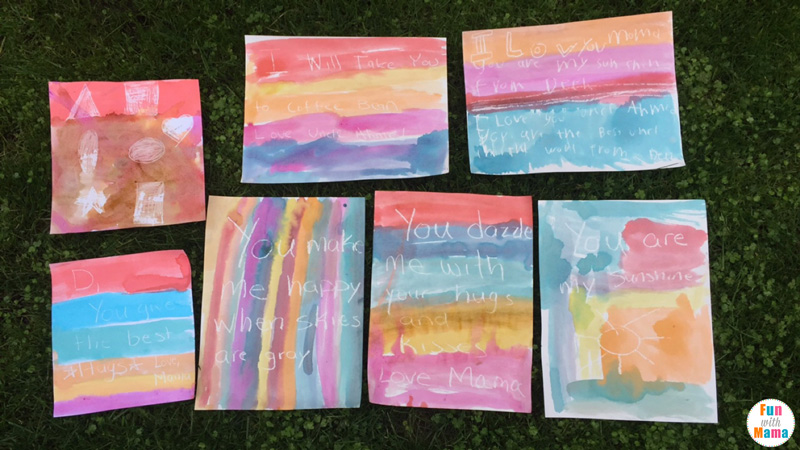 If you look at the above you will see that my preschooler did a crayon resist painting shape activity. Each time my preschooler found a shape she would say it out loud.
Place these Printable Lunchbox Notes in your child's lunchbox with a set of markers!
For Halloween try out this Hidden Ghost Halloween Painting Activity…. It is a super cute way to hide some 'scary' ghosts and get into the Halloween spirit! You could also hand those out as treats and tell kids they need to paint on them at home.
If you have a toddler try this Crayon Resist Secret Letters activity from Busy Toddler.
We love that crayon resist can be such an open ended activity. You can find more resist techniques here from The Artful Parent.