Learn how you can do kids activities at home with no prep necessary! We love monthly subscription boxeses for kids especially when they are filled with out of the box kids activities. When these 'surprises' land at our doorstep it is as if my kids got a secret santa present. Read my Kiwi Crate Review where you will see all the Kiwi Crate crafts in this box and look at this step by step guide of my kids using the box. This will definitely be a great addition to our fun preschool activities and even to your elementary grade activities too. Don't forget to use the Kiwi Crate coupon code to get 30% off a box!
You can find updated Kiwi Crate coupon codes on our Kiwi Crate Promo Code page.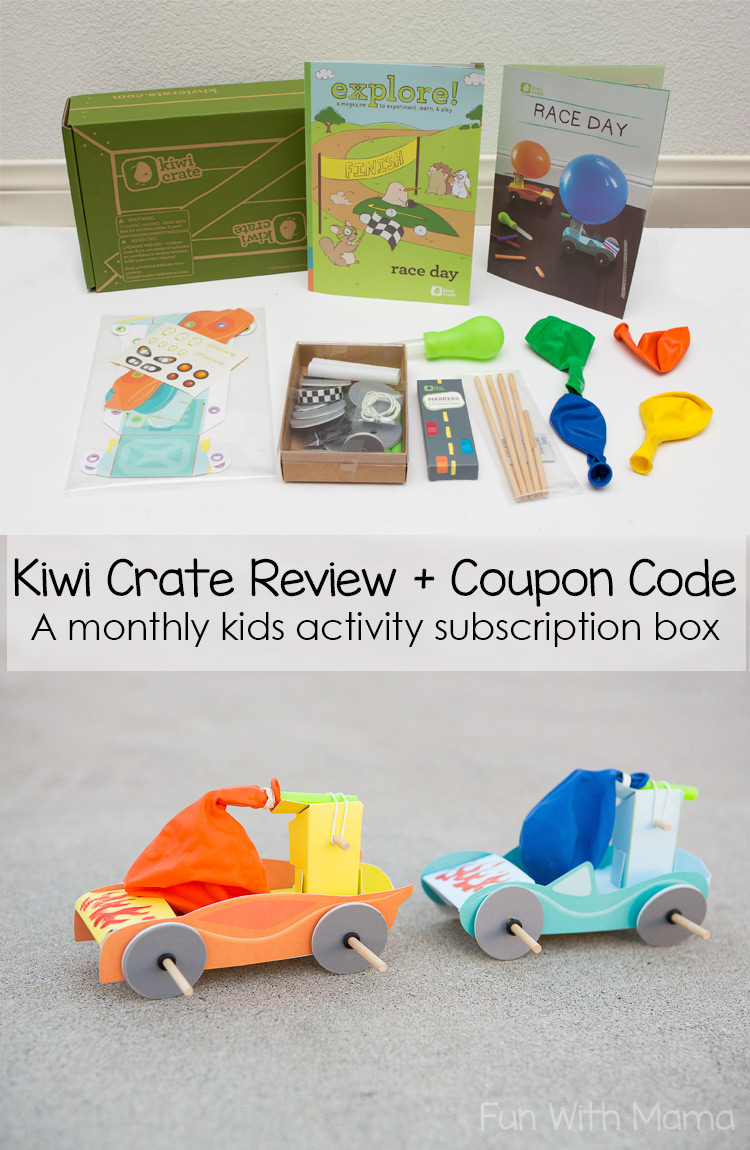 Kiwi Crate sent us their Kiwi Crate to review. Please note that my thoughts on this product are completely honest and that I intend on purchasing my own subscription because we LOVE this box. Affiliate links are used in this post.
We love doing arts and crafts activities at home so when I came across Kiwi Crate's Monthly Activity boxes I knew it was something we needed. Kiwi Crate is a monthly subscription box filled with 2 fun educational activities for kids. These activities can be a kids craft project or a kids art activity. There are three different subscription boxes which I will go into more detail below.
The Kids Activity Monthly Subscription Box: Kiwi Crate
The Cost: It Varies between $16.95 – $ 19.95 depending on the subscription length. This is before you add a Kiwi Crate coupon code.
Kiwi Crate Coupon Code
Can't wait for the discount code at the bottom of the review? I've made it easier for you.
Kiwi Crate has offered Fun With Mama Readers an exclusive 30% off coupon on your first month's subscription. Use the code: FUNWITHMAMA30
Kiwi Crate Review

I love that aKiwi Crate subscription means you will gift a child 12 months of presents delivered right to their door. How special is that?
When the Kiwi Crate Box arrived at our door my 7 and 9 year old kids were so excited! They couldn't wait to get started.
Opening the box is like opening a treasure of kids activities. My kids imaginations were going wild at the possibilities!
Kiwi Crate Crafts

These are all the items that were in our box.

Kiwi Crate Activity 1: Race Day
Activity #1 Building Race Cars

Initially I thought that I would let my 7 year old do one craft from the box and my 9 year old another. When they saw this build your car craft they both wanted to do it! I was worried but lucked out because Kiwi Crate included 2 build a car kits! My daughter chose the blue one and my son chose the orange.

We placed all the required materials on the table and then I let the kids start working on their new crafts. I sat with them because I too was intrigued at the concept of building craft cars.

There was some coloring, folding and engineering involved.

Adding stickers to the car was a magical touch. Which child doesn't love crafts that include stickers?


Have you ever seen a balloon on a craft race car? My kids LOVED this and when it came time to racing it they quickly blew up their balloons to see whose car would go faster.


I am amazed at how Kiwi Crate comes up with these amazing crafts and ideas!
Their finished cars look really awesome if I do say so myself. This activity was a total win with both of my kids. Kiwi Crate recommends this box for ages 5-8 but my almost 10 year old enjoyed it just as much as my 7 year old. I am purchasing one of these subscriptions right now. The quality family time we had while the kids did this craft activity is most definitely worth the price of the smiles and joy my kids had.
Kiwi Crate Craft 2: Airbrush Art
We haven't tried this activity yet but plan to try it out this weekend. Have you tried out Kiwi Crate? What did you think of it?
My Verdict:
I give this box 5 full stars and this is 100% recommended!
How to order a Kiwi Crate Monthly Subscription Box
Go to Kiwi Crates website and have a look at all the different types of boxes that they have. Choose one that is age appropriate for your child.
Kiwi Crate has four different boxes geared towards different ages and activities:
Koala Crate – is a play and learn box. It is geared towards 3-4 year olds. (My 2 year old loved it.) Check out my Koala Crate Review here.
Kiwi Crate – is a science, art and more box. It is geared towards 5-8 year olds. (This is the box we used for this review.)
Doodle Crate– is an art and design techniques box. It is geared towards 9-16 year olds.
Tinker Crate – is an engineering and science box. It is geared towards 9-16 year olds.
Kiwi Crate Promo Code
If you would like to purchase a subscription to Kiwi Crate use my code FUNWITHMAMA30 to receive 30% off your first crate with a subscription of 3 months or more. It is definitely worth a try!
Want to find more subscription box reviews?
Check out all of my subscription box reviews here.