Cutting is an important skill for preschoolers to learn. Whether you're teaching your child to use scissors or working with a classroom full of students, the secret to scissor skills success is lots of practice and patience.
To help, we've rounded up more than 20 fantastic ideas for cutting practice for preschoolers that are fun, engaging, and super helpful. You'll find simple worksheets that are ready to use as soon as they're off the printer as well as hands-on crafts and activities that are less formal.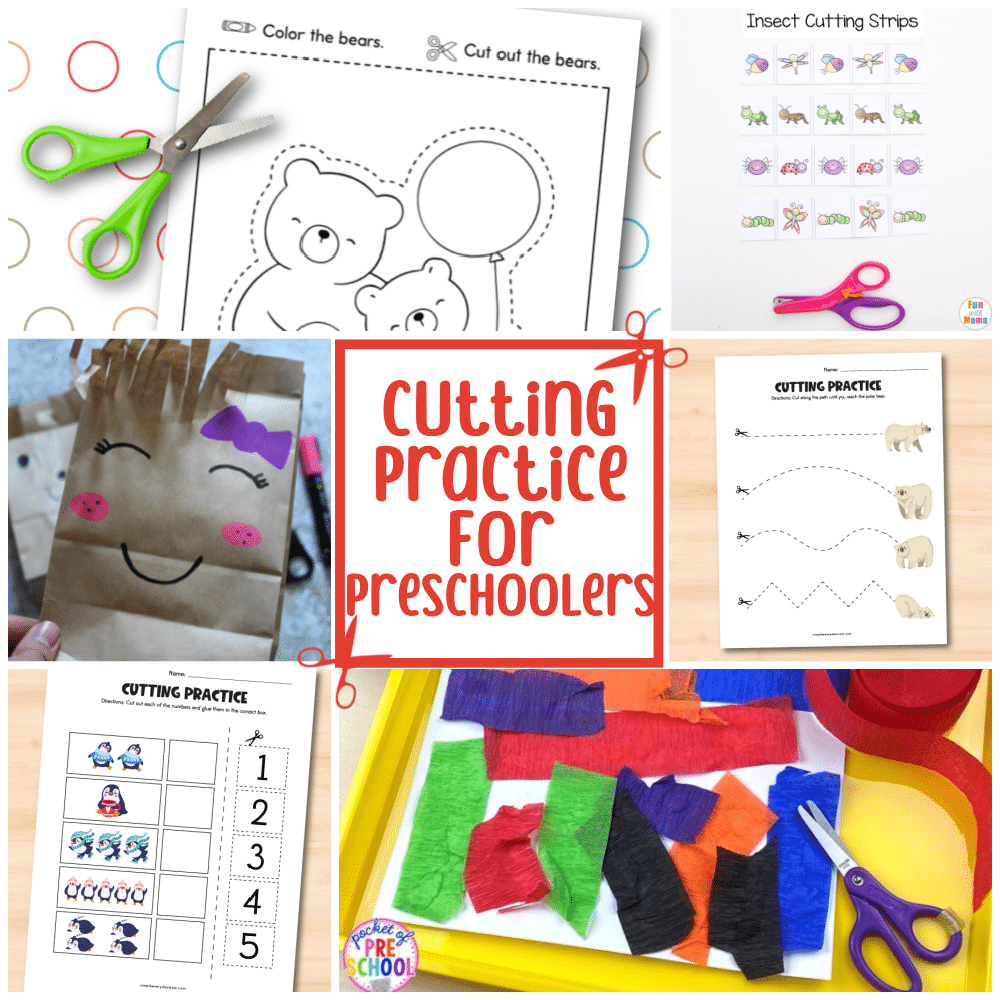 By making cutting practice fun, you'll help your preschoolers become more comfortable using scissors and increase their confidence with this developing skill.
Let's dive in! There are so many scissor crafts and preschool cutting activities to do!
Why is Cutting Practice Important?
Scissor skills are an important part of fine motor development. It's a pre-writing skill that involves eye-hand coordination, grasping objects, and using both hands at the same time. Cutting is a mental and physical activity that both challenges children and helps them become more independent.
Cutting with scissors requires hand-eye coordination, bilateral coordination, visual-motor integration, and fine motor strength too.
Printable cutting practice makes it so simple and easy to do no matter where you are.
Benefits of Scissor Cutting Activities
In addition to the important reasons for working on scissor skills listed above, here are just a handful of other benefits your preschooler will gain from cutting practice:
Strengthening hand muscles
Tracking with their eyes
Focusing for extended periods
Improving finger dexterity
Helps develop hand-eye coordination
How Do You Teach Your Preschooler Scissor Skills?
It takes time for little hands and minds to grasp how to use scissors properly. It requires independent finger movements, which can be challenging for small fingers and hands. If your preschooler shows an interest in using scissors, start working on fine motor development.
Fine motor skills like ripping paper, using a hole punch, or playing with finger puppets help children learn to use their fingers independently and use their hands in a coordinated fashion.
Before you give your child the scissors, have a quick safety talk. Teach them to ask before using scissors, to only use them with adult supervision, and to only use them on approved materials.
Remember to use blunt-tip scissors with little ones!
Once your child is ready to work with scissors, first demonstrate the correct way to hold them. It's okay if your child needs lots of reminders; that's natural. It may help to draw a smiley face on the scissors so that your child holds them correctly. If the smiley face is facing them and right-side-up, they're holding the scissors properly. Finger positioning is important to using scissors well.
After showing your child the proper hold, model opening and closing the scissors. Then, help your child use their hand to do the same.
When your preschooler can open and close scissors with ease, it's time to let them practice snipping and cutting! Just allow free-form cutting for a while. Cutting along lines or in a specific direction will come as the skills develop.
You can also use printable cutting practice worksheets.
That's where these activities come in!
Scissors
Affiliate links are used in this post. This means that if you make a purchase through one of these links, at no extra cost to you, we will earn a small commission.
Don't forget to get a good pair of scissors.
These blunt scissors are a good option.
For children ages 4+ these are great
Cutting Activities for Preschoolers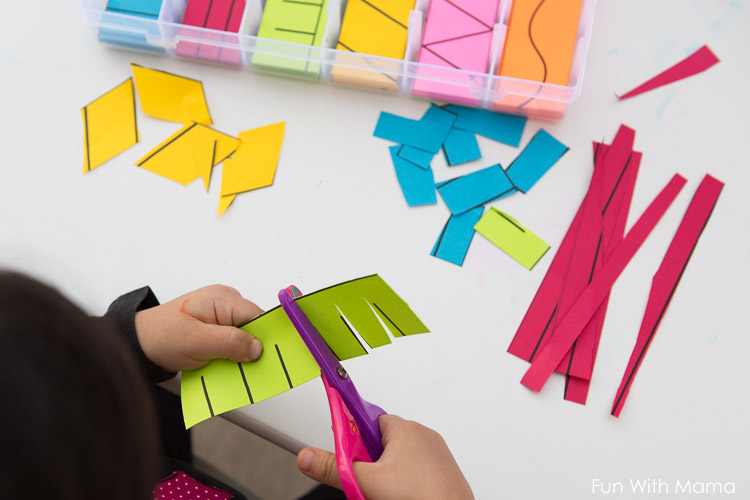 This preschool cutting busy box ticks so many boxes for learning, fun, and skill development. Straight lines, zig-zags, and wavy lines give kids plenty of practice with changing directions while using the scissors and tracking with their eyes. The printables included in this preschool cutting activity allow for progression in scissor skills, too. First, children who can use scissors start by snipping the paper. Then, they progress to straight lines, followed by more complicated directional changes like zig-zags and curves.
Our insect cutting strips are perfect for a bug-themed unit study, as a fun springtime activity, or much-needed scissor cutting practice any time. With thick gray lines and space between each image, kids have plenty of room to cut. Plus, you can use pairs of each insect to make a fun matching game once all the cards are cut.
The cutting practice needn't stop when Christmas rolls around. Instead, turn this valuable life skill into a fun holiday activity with this Santa's beard project. It's a craft and fine motor activity combined! Once your Santa craft is complete, show your preschooler how to curl the beard. Then it's time for some scissor action! Let your child get to work trimming and cutting Santa's beard to the length they like.
If it's not Christmas time, don't worry. Trace the hat template onto green paper and the beard template onto orange paper to turn it into a leprechaun for spring.
Don't forget to look at our wide variety of printable packs which all contain cutting practice for your preschooler. You'll find loads of fun themes for the holidays and seasons as well as packs centering around different animals, the alphabet, emotions, and more.
Cutting Worksheets for Preschool
Winter is the perfect time to print off these penguin cutting activities for your preschooler to enjoy. Practice changing directions with different types of lines, work on counting, numbers, matching pictures, and more. These practice cutting sheets are perfect!
Grab these coloring pages that are paired with cutting practice. With eight different activities, your child will have various adorable bear scenes to choose from. A couple of our favorites are the hugging bears and the bear who's enjoying a slice of watermelon.
When spring is in full swing, bring out this printable grass-cutting activity for your preschooler to try. Cut the green sheet of paper on top of the printable to reveal the cute springtime scene underneath featuring flowers and bugs of all sorts.
Four polar bear cutting worksheets come in this printable pack. The first is a standard cutting sheet with straight, curvy, wavy, and zigzag lines. The next is a long curved line from the top of the page to the polar bear. The third is a matching activity where kids cut the bottom half of the polar bear to match it with the top half. Finally, the fourth is a fun scissor worksheet that includes numbers and counting.
Once your preschooler has mastered curvy cuts, it's time to practice with circles, loops, and spirals. It's a good idea to work in these more challenging cutting patterns now and then to see how your child is progressing with their scissor skills.
Get in the holiday spirit with printable cutting sheets that feature a Christmas tree, reindeer, snowman, and a star. Print them on colorful green, red, white, and yellow paper to add to the festive look. After the kids cut out the shapes, they can then cut along the lines within the shape to get even more practice.
Let it snow, let it snow, let it snow while you're cozy indoors working on scissor skills with your preschooler. This packet features four beautiful snowflakes for kids to practice cutting. However, take a look at the gingerbread sheet. Although it's meant for tracing, you can use it for additional scissor work.
More Preschool Cutting Practice
You'll find loads of wonderful scissor practice ideas for the classroom or at home in this post from Pocket of Preschool, but the streamer cutting activity is one of our favorites. You can find inexpensive streamers at most dollar stores. They're fun, colorful, and great for making simple collages.
Set up this fun activity in a pinch. All you need is a muffin tray, painter's tape, and small toys (like counting bears) to "trap" inside the cups. Tell your preschooler that they'll need to use scissors to cut and rescue the toys. This activity combines imaginative play with scissor practice for a fun task that kids will ask to repeat again and again.
Kids love learning about ocean animals. They're some of the most fascinating creatures on the planet. Combine their curiosity with a craft that pairs scissor skills with letter and number identification. These scissor skills sea creatures are easy to prepare and loads of fun. Take the octopus, for instance—you can add letter or number strips to make the tentacles. Then, your preschooler can snip them off one by one, calling out each letter.
Here's a creative way to practice with scissors without worksheets. Buy or reuse paper bags that you already have. Small ones work best for little hands, but large ones can be lots of fun, too. Kids can draw on a face and then get to work with their scissors to give their paper bag person a fun hairstyle.
Autumn is a wonderful time of year for sensory exploration with items from nature. Did you know that you can also use natural materials for scissor practice? Let your preschooler use their scissors to cut leaves, thin seed pods, grass, and flowers.
Make brightly colored feathers for the children to cut and practice scissor skills and fine motor control. Draw feathers onto a paper with a line down the middle, and let the kids cut them out and cut small slits along the sides. Display these beautiful feathers on a piece of paper or canvas when you're done.
For cutting practice that doesn't seem like work, make these gorgeous mini paper lanterns. You can make them in all sorts of different colors to suit the upcoming holidays or season. Your child will get lots of scissor work cutting those slits where the light peeks through.
Grab your stash of cardboard boxes along with some paint, scissors, glue, and printable doors and windows. Let your child get to work creating a colorful box city. Cutting the doors and windows is great practice for straight lines, and painting and gluing provide additional fine motor practice.
This cheerful sun-cutting activity is sure to brighten your child's day. It's as simple as drawing a sun shape on a yellow piece of paper for your child to cut. Optionally, draw a face on the sun to incorporate learning about emotions.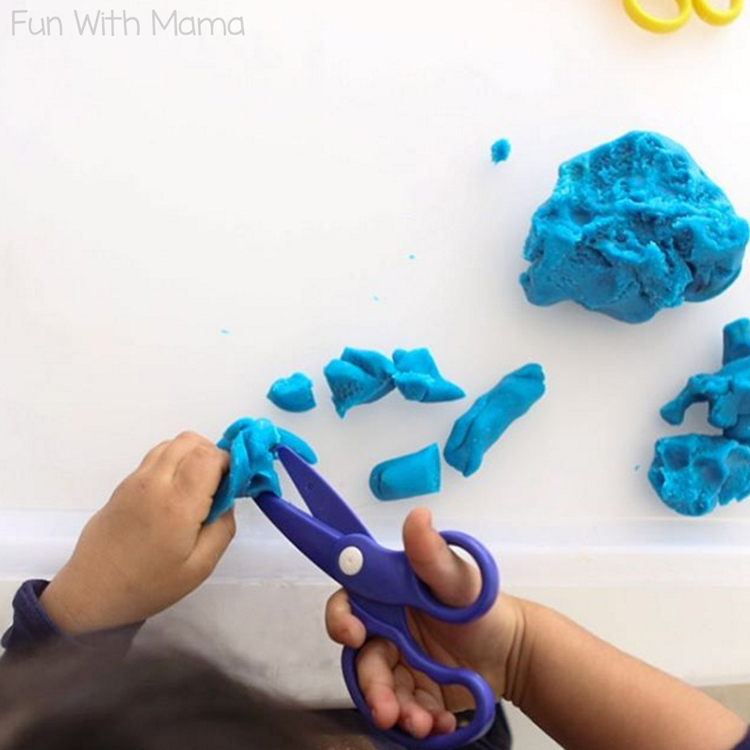 21. Make Playdough worms
Toddlers can use play dough scissors to cut long playdough worms that they've rolled together. if they are young then mom can create the fat worms. Using playdough is a simple way to incorporate cutting practice for preschoolers too!
Celebrate spring with a lovely flower craft that doubles as scissor practice. Cutting slits around the sides of the cupcake liners gives them a pretty 3D flower petal look. Because this craft is so simple, you can set it up and complete it in under 20 minutes, though there's no need to rush if your child likes to take their time.
We hope you enjoyed this list of preschool cutting activities. Don't forget to pin the post to come back to the list whenever you want to work on this skill with your children.
23. Cut paper
Just give your child a piece of paper and allow them to cut however they wish to. There's no need for lines or anything. Then use these cut pieces of paper in art projects.
Scissor Activity Books
Incorporating cutting activities for preschoolers daily will help work on those skills and strengthen those little hands and fingers.