Need a science experiment for kids that is perfect for your St Patrick's day activities week? Then check out this vibrant rainbow colors fizzing science experiment!
If you need a cool science activity to do for St. Patrick's Day, try making your own fizzing rainbow colors!
This preschool science activity is a fun twist on hidden treasure and chemical reaction science. In this activity, kids will use a chemical reaction to make the rainbow colors fizz.
This activity would be fun to play at a St. Patrick's Day party or as a St. Patrick's Day science experiment for kids in the classroom.
This activity is one of our favorite spring science activities for toddlers and preschoolers that you can do at home because it is easy!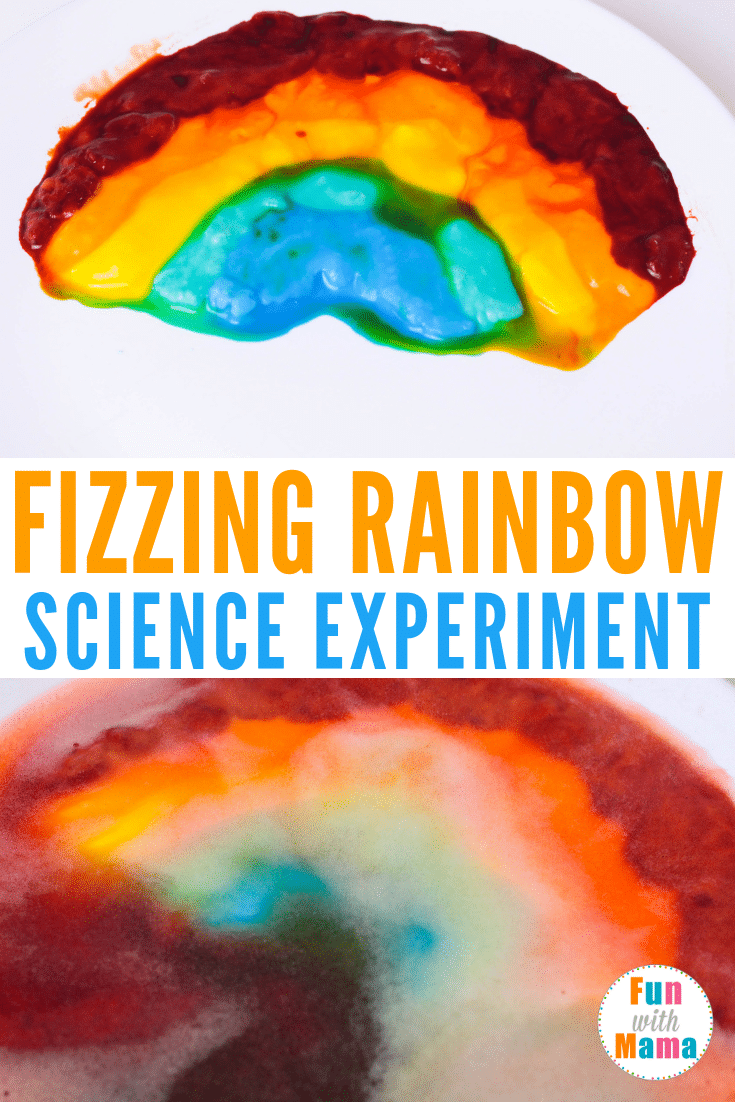 Rainbow Colors
Science experiments are a favorite in our house, hence why Fun With Mama has a YouTube channel filled with science experiment ideas for kids.
Check out the Fun With Mama's Kids YouTube Channel here.
MATERIALS REQUIRED:
Vinegar
Baking soda
Food coloring
Plastic tray
Pipettes or eye droppers
Science Experiment For Kids
Here is how you make your own fizzing rainbow science experiment. It's very similar to the Baking Soda Volcano Experiment.
Fizzing Rainbow Science Experiment For Kids Set-Up
Make a paste from baking soda and water. Divide the paste into five bowls and dye each cup a color of the rainbow with food coloring.
Doing the Fizzing Rainbow Science Experiment
Roll the colored baking soda paste into rolls and arrange them into a rainbow on the tray or plate. This works best if you start with blue and complete the rainbow backwards, arranging the colors in teh following order:
Blue
Green
Yellow
Orange
Red
Once the rainbow is complete, use the pipettes to pick up a small amount of vinegar.
Squirt the vinegar onto the rainbow and watch it fizz!
Repeat the process until the rainbow no longer fizzes or the tray is filled with colored liquid.
Discuss the science of baking soda and vinegar reactions as the kids complete the activity.
Why does the rainbow fizz?
What makes it stop fizzing?
I hope you enjoyed the baking soda fizzing rainbow colors science experiment for kids.
We have tons of fun rainbow activities for kids! Check these out:
Find more of our YouTube science experiments video's here:
Get the St Patrick's Activities pack.
More Printable Activities:
Don't forget to check out all of our Printable Packs and our Alphabet packs.
Free Printable CVC Spring Word Matching Activity