Don't let the winter blues get you down. Instead of shivering in the ice and snow, bring a little sunshine into your life with this super easy rainbow slime recipe! There is no better way to make the kids smile at the end of the day than by telling them they will be making slime! Although slime is a bit messy, this particular version made with clear glue is easier to clean up than most, and we've found that using clear glue is almost foolproof. My elementary kids can make the slime entirely on their own (with some supervision from mom, of course). Something about rainbows just makes my kids so happy, and it's always such a joy to watch them make and play with slime. It's definitely better than them watching YouTube videos all day when it's too cold to go out! Check out all of our slime recipes here.
Rainbow Slime
Making slime is a favorite in our home. We are also always looking for ways to make slime clean up easier. By using plastic cups and sticks to mix you can literally make this slime and throw away all of those mixing cups! All that would be left to clean is just putting the glue and laundry detergent away.
Learn how to make slime with glue and laundry detergent below:
Please note that affiliate links may be used in this post. Please see our disclosure policy for more information.
Slime Ingredients:
RAINBOW SLIME RECIPE: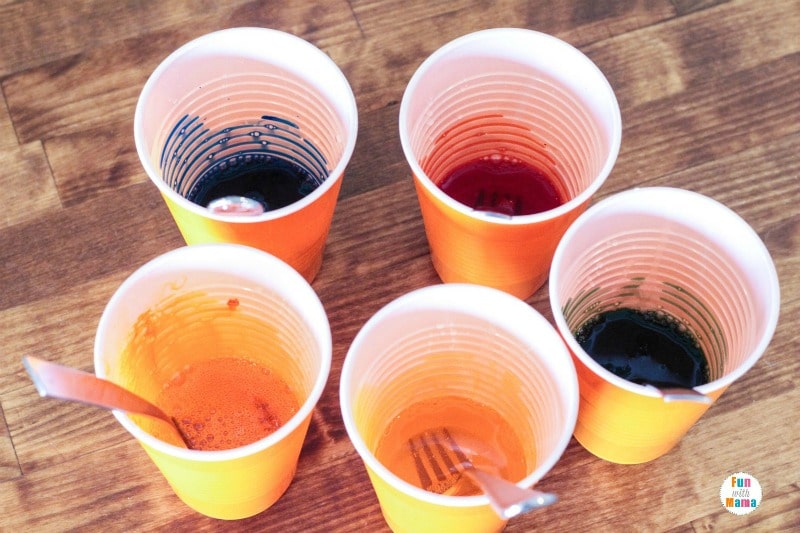 Set out 10 cups on a table.
In five of the cups, add 1/4 cup of water and 1/4 cup of clear glue.
Add food coloring in each cup to make rainbow colors and stir.
In the other five cups, add 1/4 of a cup of starch.
Carefully pour the starch into the glue cups.
Stir with a fork (for some reason, forks mix slime better).
OR
Set out 5 cups on the table. Add a 1/4 of water mixed with a 1/4 cup of clear glue into the foods. Add your slime food coloring. Then with a measuring cup add in approximately 1/4 cup of liquid starch into the glue mixture cup. Stir with a fork.
Once the slime starts to pull away from the edges of the cup, remove the slime from the cup and stretch it until it feels cool to the touch and no longer sticks to your fingers. For this small amount of slime, it should take 30 seconds or less.
Arrange all colors of slime into a rainbow, and let the kids play with and stretch the slime.
You can also use this time to work on a bit of color mixing theory, mixing certain colors of slime will produce new colors and unique slimes!
Super Easy Rainbow Slime Recipe http://bit.ly/2DVcea9
Mixing all the colors together will make a brown color, so discourage the kids from mixing it too much right away.
You can find all of our slime recipe's here.