With St. Patricks's Day right around the corner, it's time to get our creative hats on and plan out our St. Patrick's Day crafts and activities! While the holiday is typically about "everything green", we like to incorporate in some rainbows and gold as well.
Get ready to fall in love with these creative crafts and ideas that will give you plenty of great activities that you and your children can enjoy together!
13 St. Patrick's Day Crafts and Activities for Kids of All Ages
Finding ways to be creative with kids crafts is actually a lot of fun. With the online resources available, there are always a ton of great ideas that are simple and easy to replicate!
In our home, we LOVE to create together as a family. Not only does it keep our minds sharp and also help with our fine motor skills, but it creates memories as well that we'll never, ever forget. I can't tell you how many times we've sat around and created slime or playdough over and over again…and while it may seem tedious to some, I know in my heart of hearts that these moments with the kids are ones that I'll cherish forever.
For this reason, I'll continue to find great activities and kids crafts that I know my children will love. And when I know that we'll love them, it makes me super excited to share them with all of you as well!
This St. Patrick's Day, give these crafts and activities a try. You'll love the ease of use and outcome of every single one!
13 St. Patrick's Day Crafts and Activities

Salt Crystals St. Patrick's Day Science Experiment

St. Patricks Day Coloring Pages and Activities

Simple St. Patrick's Day Hat Coloring Craft
Rainbow Gold Coin Crayon Rubbings
Rainbow Handprint Canvas Painting
St. Patricks' Day Worksheets for Kids
Shamrock Slow Falling Busy Bottle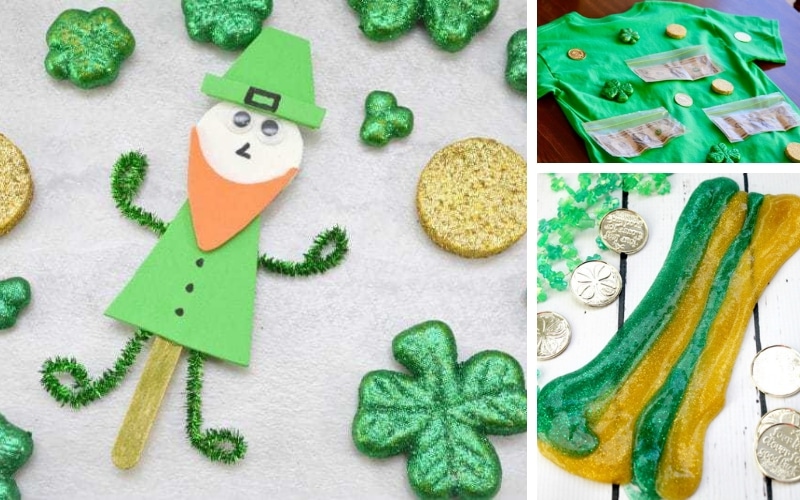 Plan on spending the next few weeks gathering up your supplies to be able to complete these adorable St. Patricks Day crafts. Not only are they super simple, but they are great for all ages as well. Go through the list of crafts and activities with your children and let them pick out the order that they'd like to complete them in! They'll love being a part of the decision making in the process as well!