If you are looking for some sensory play ideas and are focusing on an airplane preschool theme, then this airplane sensory bin is perfect! This sensory box is one that your children will LOVE playing with! It was a huge hit with my 3 and 6 year old, and it was a really easy one to set up too. Shaving cream is always a great sensory play element, and while it does get quite messy, the kids really do love it!
AIRPLANE THEMED SENSORY TUB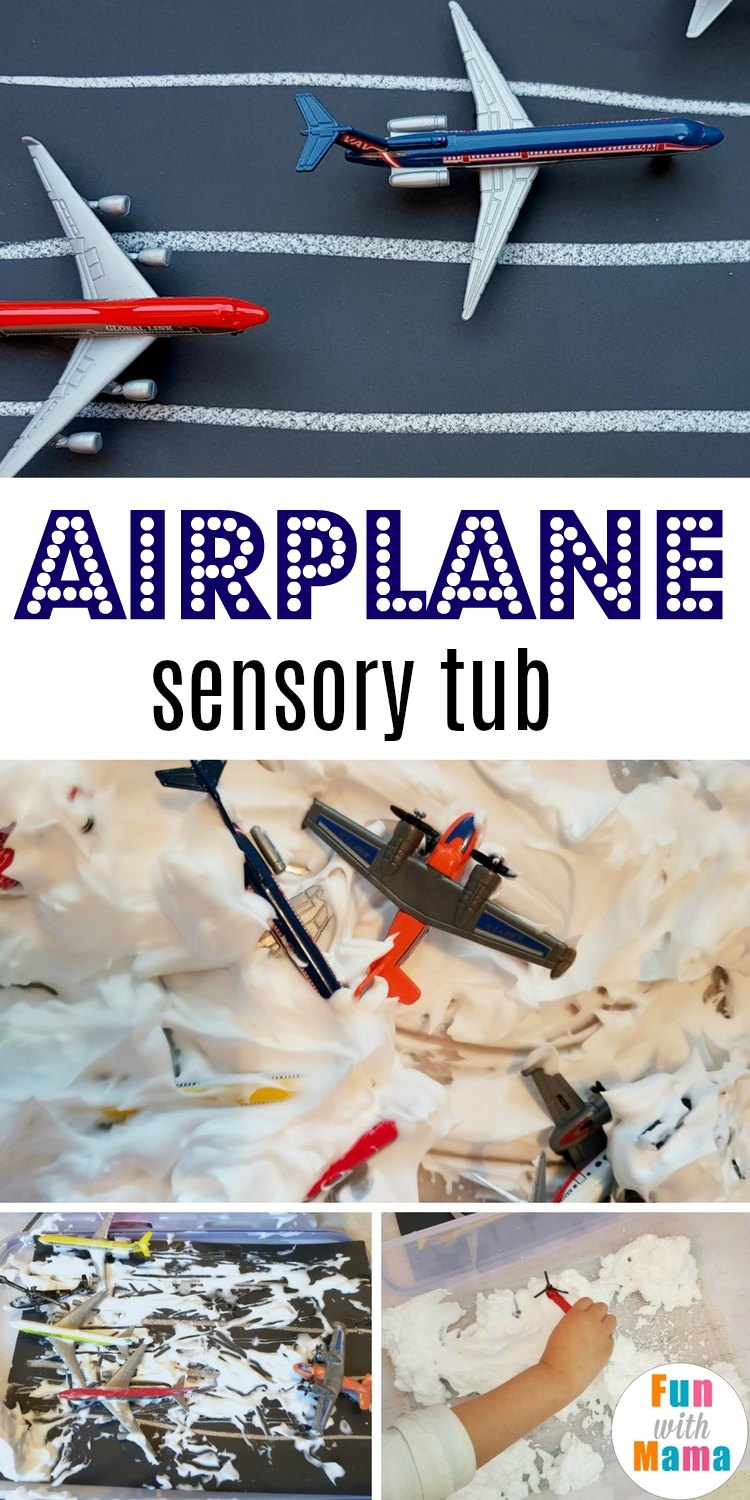 After having lots of fun with our Transportation Theme Sensory Table last month, we thought we would keep with a similar theme this month and make an airport instead. That bin fit perfectly with the transportation theme preschool activity pack and books about transportation we were reading all month long.
Airplane Sensory Bin
This month we are using the printable Airplane For Kids and Travel Adventure Airplane Activity Book For Kids.
I asked my girls for input about what we would need to make an airplane sensory bin. The main thing that they really wanted to include in the sensory bin was clouds!
We have recently been on a plane and they were watching the plane go up through the clouds and were very keen to replicate that in their play.
After a bit of thought, we decided to use the lid of our sensory box as the runway for the planes, and then the actual sensory bin could be the clouds. The shaving cream made perfect fluffy clouds! I know people often shy away from setting up sensory bins because of the time it takes – well this one took less than 5 minutes to set up!
If you want a less messy option you could use cotton balls as clouds instead.
MATERIALS REQUIRED
As our activity progressed, my girls decided they also wanted to wash the planes so we also added
Bowl for water
Hand Towel
How to make a sensory bin
This was a really easy sensory bin to setup.
To make the runway we placed a piece of black paper onto the lid of the container and drew lines to make lanes for the planes.
If you plan to do this activity a lot you could always laminate the sheet (the shaving cream will ruin it by the end of the activity). We didn't do this, as it's quite easy to make another one next time we want to play.
Add your shaving cream to the plastic tub. I made different sized clouds for the planes to fly through.
That's it! I told you it was an easy one this week.
Kids Play
I was really impressed with how long my girls played with this activity. I thought they might last for about 20 minutes, but it was almost an hour before they had to stop to eat dinner. This is one sensory bin that they couldn't get enough of!
They started off by lining up the planes ready for take off.
My 6 year old realized we had a toy helicopter in the mix of airplanes so she drew a helipad at the end of the runway.
Then they started flying the planes through the clouds. This was definitely the part they loved the most. Making the planes disappear and reappear.
Flying them around the yard and then back through the clouds was lots of fun!
The planes landed back at the runway (yes, covered in 'clouds' but that only made it more fun).
Midway through the play, the girls decided that the planes were dirty and needed washing, so they asked me for a container and a towel.
We had so much fun playing with our airplane themed sensory tub and it is a great activity to go with an airplane theme or transportation theme.
There's something about shaving cream that children just seem to love, as you may have noticed in the shaving cream painting activity!
Create your own sensory bin with the following items:
Want to see more sensory bins?
Spring Theme Sensory Bins + Table Ideas
Ocean Theme Preschool Sensory Bin
You can find all of our sensory bins here.