This alphabet letter game hunt is a perfect activity for toddlers and preschoolers to work on their color and alphabet letter recognition. When doing alphabet activities for kids I often try to teach teach through hands on learning and sensory exploration. It seems to help my kids really take in what they are learning. The more of their five senses that they use in an activity provides a stronger learning experience for their ABC's. You can find more alphabet activities for kids.
When we did the Shapes Hunt last year and my 2 year old had SO much of fun. Now that she has a better grasp of her shapes and colors I wanted to move on to teaching her (she is now a 3 year old) more about the alphabets. While we did the activity I put on a, "now I know my ABC's" song. You could also sing the song with your child. Toddlers and preschoolers love singing aloud.
Alphabet Letter Hunt Game
Materials Required:
Please note that affiliate links are used in this post.
A filler. This can be dry rice, dry beans, cooked spaghetti. The list here is endless and dependent on what you already have at home.
Scoopers are optional. My kids LOVE these Colanders. We use them in most of our sensory bins.
Alphabet Puzzle. We used one from the Dollar Tree and it worked wonderfully for this purpose.


If you can't get out to the Dollar Tree then check out my recommendations below:


– Wooden Alphabet Stand up Puzzle – I love that this puzzle can be used in different ways. Imagine spelling out your child's name and leaving it as decor in their room.
– Small Foam Alphabet Puzzle
A container – I used a heart shaped bowl from Target.
Preparing the kids alphabet activity
Pour your filler into your dish. Then place the alphabet pieces into the rice and mix it up. You can see how I set up my last hunt here.

I loved using this Dollar Tree puzzle because the empty puzzle acts as a key so the child knows how many puzzle pieces are still hidden.
You can discuss with your child or student what color they found or which alphabet letter.
Want more play time? Have them do the puzzle over again but this time with their eyes closed as they search for the letter in the rice. Then when they find a letter ask them to feel it and see if they can guess which alphabet letter they found. Kids will have to really think about the lines and curves they are feeling in order to recognize which alphabet letter they found.
Another variation is to do it with Shapes instead. I did this previously and it was a lot of fun.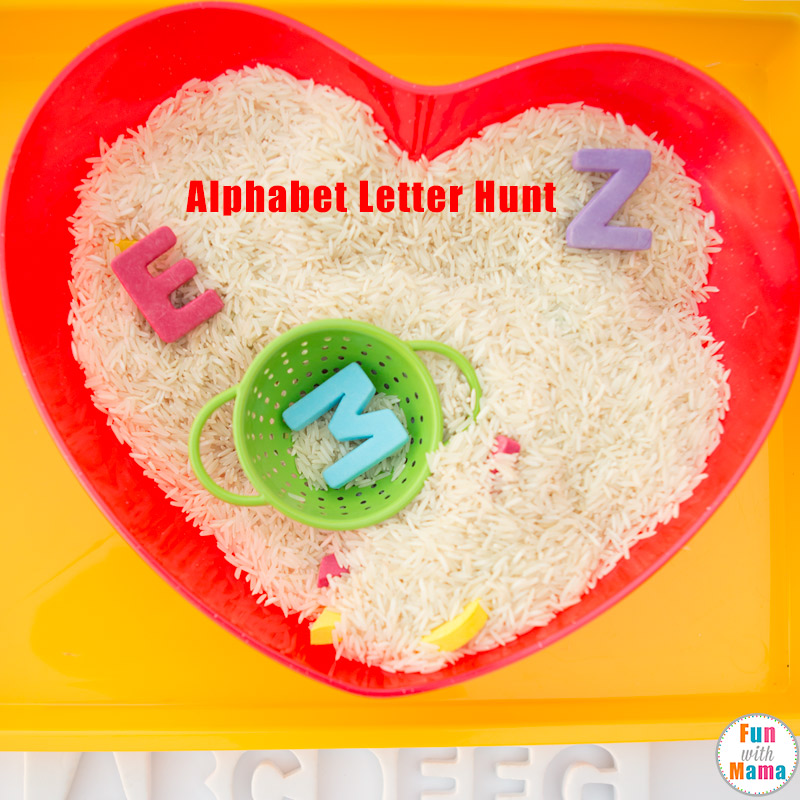 My Favorite Alphabet Toys
More fun alphabet activities