If you are looking for some transportation activities to add to your transportation unit then you HAVE to check out this fun filled transportation theme sensory table. We've been loving all things trucks in our house this week so it seemed fitting to make a transport themed sensory bin to go along with this interest. This was a really easy transport sensory bin to create and one that has been played with every day this week. If you have classroom setting then use this as a sensory table idea. Check out all of our sensory table ideas.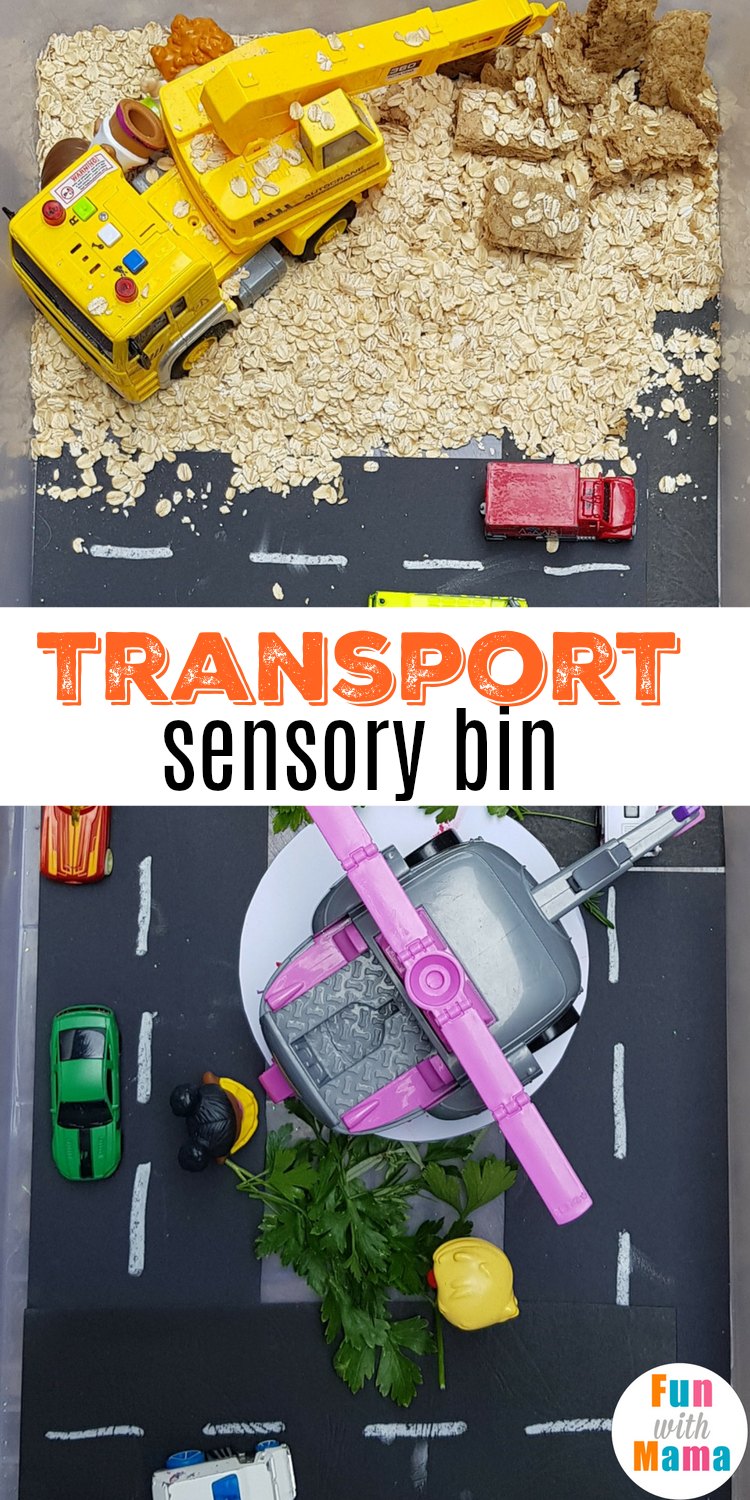 Transportation Theme
With my daughter's interest in trucks, it was tempting to make a truck or construction themed sensory bin, but we decided to mix it up a bit and make it a 'mixed vehicle' one instead! I really loved the extra language and play ideas that came with the addition of multiple modes of transport. For this sensory bin I used toys that we already had and I encourage you to do the same. If you don't have a toy helicopter, make an airport instead.
I've seen a lot of construction themed sensory bins that use real rocks and stones and I was originally going to do this as well. The problem was that when I went to get some I was a bit concerned about the size of a lot of them. With sensory bins, you do need to have constant supervision, but you also don't want to put any risky items in there, especially things that they can put in their mouths. For this reason, I chose to go with all edible items and you'll see that we used oats and weet-bix instead of rocks.
Materials Required:
Setting up a Transportation Unit
Use this sensory bin with other Transportation ideas
Transportation Sensory Table
I used a large plastic container for this sensory bin, the same one I use for most of my sensory bin. To start with I cut up my black card, drawing the lines in the middle with pastels, and used that for the road.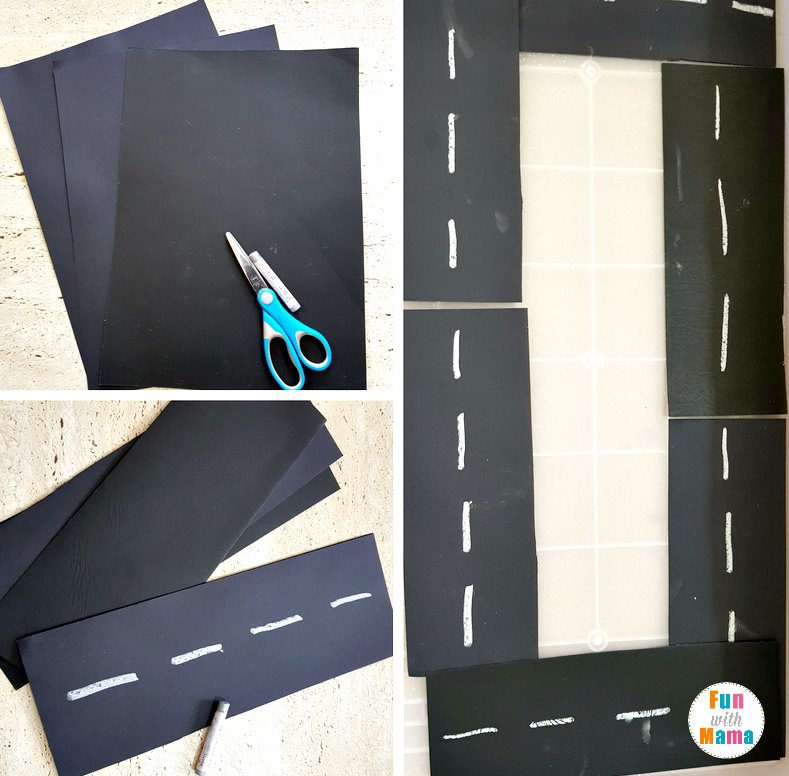 To make your helicopter landing pad cut out a circle from the white cardstock (I traced around a small plate to make the circle) and then draw a red cross on it.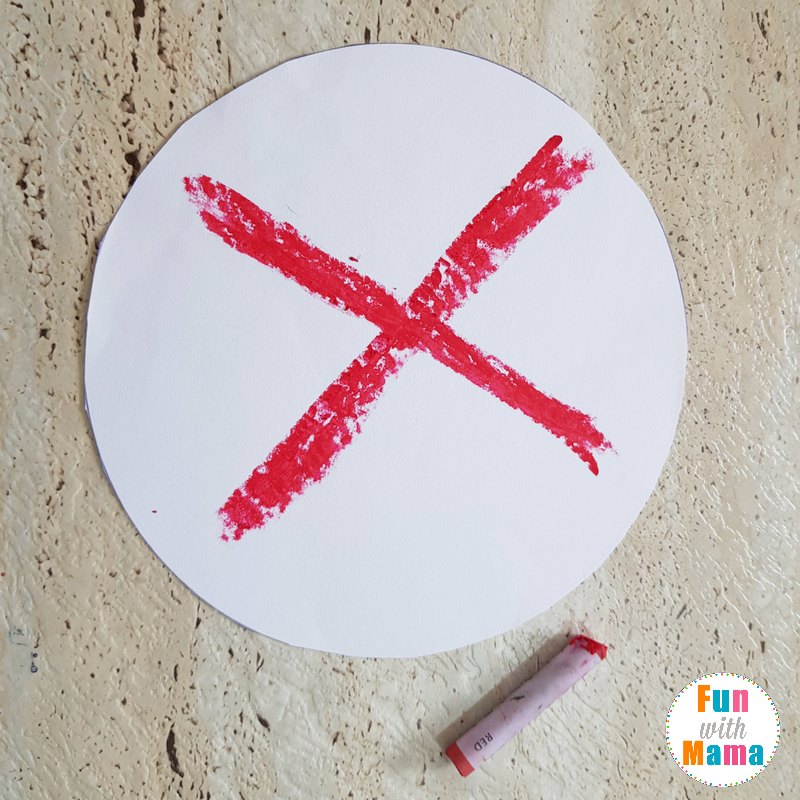 To create your construction site, tip out some oats and then add some cut up weet-bix. I cut each weet-bix into 3 pieces so that they looked like bricks.
As we were assembling our sensory bin we realized that we need something to go between the road and the helipad. I asked my daughter what she thought should be there and she said, "grass". We went outside and cut some of our herbs and used these as the 'grass'. The herbs add another sensory element to the activity too which is great. They also keep within our 'taste safe' parameters which is lucky as I did spot a bit of taste testing going on during our play!
The final part of setting up our transport sensory bin is adding some people. We used our Little People as we already had heaps of those at home. I'm sure you'll have something similar at home too. Now you're ready to play!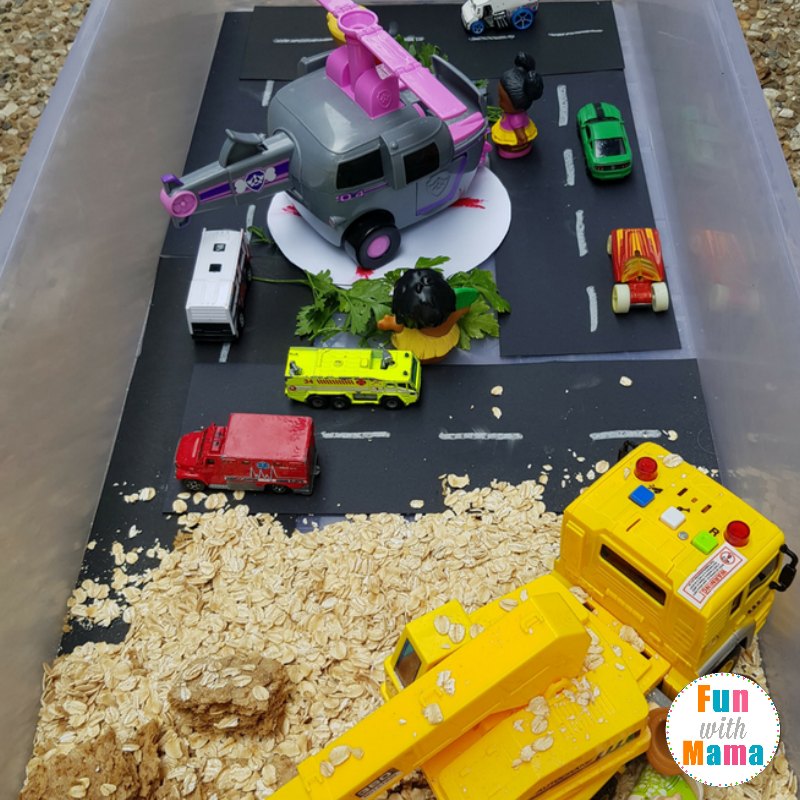 How We Played
I really loved seeing all the different play ideas happening with this sensory bin. My daughter started off by using the helicopter. She would take it around the house and then bring it back to land on the helipad – this happened many time! Later the helicopter was also used to help land the people on the construction site so that they could help with the building!
There was a LOT of play with the truck and the construction site. The 'blocks' were used to build towers, the people all went to work there and the truck then drove along the road to make deliveries. My daughter also requested a scoop and spent quite a lot of time scooping up the oats and the weet-bix.
Of course there was also a lot of time spent driving the cars around the road too!
I hope you're child enjoys this easy transport sensory bin as much as mine did. It really is easy to set up and there's minimal mess compared to many of our other sensory bins!