One of the BEST parts of cruising with Disney is the Disney Cruise Fish Extender, also known as FE. We just got back from the Disney Dream Cruise and had the most wonderful time. The Disney fish extender gifts added to the magic not only for my children, but also for us adults too!
Fish Extender
The Fish Extender is a gift exchange that Disney Cruise guests sign up for. It is completely optional but makes the cruise THAT much more fun. Each time we would get back to our room, my children would eagerly beam with excitement and smiles wondering if they received a new gift in the fish extender.
If you want to learn more about how to sign up and join a fish extender ten check out my Disney Cruise Fish Extender 101 post. It includes all the details you need to know and also has a few FE Gifts ideas. We did our first fish extender gift exchange on the Disney Magic Cruise we went on.
Please note that affiliate links may be used in this post. Please see my disclosure policy for more information.
I LOVED my previous Disney Cruise Fish Extender.. but during our recent move we seemed to have misplaced it. 🙁
I went on Etsy 3 months before our cruise and immediately began searching for a new Fish Extender. I decided to choose different colors just in case we ended up finding our old fish extender.
I chose a red, blue and white theme which is also the Disney Cruise line colors! I bought the fish extender here.
It was a little smaller than the one I bought last year but it functioned perfectly.
What is a Disney Fish Extender
You can see more Fish Extender Gift Ideas and learn more about it here in the video I created below. Don't forget to subscribe to Fun With Mama's YouTube Channel.
Fish Extender Gifts
These are some of the gifts I gave out.
The Mickey Mouse pouch is perfect for headphones!
One of my favorite gifts was this Sand bottle memory keeper. What a sweet way to bring back a piece of your holiday. Just add in sand from one of the islands (just a tiny bit) and now you have a part of that island at home.
The details are incredible! It has a little anchor and Mickey Mouse head. The card it comes with is PERFECT. I also love that it comes in these small boxes for easy transportation.
These tissue holders are good fish extender gifts for adults. It fits easily into a small handbag too.
Bows are a wonderful fish extender gift idea, especially Disney Themed bows.
The first set is from Zozu Baby
These adorable bows are Disney color themed. They are from LabelleBabyBows.
For little girls or even adults I found these cute Mickey Mouse earrings.
It comes in these little blue bags.
Here are some fish extender gifts we received:
The cruise ship cookie cutter included a recipe!
The Who Was Walt Disney? Paperback book was a special touch.
I LOVE the Disney Cruise locator cards. It made it easy for us to know where to go when we needed to find a specific spot on the ship.
This Mickey Mouse cookie cutter set was really cute too!
This DIY Gift idea is so cute.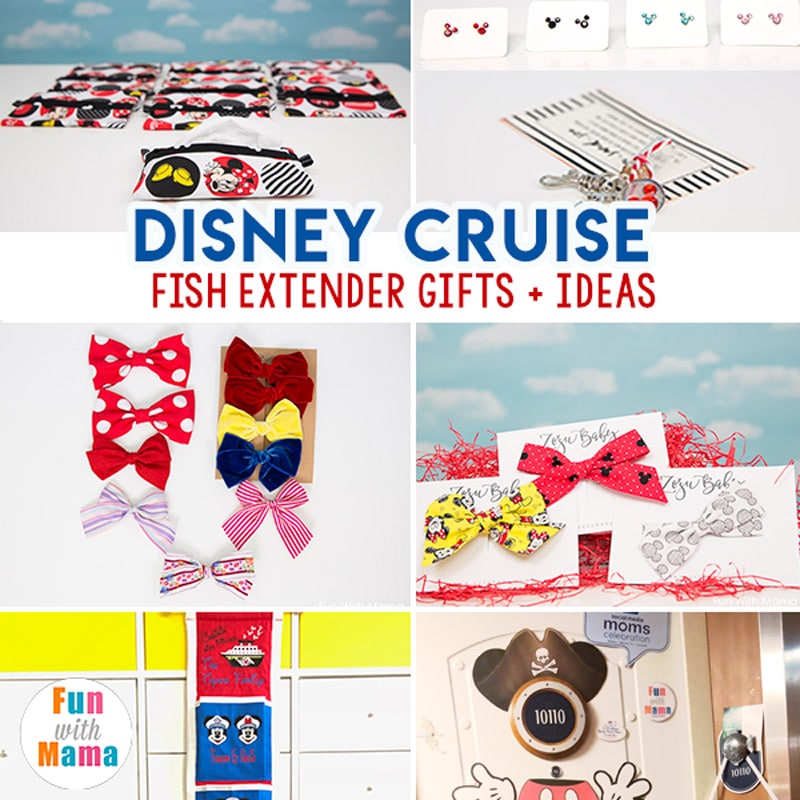 More Disney Cruise posts: