Kids have always been fascinated by cars, trains, planes and all things that go. There are so many great children's books about transportation to introduce them to all kinds of vehicles and machines. From board books to reference books, there is something for everyone! Don't forget to check out our preschool book lists.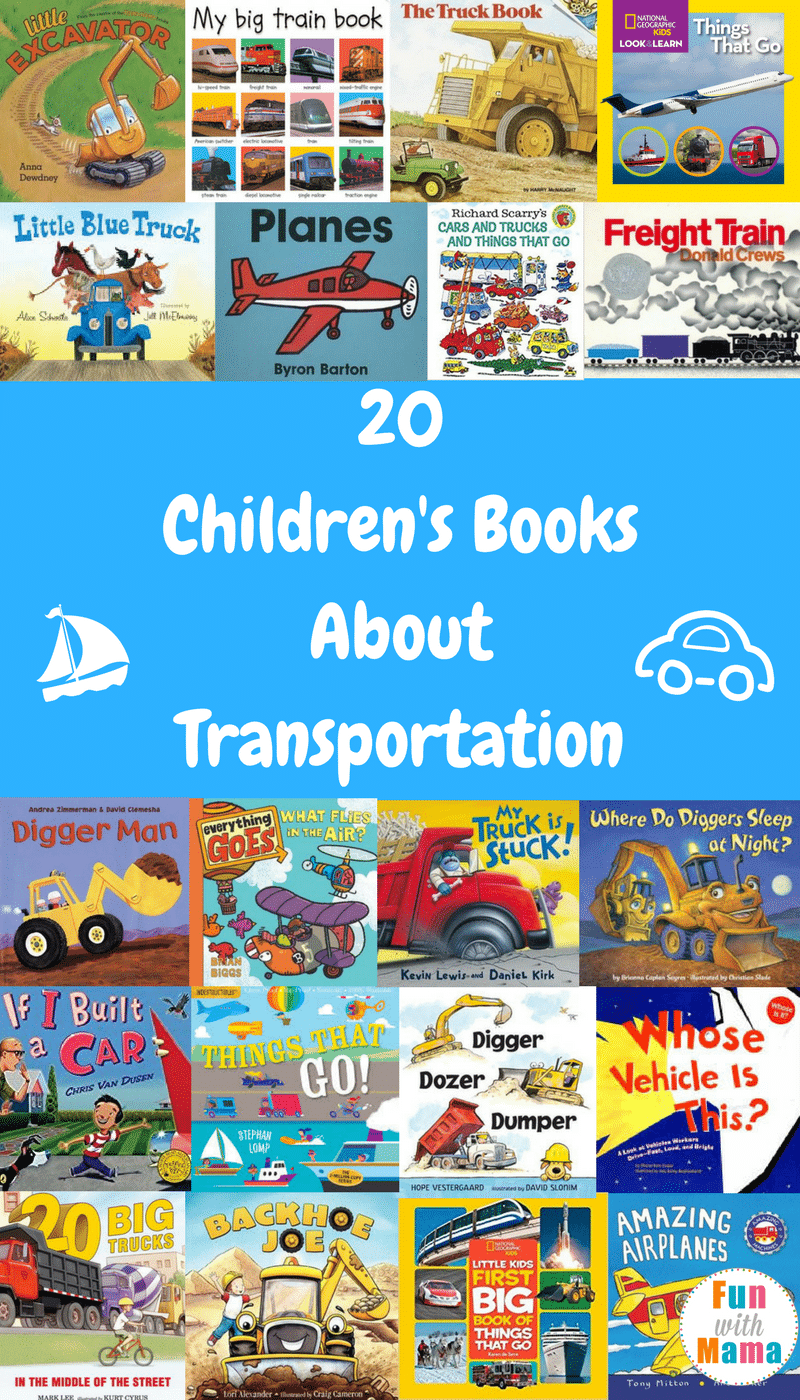 Books about Transportation
You can add these books to the fun transportation theme preschool activities.
Please note that affiliate links may be used in this post. Please see my disclosure policy for more information..
Cars & Trucks
Little Blue Truck
was written by Alice Schertle and illustrated by Jill McElmurry. This adorable rhyming story about a little blue truck is full of fun noises from animals and trucks, and also teaches an important lesson about kindness and friendship.
The Truck Book
was written and illustrated by Harry McNaught. This book is full of detailed illustrations and information about a wide variety of trucks and vehicles.
My Truck Is Stuck!
was written by Kevin Lewis and illustrated by Daniel Kirk. When their truck full of bones gets stuck in a hole, the dog drivers ask for help from other drivers. As more cars get added to the line, kids can count along. The rhyming text is accompanied by bright illustrations that are full of surprises.
Twenty Big Trucks in the Middle of the Street
was written by Mark Lee and illustrated by Kurt Cyrus. When an ice cream truck breaks down in the street, it starts a traffic jam full of various trucks and vehicles. The illustrations are beautiful and pair well with the rhyming text. Kids will love counting along as more trucks end up part of the mess.
If I Built a Car
was written and illustrated by Chris Van Dusen. Through rhyming text and retro illustrations, this story follows a young boy as he designs his dream car.
Trains & Planes
Planes
was written and illustrated by Byron Barton. This colorful board book introduces a variety of plane models to young readers. With simple text and illustrations, this is a great book for babies and toddlers.
Freight Train
was written and illustrated by Donald Crews. This book introduces readers to a variety of train cars, each designated by a different color. Follow the freight train as it flies along the tracks, through tunnels, over bridges and more.
My Big Train Book
by Roger Priddy is a great introduction to trains for the little ones. Each page showcases a variety of trains in large, clear photographs and clear labels. The book also includes snippets of information about different types of trains.
Everything Goes: What Flies in the Air?
was written and illustrated by Brian Biggs. This bright board book counts backwards from ten, following a flock of birds as they come across a variety of flying vehicles.
Amazing Airplanes
was written by Tony Mitton and illustrated by Ant Parker. Follow a group of cute animals as they travel by plane. The rhyming text and colorful illustrations introduces airplane travel from the terminal through the flight, as well as other tidbits about air travel.
Construction & Recreational Vehicles
Where Do Diggers Sleep at Night?
was written by Brianna Caplan Sayres and illustrated by Christian Slade. What happens to trucks and other vehicles when bedtime rolls around? The rhyming text and adorable illustrations make this a great bedtime story to share with kids.
Backhoe Joe
was written by Lori Alexander and illustrated by Craig Cameron. When a little boy named Nolan comes across a backhoe in the street, he decides to adopt it as his own. Kids will love the adorable vehicle and his funny antics.
Digger Man
was written and illustrated by Andrea Zimmerman and David Clemesha. The little boy at the center of this story loves his digging toys and dreams of driving a large digger someday. He includes his little brother in his adventures, making this a great book for vehicle loving kids and new siblings.
Digger, Dozer, Dumper
was written by Hope Vestergaard and illustrated by David Slonim. Learn about a variety of vehicles through fun poems and colorful illustrations.
Little Excavator
was written and illustrated by Anna Dewdney. This vivid picture book follows a little excavator and a variety of other construction vehicles as they work on a lot. The smooth rhymes and colorful illustrations are sure to delight young readers and adults alike.
Things That Go
National Geographic Little Kids First Big Book of Things That Go
was written by Karen de Seve. This reference book uses clear photographs and informative text to teach young readers about all modes of transportation.
Whose Vehicle Is This?: A Look at Vehicles Workers Drive – Fast, Loud, and Bright
was written by Sharon Katz Cooper and illustrated by Amy Bailey Muehlenhardt. This book offers simple clues and colorful illustrations to help readers guess what kind of vehicle is pictured. Once the page is turned, the illustrations shows more of each vehicle and offers small tidbits about it.
National Geographic Kids Look and Learn: Things That Go
by National Geographic Kids offers information about a variety of vehicles. The photographs are large and clear, and label important parts of each vehicle.
Richard Scarry's Cars and Trucks and Things That Go
was written and illustrated by Richard Scarry. As the wide variety of animal characters in the book go about their daily business, they travel in a wide variety of vehicles, all of which are clearly labeled.
Indestructibles: Things That Go!
was written by Amy Pixton and illustrated by Stephan Lomp. This brightly colored book showcases a variety of vehicles traveling on land, on the sea and in the air. Each vehicle is clearly labeled, making this a great introduction to vehicles for little readers.