Slime making is a favorite pastime of ours. There is no better way to make the kids smile at the end of the day than by telling them they will be making slime! But nothing is worse than finding out you don't have what you need to make slime- what if you're out of glue? Can you make slime without glue?? It turns out, there are a lot of ways how to make slime without glue. This post will show you how to make a xanthum slime recipe without glue! It is super slimy and has a unique consistency. Don't forget to check out all of our slime recipes.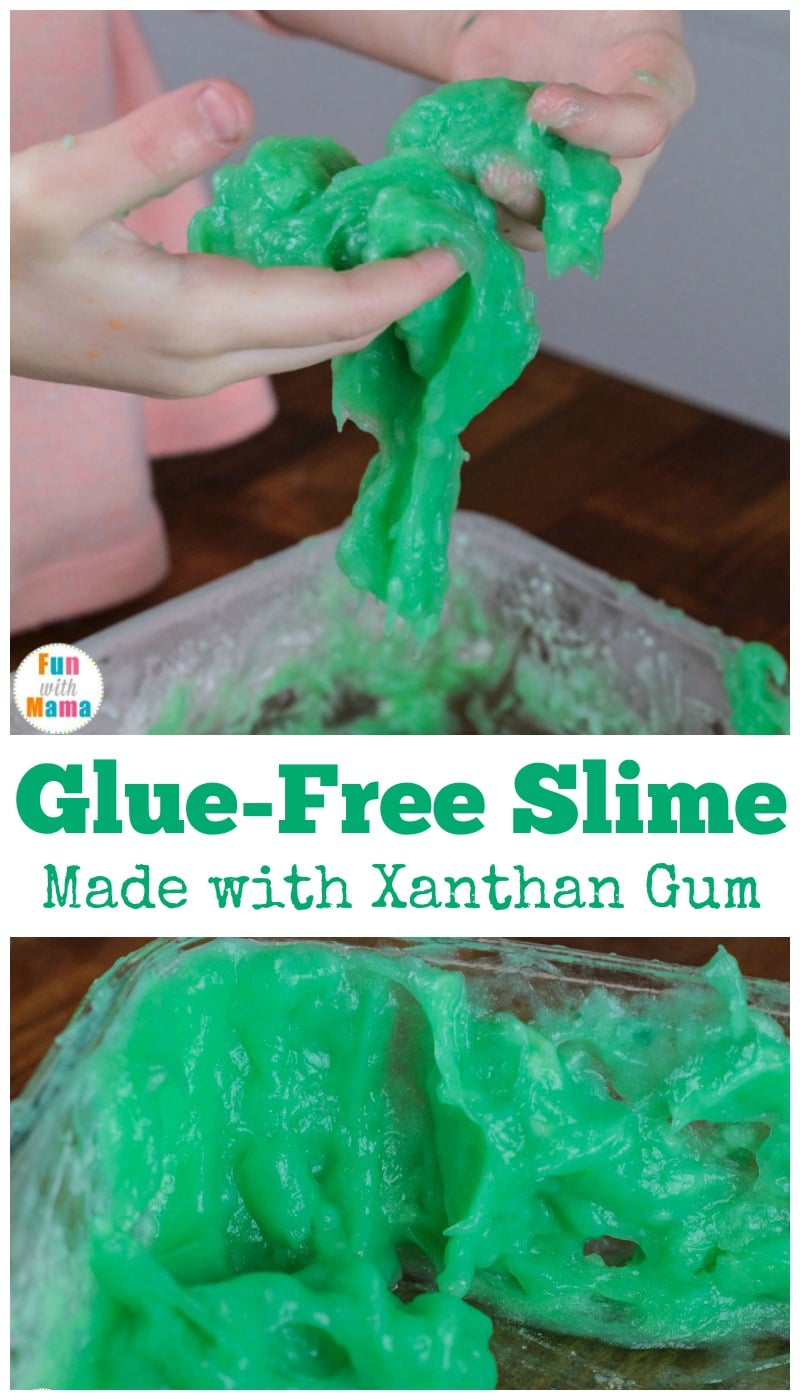 Xanthan Gum Slime Recipe
Making slime is a favorite in our home. Xanthan gum is a natural thickener. It's often used by individuals who are vegan or gluten-free as a thickener. When added in large quantities to warm water, it can turn into slime!
Learn how to make slime with xanthan gum below:
Please note that affiliate links may be used in this post. Please see our disclosure policy for more information.
SLIME INGREDIENTS:
Food coloring
Glass container
Fork
Water
GUM SLIME RECIPE:
Add a cup or two of water to a glass container. Heat your water in the microwave for a minute.
Add a few drops of food coloring to your water.
Sprinkle the top of the water with xanthan gum.
Keep adding xanthan gum until the mixture is the consistency of jello.
Mix with a fork. Your xanthan gum will look clumpy, but that's OK. Keep mixing until you get most of the big lumps out.
Put your slime in the refrigerator. Let it rest for about an hour.
After an hour, take out the slime.
Squish it and play with it.
It's so slippery!
This slime recipe is super messy and sticky, but it provides a fun alternative to traditional slime, and it's so slippery to the touch, it's almost a completely different experience!
You can find all of our slime recipe's here and don't forget to learn how to make slime without borax and how to make slime without glue!