Even though Earth Day is celebrated once a year, it really is an important issue that children need to learn about and help out with all year round. These Earth Day Activities for kids includes printables and worksheets suitable for toddlers, preschool and kindergarten students. They will help kids learn about the important issues surrounding our planet while building their numeracy and literacy skills.

Earth Day Activities For Kids
Kids in preschool and kindergarten will be encouraged to help take care of our Earth with all these fun activities in this Earth Day printable pack.
Materials Required:
Please note that affiliate links are used in this post. Please see my disclosure policy for more information.
Here are some items that pair well with these activities. You will use each of these items over and over during all my printable preschool activity packs.
There are two fun printable games; bingo and dominoes. This Earth Day-themed bingo game allows children to create their own bingo cards and comes in both color and black and white.
The Earth Day Bingo game is one of my favorite Earth Day activities for toddlers. It's great for the vocabulary words and simple enough that the youngest of children can understand how to play.
Dominoes is a fun game for all kids. There are a total of 48 cards that I like to print out and laminate for durability. These cards can be kept in a ziplock bag and enjoyed when visiting friends or at appointments.
There are also pages that will have children thinking about how they can do their part in helping care for our planet: ways they can love the Earth, listing items that can be recycled, and ways they can reduce, reuse and recycle.
The Earth Day activities for preschoolers include fun puzzles, number puzzles, line tracing activities, counting activities as well as size sequencing and a graphing activity.
Earth Day activities for kindergarteners include the worksheets, sorting pages and build a word puzzles. Print the worksheets and pages that are most suitable for your child's age.

Where to get the activity pack:
GET THE EARTH DAY ACTIVITY PACK HERE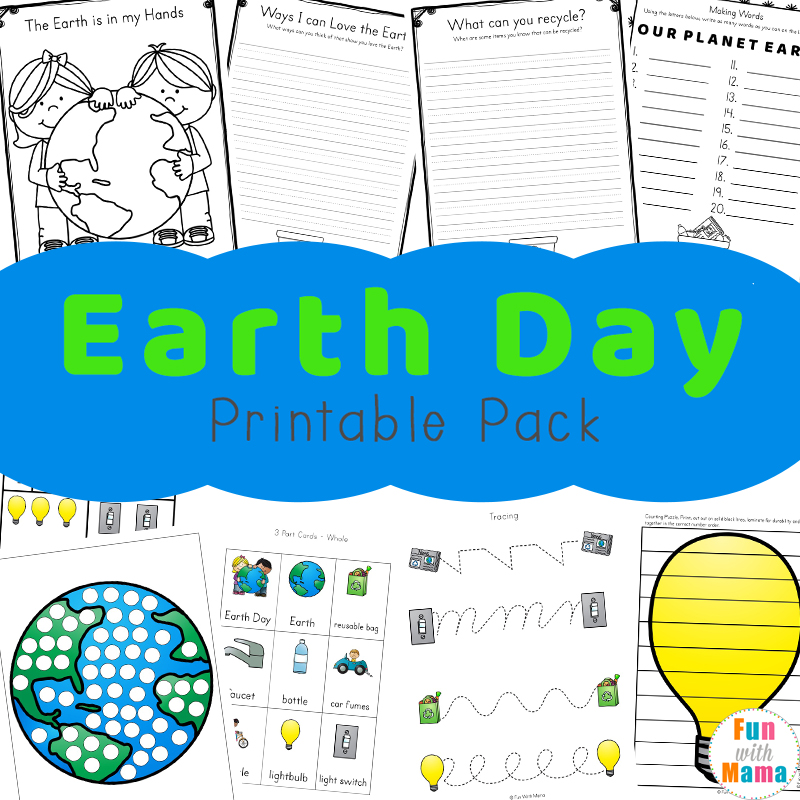 Learn more about Earth Day and ways you can help the Earth with this fun activity pack. These activities are available in color and black and white.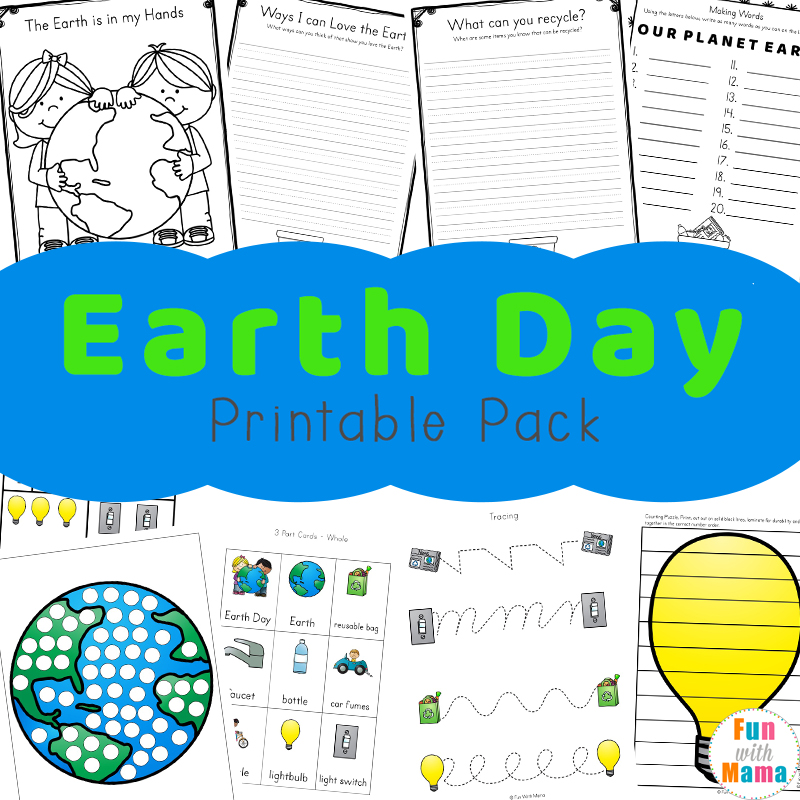 Other Super Activity Ideas:
You can find all of our printable activity packs here.
Fun Science Activities For Kids
STEM Activities For Multiple Ages
You may also like these Earth Day Shape Clip Cards, which are great for helping kids learn their 2d and 3d shapes.
More Earth Day Activities