Can you feel that back-to-school rush?
If you're looking for some fun first day of school printables and activities, you're going to love all these great options that will transform back-to-school jitters into joyful anticipation.
Starting the first day of school is a big deal. No matter what the age is of your child, there's probably a ton of excitement and emotions happening in their mind.
And when that first day of school arrives, the morning time can be total and complete chaos as well.
If you're wanting to make that very first day of school a time to remember, these first day of school printables can help!
First Day of School Printables
The great part about these first day of school printables is that they're all easy to print and use. No matter if you're using them to stop and post for pictures or have to let them create and use their imagination, they're all a great way to create a memory of that new start to the school year.
Out of all of the options below, you're certain to find one that you'll love. And once you do, you just print and enjoy!
You can also check out my First Day Of School Activities, Tips + Books To Prepare Your Child. These tips will help lead up to that first day of school.
Tips for Making the First Day of School a Success
Now that you have an abundance of first day of school printables to choose from, it's time to focus in on what can make a great first day for your child as well. Here are a few tips that can help make their first day a huge success.
Start the morning off with a healthy breakfast
Cut out the sugar and feed them something that is going to stick with them throughout the entire day. Their minds need to be fed just like their bodies do to stay strong and active.
Sit down and talk to them about what to expect
Your child might not have any clue what to expect about starting the first day of school. If that's the case, sit down and talk to them about everything that can and will go on.
Make certain they get a good night's rest the night before
School can be so draining! In order for your little ones to do their best, make certain that they have their heads in beds at a decent hour before the first day of school arrives. If they're tired then there's a good chance that they're going to be cranky throughout the day as well.
There you have it! These simple tips and first day of school printables can help make the first day of school a day that your child will never forget!
First Day of School Printable Preschool Hats
Going to preschool is a big deal! And to celebrate, let your preschooler create their very own First Day of School Preschool Hat! They'll love it so much, they might just wear it all day.
100 Would You Rather Questions for Kids
Have a kiddo who is nervous about the first day back to school? These simple would you rather question cards can have them feeling comfortable, fast.
Kissing Hand Suncatcher Craft
Using the sign language hand signal for love, your child can create a wonderful craft to let them know that they're always loved even while away at school.
Back to School Bingo
Grab these back to school bingo printables for some first week of school fun!
The Back to School Bingo Game is perfect as a first week of school activity as it features a range of school supplies, equipment and people in the form of a fun bingo game. This resource features 30 school supplies bingo boards making it perfect for use with the whole class or a small group of students. Both color and black and white formats are included.
Back to School Activity Pack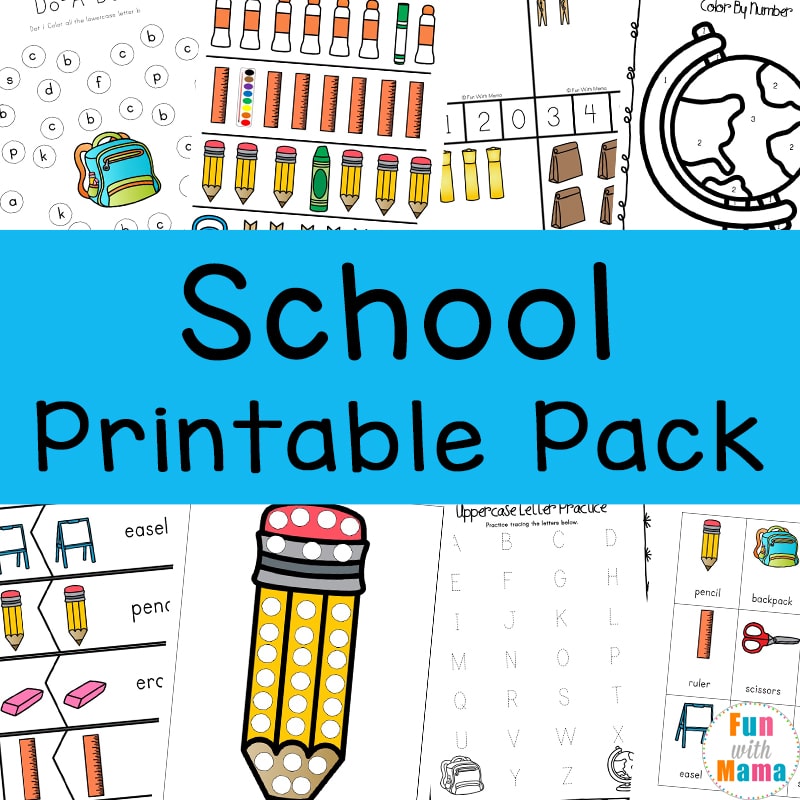 What better way to get school started than with these fun printable back to school activities?
Get your students excited about learning with this Back to School Supplies Activity Pack filled with fine motor, literacy and math center activities. With the addition of a school supplies scavenger hunt, this activity pack will help your students lock into their learning and develop alphabet recognition, counting skills, school-related vocabulary, language development and much more.
Or you can check out these tracing worksheets. Perfect for early learners who are excited for school to start.
School Classroom Scavenger Hunt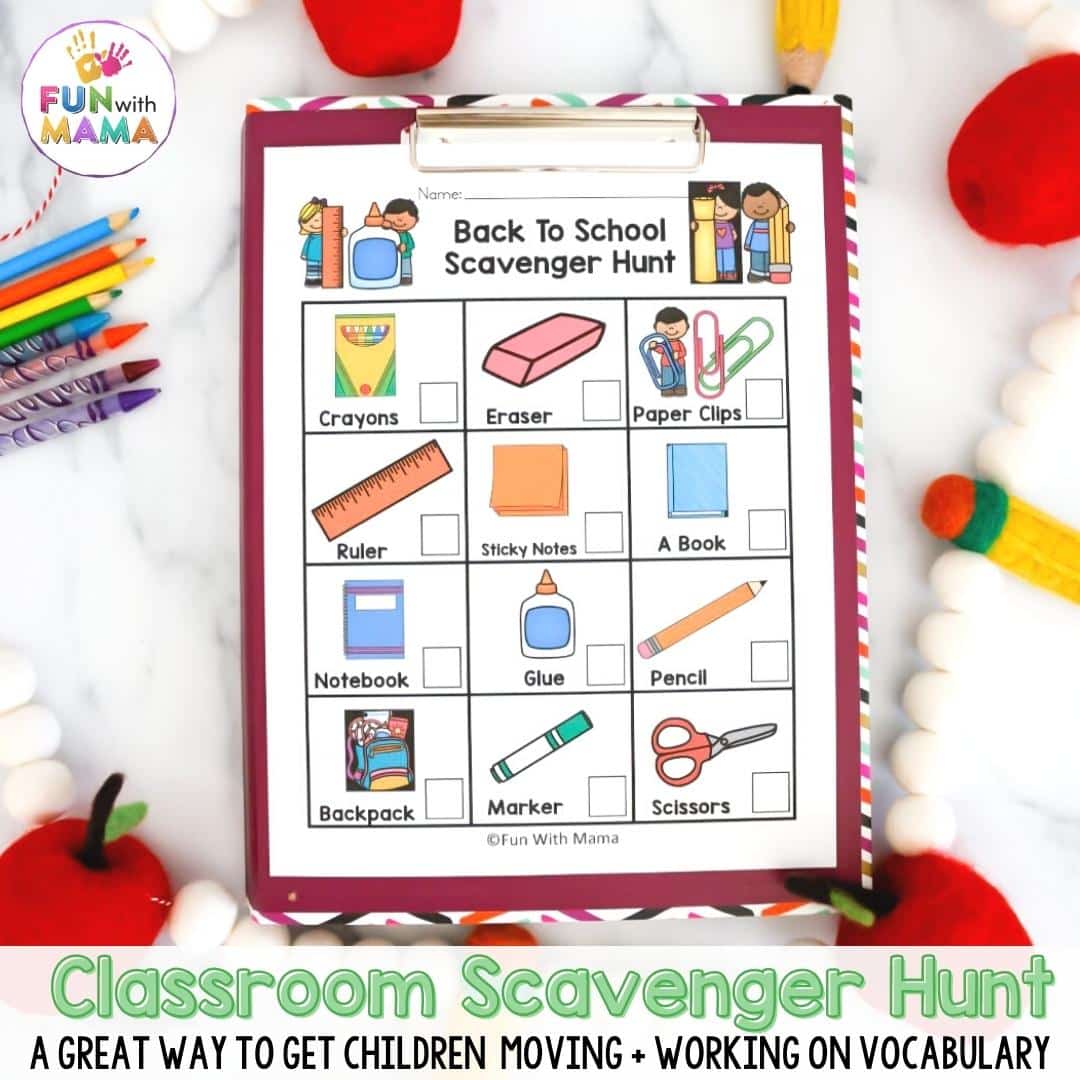 This FREE Back To School Scavenger Hunt can help familiarize children with the classroom and get them active and having fun. They will also learn where school supplies stay in the classroom too.
Human Scavenger Hunt Questions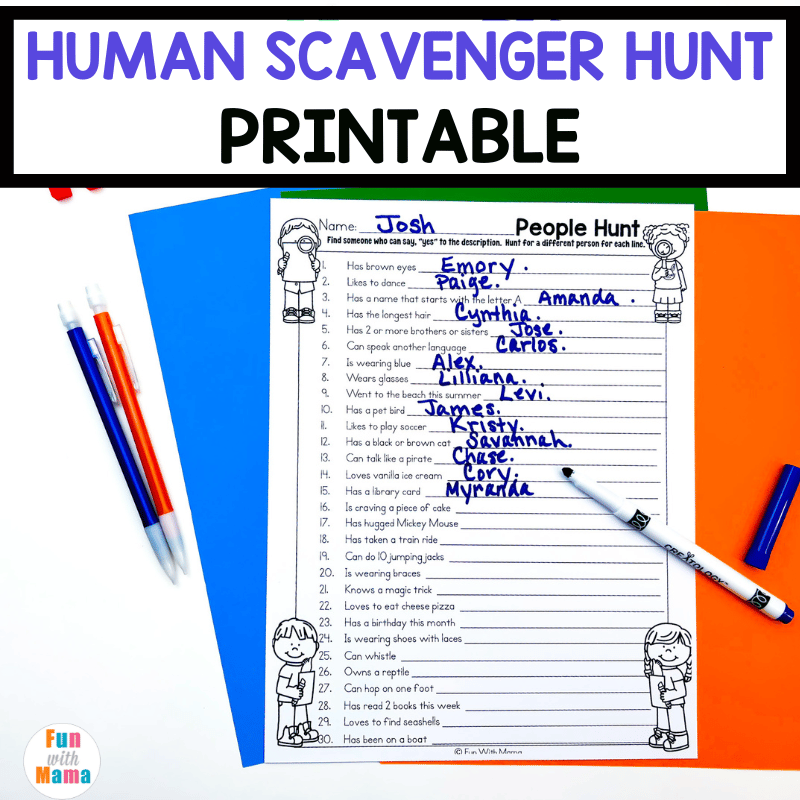 This FREE Human Scavenger Hunt Printable is the perfect icebreaker activity and a great way for classmates to get to know one another easily during the first day or week of school.
Printable Fortune Teller
Use this printable fortune teller on the first day of school so your child can get to know their classmates. It's a fun way to use their creative skills and communication skills at the same time.
All About Me Printable
The first day of school is the perfect time for this All About Me printable. Your child will be able to fill out the answers so that everyone will get to know a bit more about who they are!
First Week of School Memory Book
This first week of school memory book is one of my favorite first day of school printables for children! It allows them to have thoughts and emotions about their first week of school and then write it down to read and explore later.
First Day of Kindergarten School Signs
Having a sign telling the whole world that it's your first day of kindergarten is always a great idea! Print them out and have your little one pose for the picture!
20 First Day of School Books
Do you like to read? If so, here are 20 books that talk all about how awesome back to school time really is for kids. Make it a morning activity to sit down and read them together!
First Day of School Scavenger Hunt
What a fun and simple back to school activity that is easy to do! Start the day off with an exciting scavenger hunt to wake up your children!
Do you have a favorite first day of school printable from the option above?
More Fun Learning Printables