Have you made shaving cream slime yet? This fluffy slime recipe is the perfect consistency for kids to play with and add in fun figurines too! If you want to learn how to make fluffy slime without borax then you will love this!
With summer just around the corner, kids love playing and learning with all things ocean! As soon as temperatures start to rise at your house, try making this fun under the sea fluffy slime recipe! It's the perfect way to bring a bit of science and hands on learning into your house during the summer, and kids will have a blast playing with this slime. The biggest advantage to fluffy slime is that it is less sticky than traditional slime recipe, so you don't have to worry as much about the kids grinding it into the carpet or getting it stuck in their hair. Although fluffy slime is a bit messy, this particular version made with clear glue is easier to clean up than most, and we've found that using clear glue is almost foolproof. My elementary kids can make the slime entirely on their own (with some supervision from mom, of course). Something about rainbows just makes my kids so happy, and it's always such a joy to watch them make and play with slime. It's definitely better than them watching YouTube videos all day when it's too hot to go out! Check out all of our slime recipes here.
Fluffy Slime Recipe
Making slime is a favorite in our home. We are also always looking for ways to make slime clean up easier. By using plastic cups and sticks to mix you can literally make this slime and throw away all of those mixing cups! All that would be left to clean is just putting the glue and laundry detergent away.
Learn how to make fluffy slime with glue, shaving cream and laundry starch below:
Please note that affiliate links may be used in this post. Please see our disclosure policy for more information.
Slime Ingredients:
Elmer's clear glue– we actually normally buy the big bottle because the kids love making slime so much!
Measuring cup
Shaving cream
Paper umbrellas
Small ocean toys
How to make fluffy slime without borax
Place a bowl on the table.
Add one cup of shaving cream and one cup of glue into the bowl.
Add blue food coloring (the more you add, the darker your ocean will be) and stir.
Fill your measuring cup 3/4 of the way full of starch. Carefully pour the starch into the shaving cream mixture while you stir.
It's easy to add too much starch to fluffy slime, so stop adding starch as soon as the slime "gels."
PLAYING WITH UNDER THE SEA SLIME:
Once the slime is fluffy and no longer sticky, it' the perfect base for ocean play!
Stick paper umbrellas into the slime, and let your kids play with ocean creatures in the slime. Fluffy slime stays fluffy for about 48 hours. Once the slime looses its fluffy, throw it out or it will be too sticky.
You can also use this time to talk a bit about the ocean and animals that live there. If you want more fun slime recipes, check out more unique slimes!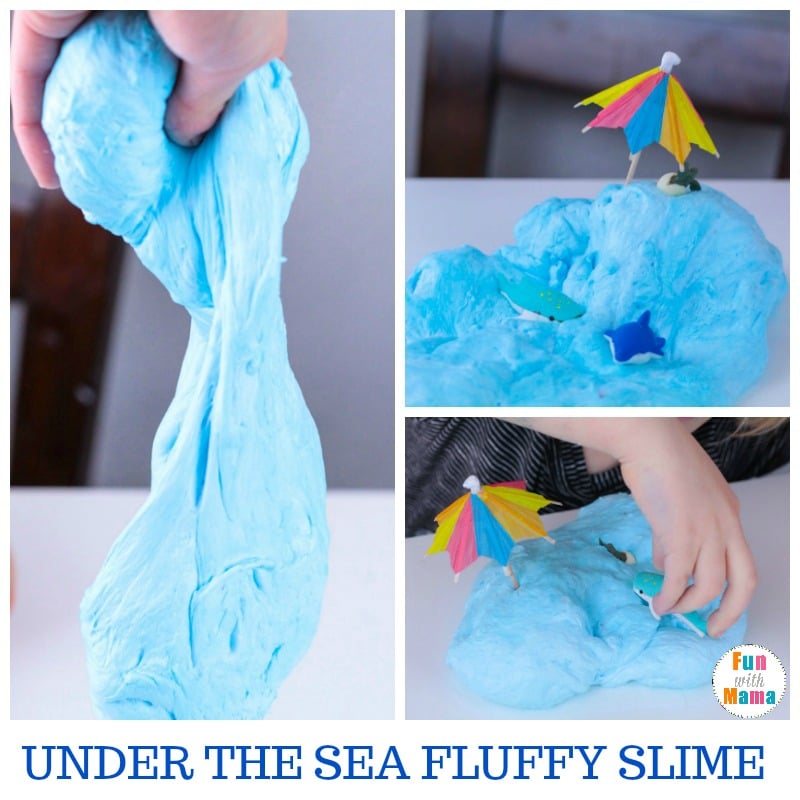 You can find all of our slime recipe's here.
Learn how to make slime and how to make slime without Borax too! Don't have glue at home? Then learn how to make slime without glue (yes it is possible!)