If you are looking for a creative painting project for kids, the melted crayon art painting is just the thing! In this project, kids can use melted crayons to create beautiful works of art that are unique and make great gifts!
For greater durability, use a canvas when creating these crayon art pieces. They make great pieces of art that you can paint.
Be certain to check out this fun painting activity – Ice Painting with Colored Ice Cubes.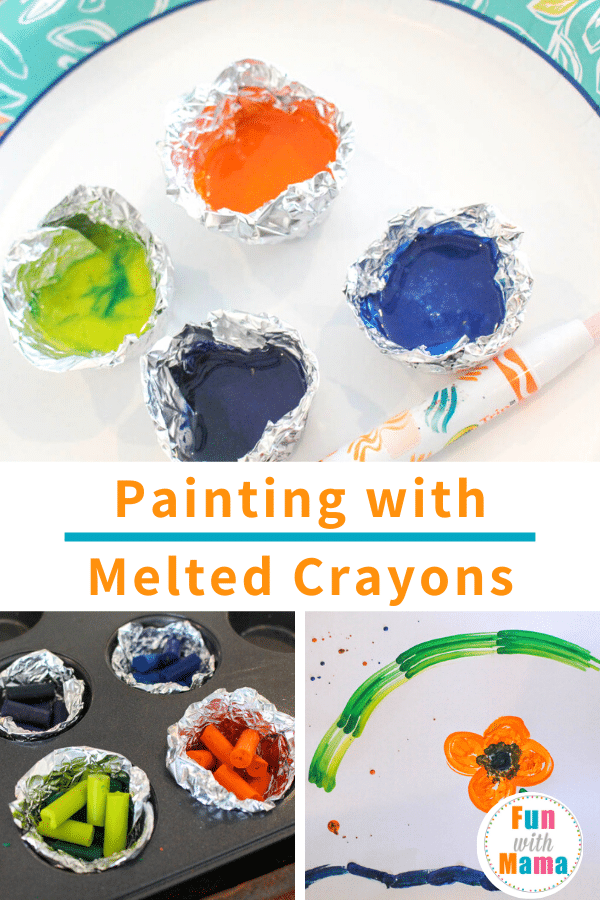 How to Make Melted Crayon Art with Kids
Follow along to learn how to create a beautiful wax painting with kids!
Melted Crayon Art Painting Tips
Do this activity with kids who are old enough not to try and touch the wax. That age may vary depending on the personality of your child. Some 3-year-olds might be able to do this project safely, while some kids may not be able to keep from touching the wax until they are 7-8. Use your best judgment before starting this project.
The wax will stick to clothing, so dress your child in something you don't mind throwing away after, just in case the wax gets onto their clothing.
If wax does get on their skin, you can remove it with warm water and soap.
If you have a silicone muffin tray, you can melt the wax directly in the muffin tray because you can touch the tray within seconds of taking it out of the oven and when the wax hardens, you can just pop it out of the molds.
Safety note:
Since melted wax is extremely hot at first and can burn the skin, take extra care when completing this project. Keep some ice water on hand to pour onto any wax that your kids might drip onto their skin to cool it quickly and prevent burns.
What you will need to make your own melted crayon art paintings:
Broken crayons
Paper cups or muffin liners
Paintbrush that you don't mind throwing away
Paper or canvas
Muffin tin
How to Make a Melted Crayon Art Painting
Place your broken crayons into your muffin tin or paper cups. Lay them on a cookie sheet.
Heat the oven to 250 degrees.
Place the crayons in the oven and let them melt (this should take between 10 and 20 minutes).
Remove the cookie sheet from the oven. Move the melted crayon containers to another tray so that children aren't touching a hot cookie sheet.
Place the wax paint in reach of the kids, making sure to remind them that the wax is hot and will hurt if they touch it with their hands.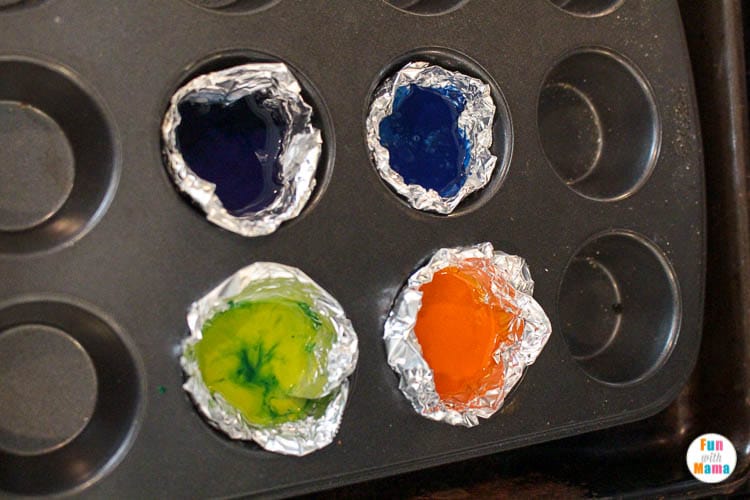 Let the kids paint onto the paper or canvas with paintbrushes. You'll have about 10 minutes of painting time before the crayons get too hard to paint with.
If you want the crayon art to last, paint on a canvas rather than paper. On paper, when the crayons dry, they can pop off the paper if the paper is bent. So if you want to do this art project as a gift or to display as art, use a canvas instead of paper. You can also seal the entire canvas project with an acrylic sealer to add additional durability.
It will take your crayon art about 30 minutes to an hour to fully dry. Once it is dry, you can display it and take it home.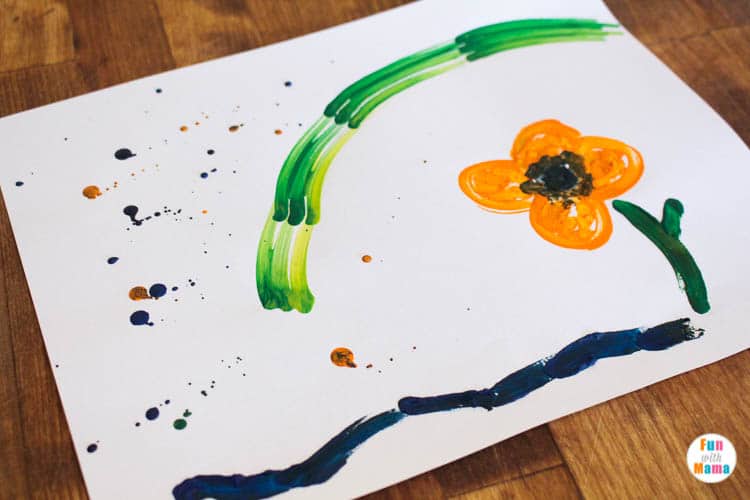 Check out these other great art projects for kids