Creating a Halloween Book Nook is so much fun. And dedicating a spooky fun Kids Reading Nook area is just too cool! We LOVE to read in our household and making a special place in the home just for reading to take place means that it puts the focus on the importance of reading. And once you make a book nook in your house once, you'll love being able to do it over and over again for other fun themes throughout the year, too.
Here is a fun example of another book nook that we did for our love of Dr. Seuss's books as well.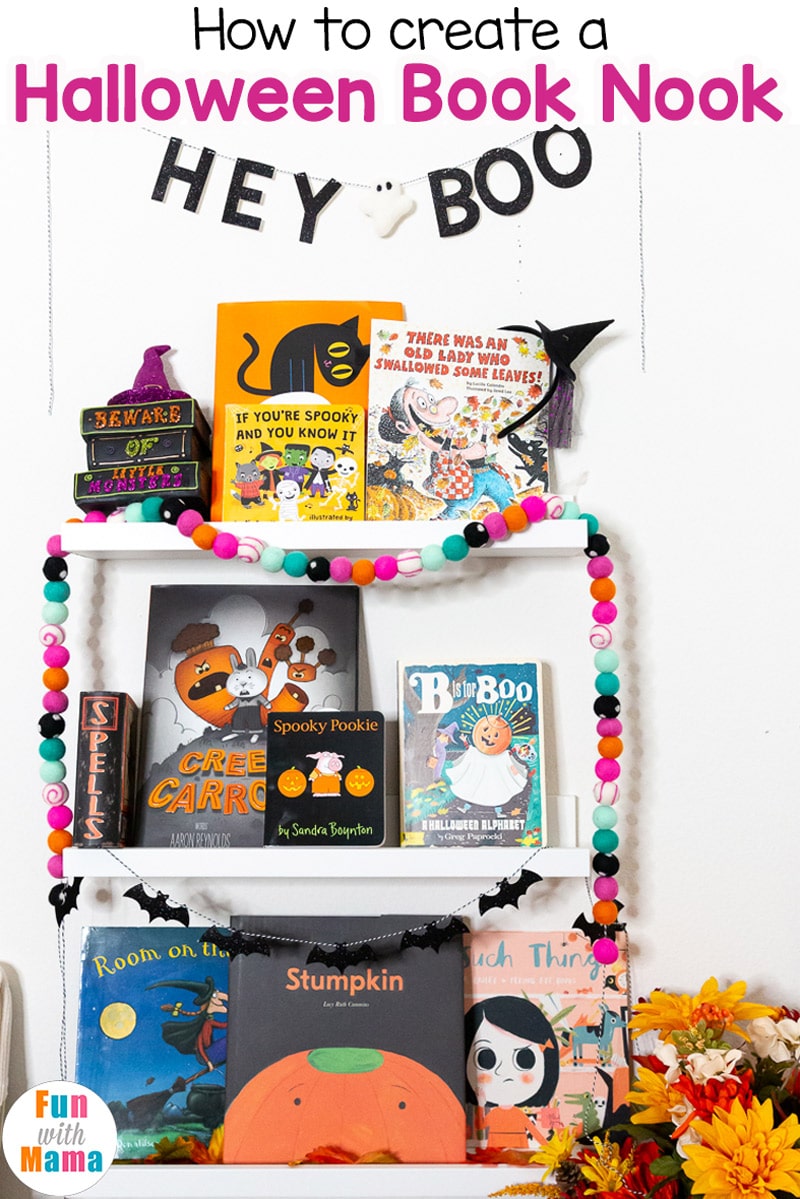 How to create a Halloween Book Nook – Spooky Fun Kids Reading Nook
With Halloween coming up quickly, it's a great time to snuggle down and ready some spooky fun books. I've always been vocal about Why it's important to read to your child and what I learned by reading the book The Read Aloud Family By Sarah Mackenzie. We also love using Printable Reading Logs to track our reading, too.
One of my favorite things about reading Halloween books is that it gives the kids a sense of excitement without having to be scared. Halloween means many different things to different ages of kids, but being able to sit down together in the kids reading nook and read a good book just makes it all a bit less frightening.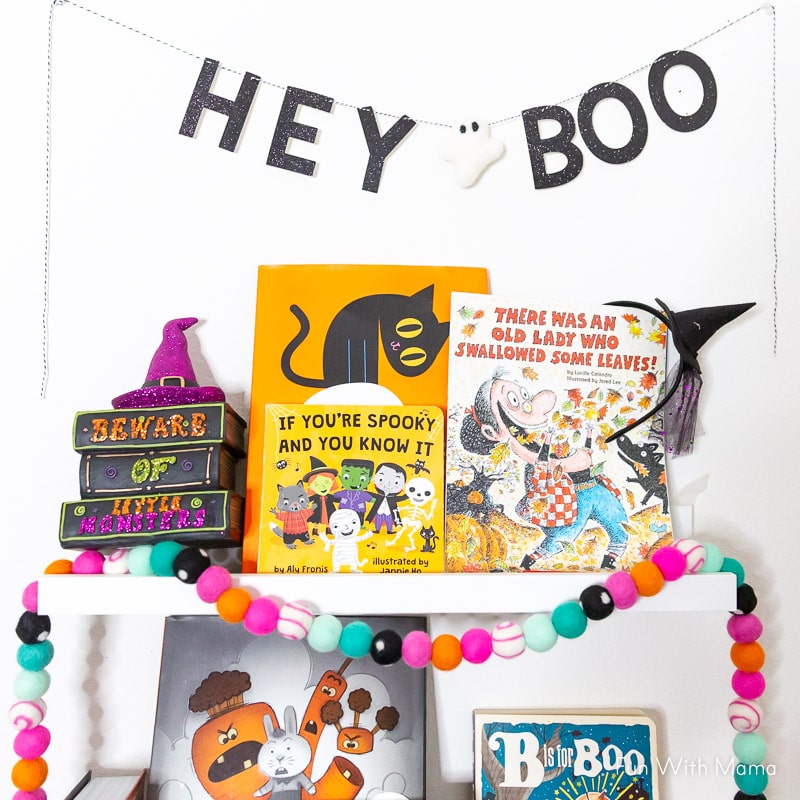 Kids Reading Nook Tips
Once you create kids reading nook space in your home, it literally just comes down to switching out the books and decor for a new theme. This is why I love the book nook in our house – because it's minimal work but something new and exciting for the kids each and every time!
As an Amazon Associate I earn from qualifying purchases.
How to make a Halloween-Themed Kids Reading Nook
It's really all about how you want to decorate the kids reading nook but here are some of the decor items that I used!

Don't forget to use the floor around the space as well! We added some fun fall flowers, too to be even more festive.
Halloween Books to Add To Your Kids Reading Nook
These are just a few examples of some fun Halloween books but have fun with this and get a variety for the kids!
And so many more! Let the kids pick out some of their favorite Halloween books to add to their kids reading nook!
It's a lot of fun to have the kids dress up and read their books, too. This not only encourages reading skills but also imagination skills as well.
The kids reading book is such a fun concept to have in the home and an easy way to let all the kids help decorate, too. It can be a compilation of all of their favorite things about Halloween!
Don't forget to add a comfy chair or some really cool bean bags as well to give them a space that is inviting to stay awhile and read some fun books.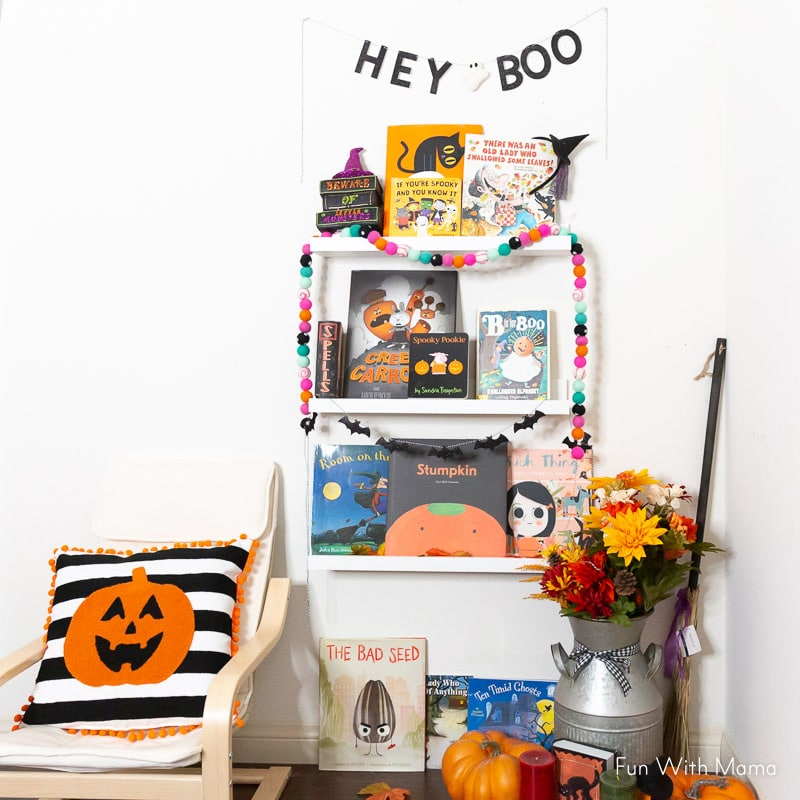 A soft rug or blanket is also the perfect addition for this space. There's always room for more!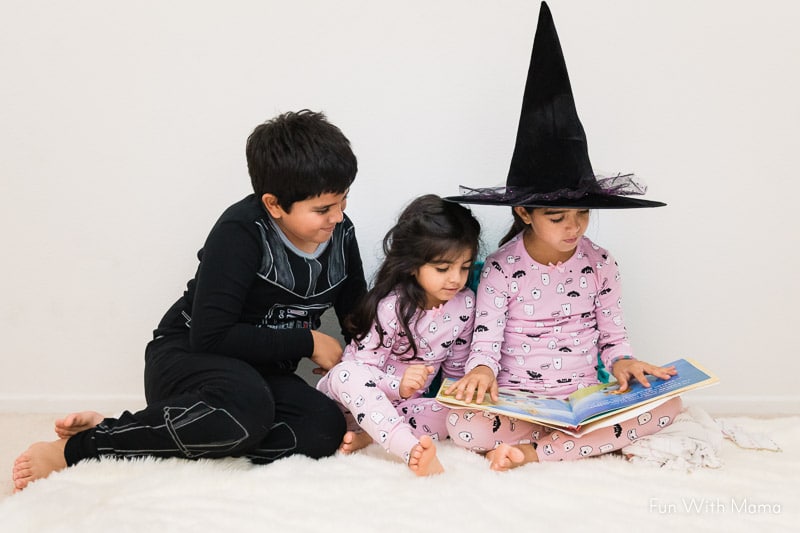 You can even let them change out the decorations a bit too so that everyone has a chance to bring their own book nook visions to life.
Enjoy this quality family time and snuggle down and have fun. The kids reading nook is the perfect place to start the day or end the day by reading together.
More Halloween Fun